Editor's Note: Coach Cibe is back with his monthly update on Italy Lacrosse! I hope everyone is ready to lax and to follow Coach Cibe's news from Italy. It's shaping up to be another great season of Italian Lacrosse.
The Italian Cup
The Italian Cup was played in Nettuno (Rome) on September 28th and 29th. Six teams (Bocconi Sport Team, Roma Leones, Red Hawks Merate, Phoenix Perugia, Torino Taurus and Bologna Sharks) brought lacrosse to Nettuno, the "town of baseball" in Italy, with a number of very intense and interesting matches (four games were concluded by sudden death overtime).
During the qualifying rounds (2 groups of 3 teams), Roma Leones and Red Hawks Merate won both their matches, gaining direct access to semi-finals. The quarters (Bocconi vs Taurus and Phoenix vs Sharks) proclaimed Bocconi and Phoenix as the last semifinalists, and opponents of Red Hawks and Leones.
The first semi final saw a re-match of the top 2 teams from the recently concluded championship, Bocconi Sport Team against Red Hawks Merate, which saw Bocconi come out on top as clear winners with a score of 7-0. The second semi final saw Roma Leones defeat Perugia Phonenix in a tough game decided again at sudden death.
The final pitted Roma Leones vs Bocconi Lacrosse and at the end of the game, Bocconi was proclaimed as winner of the Italian Cup (due to a 6-5 final result over Roma).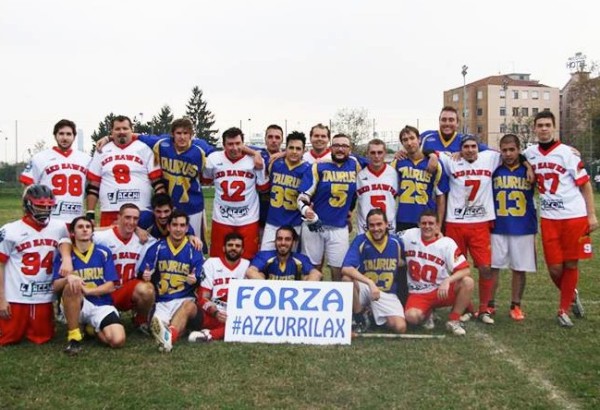 After the minor finals, the overall rankings were:
Bocconi Sport Team
Roma Leones
Red Hawks Merate
Phoenix Perugia
Bologna Sharks
Torino Taurus
Bocconi Sport team, after winning back to back (2011/2012 and 2012/2013) Italian championships, can now add the 2013 Italian Cup to their ledger of titles and wins. This team has worked for an incredible series of positive results, and it shows!
Italian Lacrosse Championships
Immediately after the Italian Cup ended, the Italian Lacrosse Championships started.
This time we saw seven teams on the field: the same six teams of the Italian cup, and San Marino Titans. 12 matches, played in a home and away round, started on October the 6th, 2013, and that will go ahead through May of 2014, when a new champion is crowned.
While we are writing all the teams have played at least one match; here are the results updated to October 28th:
Bocconi Sport Team 14-1 San Marino Titans
Sharks Bologna 0-17 Red Hawks Merate
Roma Leones 6-3 Phoenix Perugia
San Marino Titans 0-26 Roma Leones
Sharks Bologna 7-22 Roma Leones
Torino Taurus 5-12 Red Hawks Merate
Italian Coach of the Year Awards
As always, the II° Italian Coach of the year awards, sponsored by www.coachcibe.it, have been assigned in October. The "Coach of the Year" is Scott Offerman (succeeding himself as the last winner), and he coached the winner of the Italian Championship and the Italian Cup.
The "Career Award" has been assigned to Scott Offerman too, beacause of his great work with Bocconi Sport Team (Scott ended his work with Bocconi in May after two full seasons).
The "Special Award" was assigned to Davide Giovagnoli, founder and coach of San Marino Titans, for his great job in creating and developing a new team.
Stay tuned to LAS for more updates on Italy Lacrosse each month of the year, and check out CoachCibe.it for weekly posts and tips on how to improve your game.