Conference Playoffs are being decided left and right throughout the lacrosse world this weekend, and the games being played now mean more than anything! Seeding, home field advantage and even national tournament bids are all on the line, so let's take a deeper look at this weekend's biggest college lax games.
Want to see what's on TV this weekend?  Our 2012 Lacrosse on TV Schedule has you covered!
NCAA Division 1
As the conference tournaments near, there are some solid games being played this weekend. U Mass plays Delaware in what should be a great matchup, regardless of what their records are. The other #1 Loyola will take on Johns Hopkins in another great match-up – we're excited to see how good Loyola actually is.
Princeton and Cornell also go head to head in yet another top-10 match-up. Notre Dame and Syracuse will go toe to toe this weekend as well. While 'Cuse has struggled this season we still think they are a top contender. The big game to watch this weekend though, is easily Duke vs. Denver. If you can find it, we'd also recommend checking out Army and Lehigh. Lehigh has been slowly creeping up the polls all season long.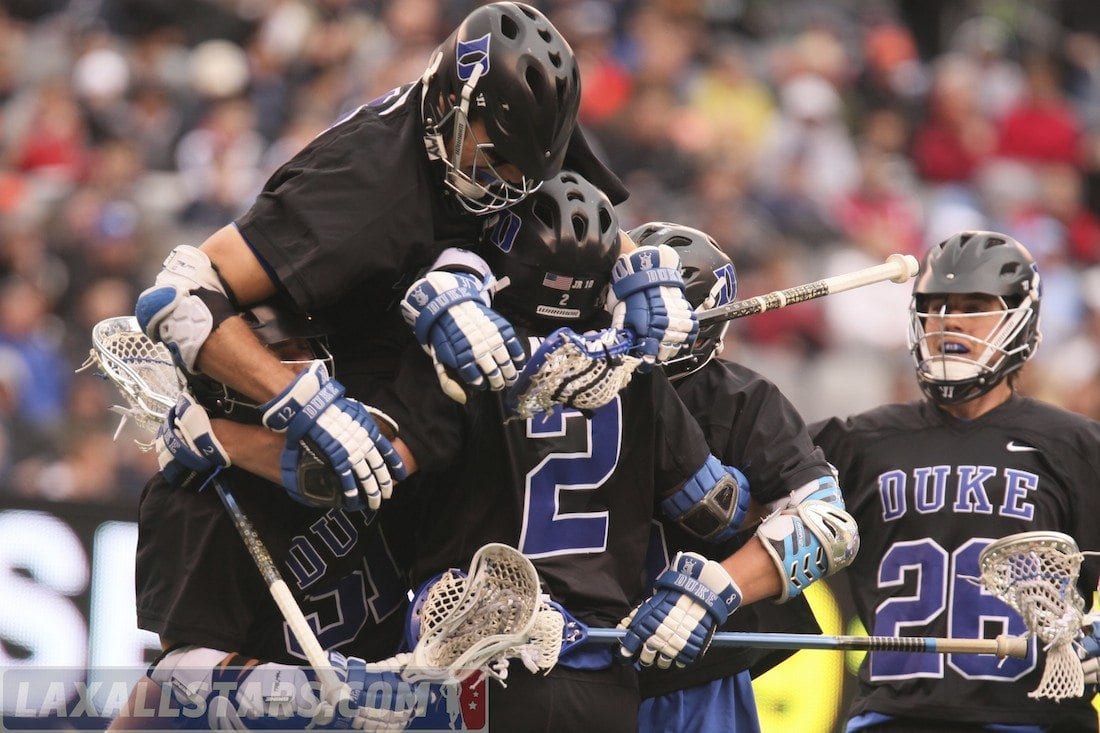 NCAA Division 2
In the Division 2 ranks, while there aren't a ton of big games this weekend, there are still a couple you shouldn't miss. The two big ones are Limestone taking on Catawba, Adelphi going up against Bentley.
NCAA Division 3
Division 3 is busy as always – Salisbury and Stevenson face-off in what should be a must see game – we would LOVE to see this game. Tufts go up against Amherst, Dickinson battles Gettysburg, RIT travels to St. Lawrence for a rumble, and the Bowdoin Polar Bears play host to Connor Wilson's pride and joy, Wesleyan.
MCLA
Division 1 – D1 is getting close to conference playoff time and that means a lot of teams are playing their big rivalry games. Colorado State took down Colorado in a very exciting 2 OT game. This week Brigham Young travels the short drive to SLC to take on Utah. Top dog Cal Poly takes on Chico State, while it may not look to be a good game Chico won't just rollover for the Mustangs.
Buffalo tangos with Boston College AND Northeastern in what should be a very testing weekend for the Bulls. The SELC playoffs kick off with a couple good first round match-ups, South Carolina and Va Tech go toe to toe and Clemson will try and take down Tennessee. Over in the CCLA, Illinois and Michigan State are battling for the top crown with Michigan now in the NCAA world. Back out west in the WCLL, Cal will take on Stanford in another quality game.
Division 2 – MCLA D2 is getting spicy, the UMLC tournament kicks off and will pit St. John's, St. Thomas, and North Dakota State against each other as they fight for the UMLC crown. In the Midwest, Indiana Tech brings Hope to town for a little CCLA showdown.
NJCAA
Essex goes up against Howard, Army Prep faces off against Nassau, and Delhi battles Genessee in some top-10 match-ups of the NJCAA. Oops, we can't forget Hudson Valley playing Suffolk.
NCLL
Can't forget about the NCLL! Getting to be that time of year for them too. Hoftra Club plays UMass Amherst, Navy takes on West Chester, Delaware Club looks to take down #9 Loyola Club, and Maryland Club battles crosstown rival Towson Club. In a Big 10 battle, Penn State Club faces off against Ohio State Club.
What a weekend of lacrosse! Looking for televised games? Here's where to find them: 2012 Lacrosse on TV Schedule.
Think we missed a GREAT game? Let me know in the comments!