Most of the coverage I do is based in a few key areas. I focus on the men's game, and it's primarily at the DI and pro level. I definitely will do some international at the larger events, and I will cover the women's game occasionally as well. What I really felt was missing though is the sleeping giant that is Division III lacrosse.
Here at Lacrosse All Stars, D3 holds a very special place in our hearts. Most of us got our playing experience at this level. I personally did not, but I did go to a D3 school (RIT), so that gives me license to remind Connor Wilson at every chance that RIT beat his Wesleyan last year in the NCAA semis, 22-9. But, I digress. Lacrosse All Stars is first and foremost by players, for players. And in the US, more players come out of Division III than anywhere else. So while the RITs, Wesleyans, Salisburys, and Tufts(tststs?) of the world dominate the headlines and conversation, there is a whole world in that next layer of teams.
Here in the Boston area, I have BU and Harvard for D1 men's games. With a bit of a drive, I could get Umass-Lowell, UMass Amherst, Brown, Providence, and Bryant. Several others like Sacred Heart, Hartford, and Dartmouth are just a bit further. No matter what, it's time in the car. Meanwhile, the D3 schools are everywhere. Within a 12 mile radius of where I live, I could see Regis, Lasell, Umass-Boston, Wentworth, Emmanuel, Tufts, MIT, Curry, Emerson, Mt. Ida (it's complicated), Newbury, and several others.
So I decided to take a day and instead of just focusing on DI, check out the local D3 scene.
Lasell vs. Regis
First up was Regis at Lasell. Both of these teams are ones I have had my eye on for awhile. Lasell churns out local players that are in every single men's league I've played in out here and they produce some quality players. Additionally, they have partnered with the MLL recently to provide interns to the league and will offer discounted graduate classes to MLL players. Not a bad deal at all. For Regis, I have run into a few of their players around, but the big draw for them is their head coach, Randy Fraser. Randy coaches the US U20 Indoor team and is a fixture in the US Box scene. He does color commentary for the Black Wolves and has extensive playing and coaching experience at the professional and international level. I definitely wanted to see what type of squad he has.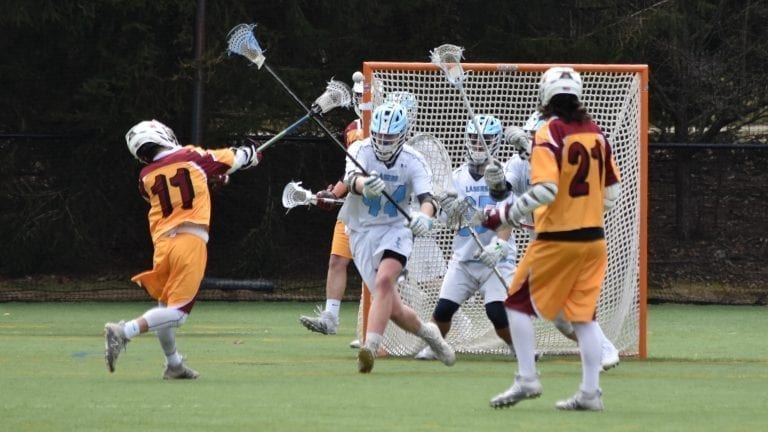 Early on, Regis kept it close, but found themselves in a 3-0 hole after the first. They managed to score a pair of goals in the second quarter before Lasell opened the floodgates in the third. Ultimately, Lasell came out on top, 16-3, in this Great Northeast Athletic Conference (GNAC) battle. But make no mistake: both teams have some real talent. I was most impressed by both offensive units. Lasell's defense was certainly more athletic and did a great job pressing out and pressuring Regis' ball carriers. When Regis did manage to get some looks, they were well earned. But one look at the sideline helped tell the story of the score imbalance. Regis had limited number to the point where one or two injuries are immediately felt on the field. Lasell's numbers allowed them to stay fresh and just continually wear down the Regis middies and defense.
The biggest thing to keep in mind with the D3 level is the conference aspect. The NCAA tournament only has a few true at-large bids available. Most of the field is determine by conference AQs, and battling for that spot to represent your conference is what can make or break a successful program. String together a few NCAA appearances in a row, then your recruiting reach starts to grow, it raises the competition level of your conference as a whole, and things begin to snowball. That is where Lasell is right now. They finished 8-0 in conference in 2017 and punched their ticket to the NCAA tournament for the first time in school history. Unfortunately, they exited in the first round, but that's where they are trying to build off of in this season.
Regis is actually experiencing their first year in the GNAC, but are poised to grow and become a fixture in the league. Under Fraser, they had consecutive 4-0 seasons in the New England Collegiate Conference (NECC) and took home the conference championships. By moving up to the GNAC, they'll face much stronger competition week in and week out, which only makes their future even brighter.
After the game, I spoke briefly with Lasell's head coach Bill Mason. With it being their alumni day, it was important to note how important a strong alumni base is for a smaller program such as this. He mentioned how they really do have some great support and it gives the current team added incentive to show the alums that the program is in good hands. That helps with allowing the freshmen to buy in and try to be regular contributors to the team. He also jokingly brought up that having his seniors talk to alumni can help alleviate a little bit of that pending graduation anxiety where they are beginning to realize that they forty hour work week is looming. Not your typical postgame conversation, but it underscores how at their core, these are still college kids.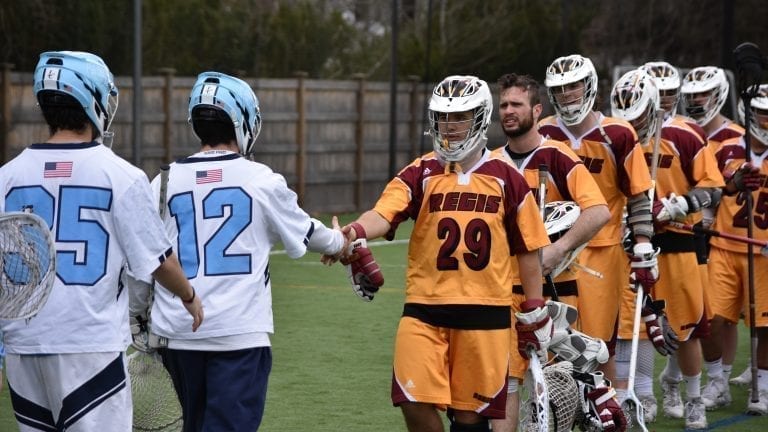 UMass-Boston vs. Eastern Connecticut State
From there, I hopped in the car and drove down the road to UMass-Boston. This is another school I have been trying to see for a while. I know several current and former players, including the Arnold brothers from our LAS House Team in this past fall's LASNAI. The Beacons were also big supporters of the Courage Game this past fall when we at Lacrosse All Stars were helping to get that going. The entire team showed up and turned that gorgeous fall day into a fantastic event. Lacrosse aside, I love it when a team goes all in on a great cause such as that.
But switching back to lacrosse, the Beacons were playing host to the Eastern Connecticut State University Warriors in a Little East Conference (LEC) matchup. This game was also completely different from the last one. Above all else, this game was a transition party and a goalie battle. The Beacons did tend to slow things down on offense when they had it, but once the back and forth started, it was hard to stop. ECSU's defense was one of the larger D3 close defenses I've seen, and were very physical. Really, the entire game was much more physical and practically every loose ball wound up having a whistle blown before someone wound up with it.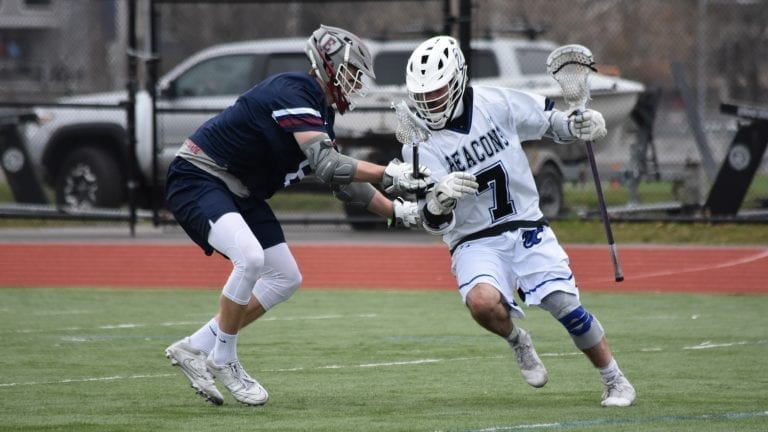 Both teams went scoreless in the first quarter, but UMass got things rolling only 38 seconds into the second, followed by another just 22 seconds later. Unfortunately for the Beacons, that was about it. One goal a few minutes later would be their last of the day as ECSU shut them out for the entire second half on their way to an 8-3 victory. Despite the low overall score, this was still a very fun game to watch. ECSU brought an incredible amount of energy and players all over the field were cheering each other on with every play. While UMass-Boston may not have been talking back or been as loud, they absolutely matched the intensity. Every ground ball was fiercely contested, and neither team could get within 10 feet of the goal without winding up on the ground. If you enjoy physical lacrosse, this was the game for you.
Ultimately, both of these teams still have that LEC title in their sights. Keene State has won the conference for the past four seasons. Last year it was over the Beacons, and the previous three were over ECSU. In fact, there is only one season since 2001 where ECSU or Keene did not win the conference (2008). After the game, UMass-Boston's head coach Tyler Low said their loss that day came down to not being able to execute or capitalize on the opportunities that were there. And those opportunities certainly were there for the taking. If they can find a way to put together a solid four quarter game, they may be able to bring themselves back to the LEC title game for another shot at an NCAA bid.
Once I was able to get back home after these games, I followed my standard routine and started flipping through the carious DI games that were online or on TV. And while there are plenty of things to love about DI and pro lacrosse, don't forget what DII and DIII have to offer. There are still high quality players putting everything they have into each play.
Even when things slowed down, I didn't have to listen to entire stadium sections yelling for a shot clock, and there was no TV timeout to inexplicably delay a faceoff. It was a great reminder of what college lacrosse really is like in its purest form. Two teams of players who love the game, out there playing for their school and trying to put together a great season.
Photo credit: Ryan Conwell of LaxAllStars.com