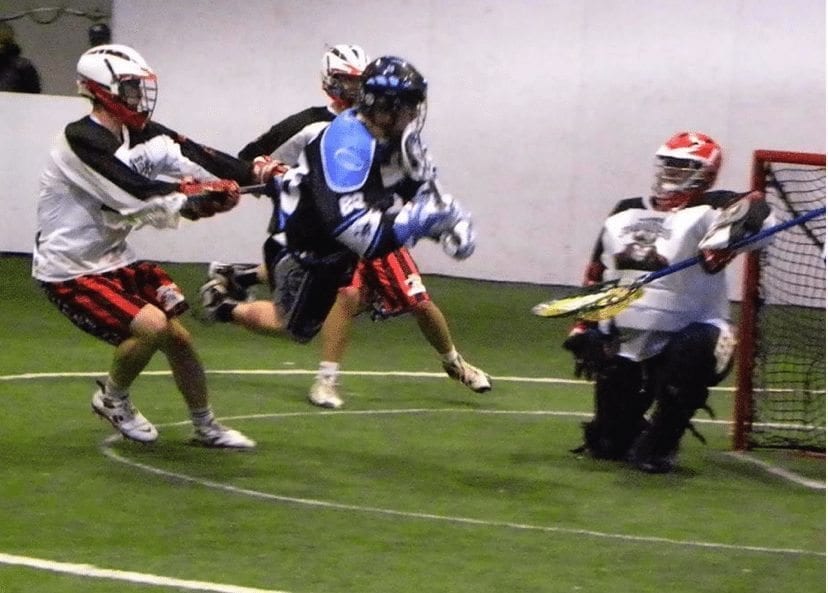 The inaugural season of the Midwest Indoor Lacrosse Association has crowned its first champions.  Unfortunately for myself and the Chicago Outlaws, we were not the winners of the MILA Championship trophy.  Congratulations go to the Grand Rapids Dragonfish, who traveled to Crystal Lake, and played one hell of a game to win the championship.
There was a large wrench thrown into the equation early Friday afternoon, which just supports the argument that the teams and the league have a lot of underlying issues to work out.  I got a call from our coach around noon on Friday afternoon letting me know that Columbus Lacrosse Club (the #1 seed in the playoffs) decided to not make the trip out to Crystal Lake. The day before the league's scheduled games and a team bails on the entire league?  This showed the true dedication that a very talented team had.
I find it somewhat disrespectful that Columbus would fold THE DAY BEFORE THE PLAYOFFS. If it had been a week or so before, then fine I understand. But you're telling me that a team could not muster up 11-12 players to travel to Crystal Lake for the playoffs?  Yeah, we're talking about playoffs.  This is the second time that this team has forfeited because they could not travel.  But aside from this, Columbus had a very real chance at taking home the hardware, and it just does not make sense to me but that is neither here nor there.  It happened and we moved on… which in the end, is a very GOOD thing.  Just because one team went down, the whole league didn't.  And this speaks to the passion that a good number of people in the league possess.
With Columbus out of the equation that meant that the Chicago Outlaws were to play the Milwaukee Marauders in the semi-finals.  A lot of respect has to be given to Milwaukee, as they traveled with an extremely light bench, and I want to say there were about 11 of them plus a goalie. It is a lot easier traveling from Milwaukee to Crystal Lake than it is Columbus to Crystal Lake, but even so, they made it happen. It was a very lopsided game; we went up 16-0 after about 8 minutes into the first quarter.
As the game progressed it got very chippy with some definite cheap shots being taken. Most of our starters were pulled not because of the winning margin but because our coach did not want to chance any of the players that would be playing in the championship game to suffer any injuries.
It is understandable when a team is getting beat handily that emotions run high, but why is it that players decide to start taking runs at other players?  Handle losing like an adult.  This can be said about any sport, I just have not solidified a good response to this question yet.  What is almost more concerning is that when a player does take a run at another player, he often proceeds to apologize a few minutes later like he did not mean to "sir lancelot" you in the chin 2 minutes before.  If anyone has a valid response to this question I would be more than happy to listen.
The semi-final game ended in running clock and the scoreboard reading 26-1 in favor of the Chicago Outlaws.  The championship was set, Grand Rapids Dragonfish against the Chicago Outlaws.  It was a rubber match so to say as we both had traded victories with each other earlier in the season. It was a back and forth game, and a very exciting one to be a part of to say the least.  The Dragonfish took an 8-4 lead into halftime and did not look back. It seemed that every shot we took was eaten up by their goalie.  Props to our goalie too, he really kept us in most of the game coming up with some big time saves.
Grand Rapids was able to maintain their halftime lead to take the championship 13-7. I just want to thank everyone involved with this league and especially offer up a BIG thank you to our organization for all the hard work that was put into making this a very successful season. We may have not won the championship, but we were able to bring a relatively new game to an area that otherwise may not have had the opportunity to watch box lacrosse.
Now it's on to the off-season and even more box lacrosse opportunities!
For some players that means participating in NLL team camps, trying to be selected for a roster spot.  For those of us that were not selected for NLL team camps and any other players interested in playing some legit box lacrosse, check out the North American Lacrosse League (NALL), which is the United States' pro-form of box lacrosse.  There are various combines being held throughout the east coast.  Check out the combines here https://usindoorlacrosse.org/usil-combines/.
The Midwest Indoor Lacrosse Association's first year was a great success because ultimately we played games even if there were bumps in the road.  In the end, we simply made it happen.  With any new league there are always going to be flaws, but this league can only get better.  With box lacrosse growing now it will be exciting to see the direction this league will go; the opportunities are truly endless.  There have already been three new teams to announce expansion for 2012 and I'm sure there will be more to come.  Off-season meetings have begun with the teams involved in this year's league and also the expansion teams.
With the limited amount of opportunities for organized box lacrosse, the Chicago Outlaws will be traveling to Indiana October 15th for the Fall Brawl Indoor Tournament. If anyone is interested in playing in this let me know as there are definitely still spots on teams and it should prove to be a great tournament. It is going to be more of a relaxed boxla tournament with limited contact (if that is even possible) so the more players the better.
Stay tuned for updates and news from the MILA as well as the NALL in the coming weeks!
//