There was a time when the best lacrosse players on the face of the planet would ALL go to the Vail Shootout for some high-quality lacrosse.  It was Vail, Lake Placid, War on the Shore and Ocean City… those were the big 4, and the names that attended, and talent that was on display, was simply unrivaled.  Go back far enough and there was no pro lacrosse, and there weren't the same number of tournaments and events that there are now.  Those four tournaments were the kings of the hill, and if you were a current college player, and you were asked to play in one of these tourneys, you'd jump at the opportunity.
Now when I look down the rosters of a lot of "top" Summer teams, I don't see many older famous names… but I sure do see a lot of younger ones!  There are a lot more current college players now at the Summer events, and while the Summer circuit has become a total mercenary scene, the quality of play has NOT really improved that much.  In fact, one might even say the quality of play has taken a step back, which makes a certain amount of sense when you consider that most of the players are younger now and haven't developed their full potential.  You also lose out on older players who know how to play together.  In the world of chaotic Summer lax, this can never be overlooked.
The Maverik team at the Vail Shootout is a perfect example of this "younger isn't always better" scenario.  I'm certainly NOT dumping on this year's team, and to lose by 1 in the Semis at Vail is admirable for ANY team, but expectations were high after Maverik's performance last year at Vail.  The difference?  This year's team was almost exclusively made up of current college players and last year's team had some serious veteran firepower that could play together.  I'll take a team with good chemistry over a collection of athletic young legs any day!  But I'm old now, so I guess that makes me biased.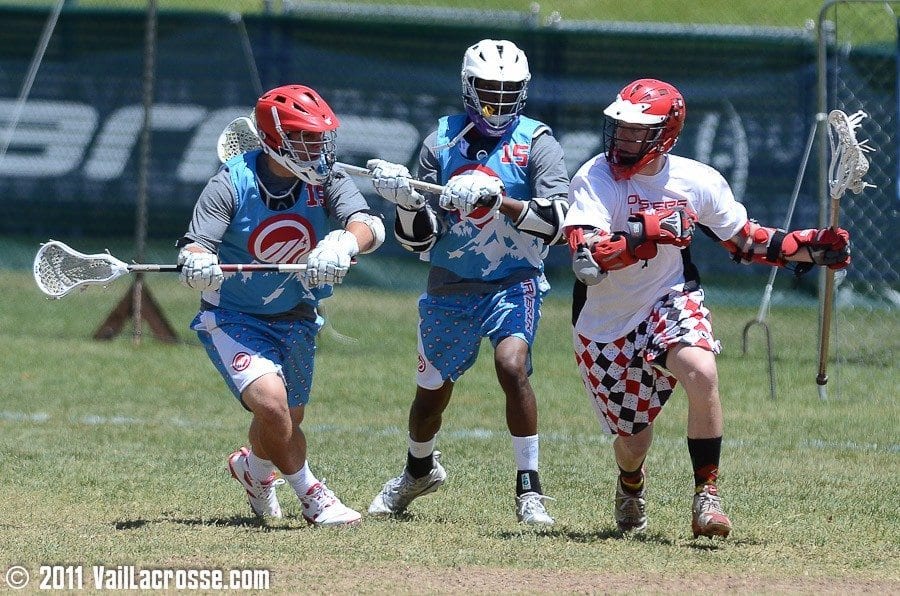 Photo courtesy VailLacrosse.com
There were only 6 players on the Maverik team who had graduated from college.  Two of those grads were Paul Carcatera ('97 Cuse) and John Gagliardi ('97 Hop), and they are both legends of the game, but they are also both in their late 30s.  I don't think there is such a thing as too much experience, but I also don't know what kind of shape these guys are in either.  John Christmas was the other elder standout on O, and 3 other guys joined Gags on D with a little more experience.  Other than that?  All college players.
Now the offensive players they did have?  Athletic guys, who are all standouts for their college teams: really top shelf level players.  But not a lot of guys from the same schools, other than a couple Cuse attackmen and a couple of UVA attackmen.  Not a ton of guys who really seemed to "know" each other.  But still, excellent players.  When Maverik lost, they lost to the Rocky Mountain Oysters (VIDEO), which is a more "local" to Vail team, with players hailing mostly from Colorado.  It seems like a lot of Denver, D3 and MCLA players.  But it also seems like they play together, or have played together, for a while.  It's not just a team of stars thrown together… it's a team.
Now RMO did go on to lose to Merrill Lynch in the Finals, and they lost big, but when you look at the ML team (VIDEO), you see a TON of Duke helmets out there.  You see a TON of Bryant and Hop helmets out there too.  And you can tell there are a couple veterans mixed in as well, like Jake Plunkett, Kevin Owens (who is 35!) and Rob Forster.  Even the college players ML had were of the older variety.  Kyle Wharton and Zack Howell are both class of 2011 and CJ Costabile is 2012.  ML followed the recipe and brought some excellent youth in to compliment their experience… but they didn't go barely legal.  And I think that's the key.
A very similar thing happened at the recent Salt Shakerz Invitational in NYC.  Brooklyn/The Art Of Lax won the whole thing, and they had a mix of young legs and some serious experience.  Guys like Brian Tampone and Armando Polanco provided balance for younger players, and can still ball at a really high level.  The younger guys ran hard, and did a lot of the dirty work, and there was a definite pecking order along the lines of seniority.  But it worked.  It was a team.  And it was why they were able to beat Scunion Nation, which was made up of a lot of current D1 NCAA lacrosse players.
I guess it might just be easy to look down the college stat sheets from last year and find a bunch of kids to come play.  It's certainly more challenging to dig around a little and find some older guys who still play a lot (ML has the benefit of a Men's club team in the Spring as well), but it will be well worth it.  Any real team needs a "core" of players to rally around, so if you're putting together a Summer team, heed these words carefully: achieve balance!
I expect to see this in about 2 weeks out in Tahoe as well.  Teams made up of mostly current college players will do well, and those with a lot of D1 legs will go to the Semis, or even the Finals.  But when they play a team with some youth AND some guys who have been around the block a time or two?  I'll take the latter to win almost every time.  The Woozles are a team like that… except I don't think we have any former or current D1 players.  Oh well, whatever.  Guess we'll really need that experience!
There have been a number of other Summer lax events already.  Can you think of any that follow the trend I'm describing above?  OR has there been a tourney where the above hasn't been true?  I'm happy to be proved wrong, just provide some evidence!