With a trio of excellent NLL games to watch over this past weekend, my comments in last week's post were that you could not make a bad choice of which games(s) to watch. Well, depending on your rooting allegiances, you could have. There were two brutal routs and then a much closer game out in Colorado, but I'm examining the Rochester Knighthawks' early season success!
Examining Backward – Rochester Dominates Buffalo
The game that I was most excited for was the 2018 Season's first edition of the Thruway Rivalry between Buffalo and Rochester. Both were 1-0 and Rochester looked unstoppable in their opening win over Calgary. It seemed like it would be a good test for each team, so I went in person, watched intently, and hoped for a tight contest.
As it turns out, it wasn't tight at all. Not one bit.
Rochester looked excellent in nearly every phase of the game. Matt Vinc stopped nearly every fast break Buffalo had. Their forwards seems to score nearly at will, and their defense was physical and disruptive. While many people were talking about Rochester being back after just their first game, I think it's safe to say that they are. If they play like this all season long, not too many teams will complete with them.
With all the scoring, the thing that really stood out to me was the defense, and specifically Graeme Hossack. His stats line was somewhat pedestrian for a defender. 1 goal, no assists, 3 shots, 5 loose balls, and two caused turnovers. But what those stats don't tell is just how physical he was all game long. There is a highlight from his one goal where he just throws Mark Steenhuis down to the turf, picks up the loose ball and scores 1:1. The shocking thing is that it isn't the only time he did this, minus the goal. He threw Steenhuis down, Callum Crawford once, and also did a similar thing along the boards to send the ball the other way. It's one thing to come across the crease or slide to a guy and knock him over, but to make these plays without a blatant hold is just something else. I'm sure every Buffalo fan wanted to see a hold on these, but those are the breaks.
The other major story was Vinc. The classic line for evaluating is "do they make the saves they should and make a few they shouldn't?". In this case, Vinc was making plenty of saves that he really had no business making. Especially late in the game, Buffalo was taking every chance to score in transition in 1:0 or 2:1 situations where they had plenty of time to place their shots. He continually turned away these shots and let up shockingly few rebounds for second chance opportunities. When Vinc is at the top of his game, the Knighthawks become a very difficult team to beat.
For the Bandits, there were few silver linings to pull from this game. The toughest spot has to be at goalie. Alex Buque gave up the first four goals, so the Bandits put in David DiRuscio so Buque could collect his thoughts a bit. Only thirty seconds later, the Knighthawks scored on a fast break and DiRuscio crumpled to the ground grabbing his leg. In my highly uneducated opinion based on zero years of medical expertise, I thought it was a cramp. But, he limped his way to the locker room and never even returned to the bench without pads to work the door. Whatever injury he had is seemingly severe and caused the Bandits to sign Zach Higgins according the Jack Goods of Buffalo News. But within the game, that made the Buffalo crease the loneliest place on earth. As the goals piled up, there was no other option but to force Buque to work his way through it. Seeing how he reacts in the next game is something to watch for.
The silver lining that I was able to pull from this is simply Steve Priolo. The Bandits as a whole just did not quit, but Priolo was central to every opportunity they had to even attempt a comeback. He seemed to be all over the floor and truly led his team like you would hope a leader would. I also want to tip my hat to Craig England who was getting absolutely mauled inside in the Knighthawks defense in garbage time. They easily could have been settling for outside shots in those waning minutes and called it a day, but England was trying to set screens and gather rebounds all the way into their final possession, paying the price multiple times. The scoreboard didn't show it, but the Bandits played with heart until the end.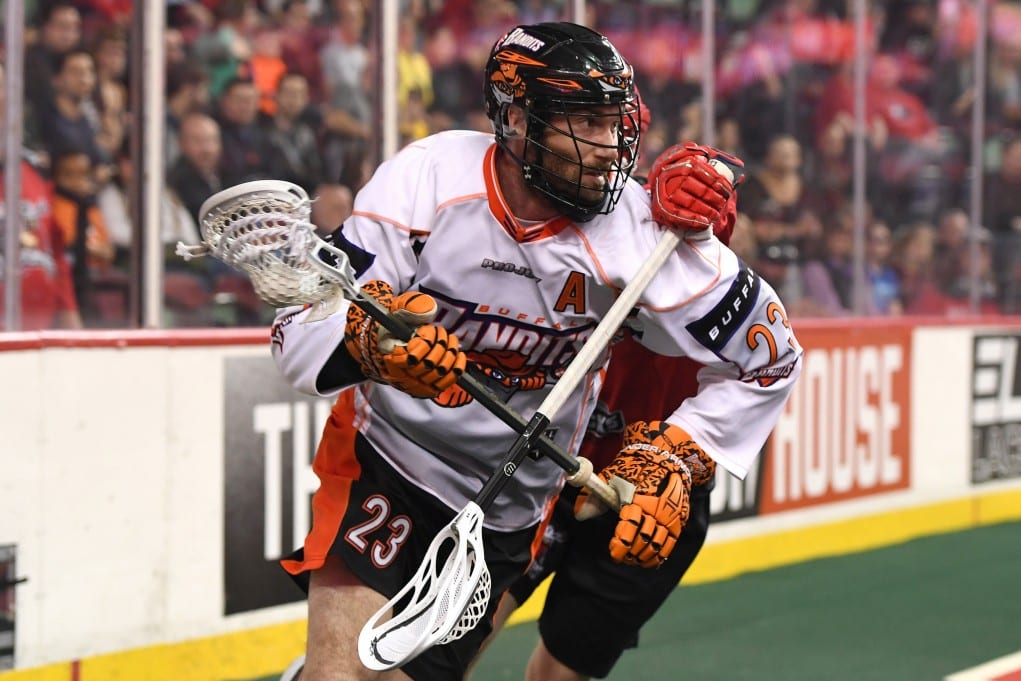 Examining Forward – Week 4
For this weekend, we have four games to check out. Vancouver visits New England, Calgary and Colorado renew their rivalry, Buffalo and Toronto have a rematch, and Rochester stops down to Georgia. That final game is the one that is really capturing my interest at the moment, though.
Georgia is 0-2 after falling close games in Colorado and New England. Colorado is sitting well right now, but New England followed up that win with a lopsided loss to the Rush. Maybe some home cooking can get the defending champs back on track as they return to Georgia for the first time this season. Unfortunately, they're facing the Knighthawks who as I just described are playing some pretty good lacrosse right now. An 0-3 Swarm might be just as shocking as a 3-0 Knighthawks at this stage in the season.
Here are some previews of two of the other games coming up this weekend:
Enjoy the games this weekend, you know I'll be watching!