In this update to the Expansion Draft, we look at what has changed since the last projection back in mid-February. Certain rosters have changed and trades have been made. Those trades have impacts on who everyone is and isn't protecting. A perfect example is the Callum Crawford and Shawn Evans trade.
Crawford was a free agent in Buffalo at the end of this year and didn't require protection. Evans had just signed a three year deal in New England which meant he had to be protected, but given that New England didn't have much to protect, this wasn't a big deal.
Now with this trade, Evans has to be protected and it means one more player is exposed to the Expansion Draft. As for New England, with few players to protect, Crawford being a free agent means New England has almost nothing to expose, or do they?
With as many free agents as New England has, this has exposed a whole new possibility, protecting free agents. Now with the season that Kevin Crowley had, he might be worth protecting and franchising, as Philly might take him as a free agent to franchise him as well. Considering Crowley lives in Philly, this makes perfect sense. I explored this likelihood in Calgary with Curtis Dickson this offseason. I still believe that Calgary will protect him and in the worst case scenario, franchise him.
But here's a whole new scenario that has arrived. New England could conceivably protect Crowley and Crawford. Now they could only franchise one of them, and Crowley would likely be that player. So why protect Crawford. Here's the theory. If any team signed Crawford as a free agent, New England likely gets a 1st round compensatory pick in 2019. With one or two more expansion teams likely coming for 2019-20, this would mean the 13th or 14th overall pick. For the pick starved Black Wolves, picks will help. But even more, the question you have to ask yourself is whether that 14th overall pick is worth more to you than the 11th player you would protect. It's possible.
By the same token, given how little New England has to protect, would Philly or San Diego pick Crawford with the belief that the compensatory draft pick is worth more than the 12th player that is exposed? It's possible, but it's difficult, and here's why. These two teams are only picking nine players off other teams' rosters. They still have 15 roster spots to fill with draft picks and free agents. Can these teams afford to pick a free agent as one of those 9 players, knowing they probably won't sign with the expansion team, and the draft pick you receive as compensation isn't until 2019. It's not easy, but if the expansion team is forward thinking, they'll likely admit that winning a championship right away isn't realistic and building up for the future is far more important.
All of these intricacies of the expansion draft mean the decisions the teams have to make are that much more difficult. It's easily possible that top players won't be protected if they are a year away from being a free agent in order to protect youth. As much as Paul Day and Pat Merrill will run several mock drafts and study potential lists, at the end of the day, teams can throw a wrench into those mock drafts with a surprise protected player, or the other expansion team selecting someone you didn't expect.
The Rules
As for the rules for the Expansion Draft, the clarifications provided by the Commissioner in February are as follows:
Each team will lose 2 players.
Each team can protect 11 players, with a maximum of one goalie and a maximum 5 forwards.
Unlike previous expansion drafts, teams will not be able to protect additional players after they lose a player in the draft.
A coin flip will occur between San Diego and Philly sometime in the near future. The winner gets to choose whether they want to select first in the entry draft or expansion draft. The team that loses the coin flip gets the first pick in the draft the winner doesn't select. For example, if San Diego won and took the 1st pick in the entry draft, Philly gets the 1st pick in the expansion draft.
The expansion teams do not have to draft one player from each team.  Expansion teams may draft multiple players from the same team.  For example, San Diego can draft 2 players from Colorado, which means Philly gets no players from Colorado, but gets two players from another team, such as New England.  This assists dealing with geographic concerns with player's living and working situations.
Expansion teams will receive additional draft picks, starting with extra picks at the end of round 2 in 2018 (thanks Corporal) the next few years to help them build.  If you would like to see how the extra picks work in 2018, here's the link for that!
As for the fourth rule above, both general managers have indicated in earlier interviews on Off The Crosse Bar that they will likely select the first pick in the entry draft.
As I did in the last projection, I'm going to ignore for now potential trades that will be made between teams to avoid losing players for nothing or teams striking deals with the expansion teams to select a specific player. If anything can be learned from the NHL Expansion Draft last year, these trades didn't turn out so well for the team trying to dictate which player they would lose.
A few more assumptions for this draft projection…
Teams won't protect UFA's and they won't be selected with one exception that is such huge UFA, he would certainly be drafted and franchised.
Expansion teams won't be too concerned about the positions they are choosing, except for drafting one goalie.  They're only getting 9 players each and still have half of their lineups to fill so getting the best player available will be the primary concern.
On another note, the data that is compiled here is a combination of the information available from the teams and the NLL Transactions page. The NLL Transactions page is incomplete and from time to time misses transactions (example: the Evans – Crawford trade isn't on the transactions page). If any transactions were missed by the NLL page, they may appear incorrect in my data as well.
2018 Expansion Draft Preview Vol. III
Saskatchewan Rush
Protected – Mark Matthews, Kyle Rubisch, Ryan Dilks, Mike Messenger, Jeff Cornwall, Robert Church, Ben McIntosh, Ryan Keenan, Evan Kirk, Chris Corbeil, Matt Hossack (4F, 6D, 1G)
Players Becoming UFA's Prior to Draft – Brett Mydske, Dan Dawson, Tyler Carlson, Jeremy Thompson
Unprotected – Tor Reinholdt, Curtis Knight, Matt McGrotty, Marty Dinsdale, Adrian Sorichetti, Nic Bilic, Jeff Shattler, Johnny Pearson, Nick Finlay, Adam Shute.
Projected Selections – 
Adrian Sorichetti, Curtis Knight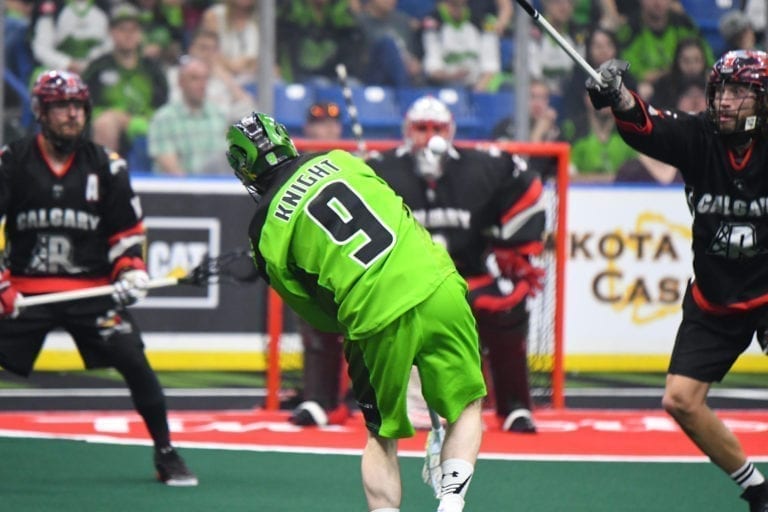 Once again, I haven't changed any of my projected picks or protected players for the Rush. I did consider whether Marty Dinsdale should be protected, and almost put him on here, but then changed my mind. He is invaluable to the Rush offense, but I also wonder how effective he would be on a roster where he is a bigger name player, gets more attention, and he doesn't have a Church or McIntosh to open the floor for. If an expansion team were to take Dinsdale, it would likely be to try to trade him back to the Rush.
Whomever Derek Keenan loses, I doubt he will lose much sleep over it. If Knight goes, he has more incentive to re-sign Dawson. He also holds so many draft picks to replenish the roster. In the end, it's a case of he knows he will lose two players, so move on and fill a few gaps.
Vancouver Stealth
Protected – Matt Beers, Jarrett Toll, Rhys Duch, Corey Small, Logan Schuss, Justin Salt, Eric Penney, Brandon Clelland, Tony Malcolm, Pat Saunders, Andrew Suitor (5F, 5D, 1G)
UFA's Prior to Draft – Chris O'Dougherty, Cliff Smith, Jon Harnett, Joel McCready, Peter McFetridge, Ian Hawksbee
Unprotected – Evan Messenger, Tye Belanger, Travis Cornwall, Tyler Garrison, Casey Jackson, Brandon Goodwin, Tyson Roe, Cody Teichrob, James Rahe, Seth Oakes, Reid Mydske, Mack Mitchell, Brendan Fowler, Brendan Ranford

Projected Selections – James Rahe, Seth Oakes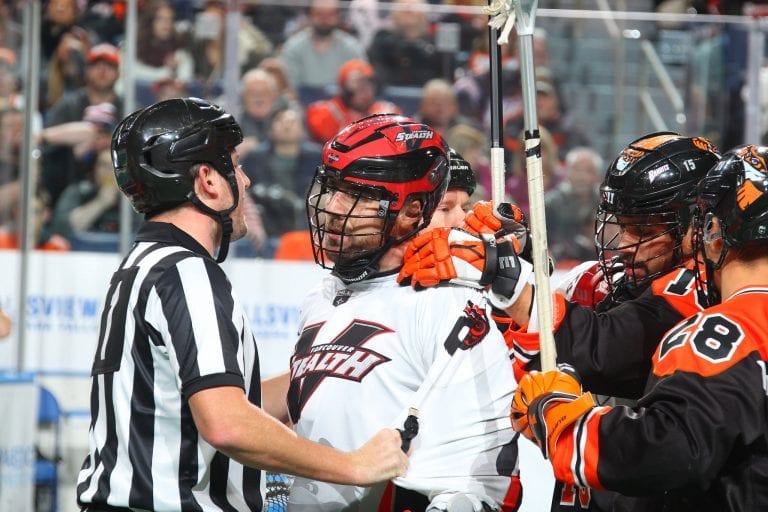 A number of names on the unprotected list have changed in the last while with the Stealth trying out several players, and one of those players changes my mind on who the final selections are in Oakes. Oakes is a former 1st round pick, and with little else to pick from, why not give him a shot. Unfortunately for guys like Rahe and Oakes, the five forwards the Stealth protect are virtually set in stone.
To clarify here, yes Corey Small is on the list. Even if he is traded to a team out east, I doubt a trade occurs before the expansion draft, as prospective teams won't want to have to protect Small in the expansion draft.
I honestly debated this go around as to whether the Stealth should protect a 6th defender instead of Penney, but with the expansion draft projected selections both being forwards, there was no need to do this. Once again, what Toll's situation is for playing in the next year dictates whether he is protected or not. Unlike New England, I don't see the Stealth protecting free agents since they're free agents are likely to provide no better than a 2nd round compensatory pick in 2019, around 28th overall, which isn't worth pulling the stunt off for.

Colorado Mammoth
Protected – Robert Hope, Cam Holding, Jacob Ruest, Jeremy Noble, Eli McLaughlin, Joey Cupido, Chris Wardle, Dillon Ward, Ryan Benesch, Tim Edwards, Dan Coates (5F, 5D, 1G)
UFA's Prior to Draft – Greg Downing, Brad Self, Stephen Keogh, Scott Carnegie
Unprotected – Ryan Lee, Zack Greer, Josh Sullivan, Taylor Stuart, Jordan Gilles, Bryce Sweeting, Brent Adams, Brody Eastwood, Steve Fryer, Quinn MacKay, Rowan Kelly, Brandon Humphrey

Projected Selections
 – Ryan Lee, Zack Greer
There is only one change to this list since I last wrote it. I simply think Chris Wardle is far too valuable to the Mammoth line-up to not protect him. This in turn exposes Ryan Lee, who had an outstanding start to the season, but then sat as the healthy scratch as Stephen Keogh had one amazing season. I would hate to be in Dan Carey's shoes on this one as the five forward limit kills the Mammoth here. Do you protect Zack Greer and Ryan Benesch as great players, but free agents in a year, or do you protect Wardle and Lee. You could tell me any combination here as to which two you protect, and I wouldn't say you are wrong. For now, keep Benesch who was near the top of the scoring race, and keep Wardle.
Calgary Roughnecks
Protected – 
Wes Berg, Tyler Digby, Mitch Wilde, Tyson Bell, Dan MacRae, Holden Cattoni, Christian Del Bianco, Zach Currier, Tyler Pace, Riley Loewen, Curtis Dickson* (5F, 5D, 1G)
UFA's Prior to Draft
 – Tyler Richards, Curtis Manning, Mike Carnegie, Curtis Dickson, Creighton Reid, Bob Snider, Dane Dobbie, Tyler Burton


Unprotected
 – Garrett McIntosh, Chad Cummings, Ryan Martel, Frank Scigliano, Greg Harnett, Kellen LeClair, Anthony Kalinich, Cole
Pickup 

Projected Selections
 – Frank Scigliano, Ryan Martel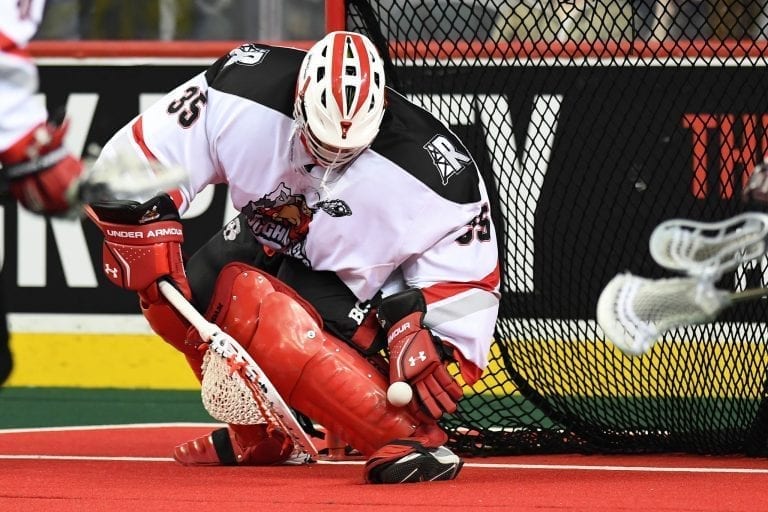 You see an asterisk above on Curtis Dickson and he's the one UFA that gets protected. It's highly likely that if he's exposed, one of the expansion teams draft him, franchise him and either convince him to play or trade him away. That's too big of a risk for Calgary to take.
Scigliano is certain to go in this draft as one of the two goaltenders. As for the second player, the fact that the Roughnecks have so many free agents limits the field. I bounced back and forth between Harnett and Martel, but I'll take Martel for now as he is simply younger and has more upside potential.

Toronto Rock

Protected – 
Rob Hellyer, Tom Schreiber, Challen Rogers, Brett Hickey, Latrell Harris, Nick Rose, Adam Jones, Reid Reinholdt, Bill Hostrawster, Damon Edwards, Sheldon Burns (5F, 5D, 1G)


UFA's Prior to Draft
 – Sandy Chapman, Brodie Merrill, Brandon Miller
Unprotected – 
Kieran McArdle, Turner Evans, Bradley Kri, Dan Taylor, Dan Lintner, Phil Caputo, Brock Sorenson, Paul Rabil, Jordan Magnusson, Riley Hutchcraft, Drew Belgrave, Dan Craig, Jesse Gamble, Darryl Robertson, Brandon Slade, Adam Jay, Zac Masson
Projected Selections – 
Kieran McArdle, Bradley Kri
While people may debate about McArdle, I think Philly will make him a priority to pick. I debated last time about Kri, but the last several games for the Rock, Kri was hardly used, so that solidifies my belief that he won't be protected. As doubtful as Taylor was to be protected to begin with, the Rock can't afford to protect him as the condition on his trade was an upgrade to a 2nd round pick to the Rush if he was protected.
As for filling gaps, the Rock have already traded their next two #1 picks to the Rush.
New England Black Wolves
Protected – 
Reilly O'Connor, Doug Jamieson, David Brock, Colton Watkinson, Stephan LeBlanc, John Lafontaine, Joel Coyle, Johnny Powless, Brett Manney, Kevin Crowley*, Callum Crawford* (5F, 5D, 1G)


UFA's Prior to Draft – 
Aaron Bold, Kevin Crowley, Kevin Buchanan, Jay Thorimbert, Kyle Buchanan, Callum Crawford, Dylan Evans

Unprotected – 
JP Kealey, Derek Suddons, Adam Bomberry, Mark Cockerton, Anthony Joaquim, Matt Spanger, Nick Chaykowski, Brooker Muir
Projected Selections
 – Adam Bomberry, Anthony Joaquim
As you can see the Black Wolves have a lot of big name free agents. As I stated earlier, Kevin Crowley is protected and franchised. He could ultimately be traded, but not without getting something major in return. Crawford in my mind is protected too simply for in a worst case, a compensatory draft pick. That ultimately is the decision for Rich Lisk, is the compensatory draft pick worth more than Bomberry or Joaquim. Don't be surprised if Crawford is exposed and one of Joaquim or Bomberry is protected.
Buffalo Bandits

Protected – 
Alex Buque, Kevin Brownell, Mitch DeSnoo, Thomas Hoggarth, Nick Weiss, Steve Priolo, Mitch Jones, Jordan Durston, Dhane Smith, Josh Byrne, Shawn Evans (5F, 5D, 1G)


UFA's Prior to Draft
 – Mark Steenhuis, Bill O'Brien
Unprotected
 – Craig England, Davide DiRuscio, Ryan Wagner, Matt Bennett, Justin Martin, Chase Fraser, Ryan Fournier, Reid Acton, Ethan Schott, Zac Reid, Vaughn Harris, Zach Higgins, Liam Patten, Alex Kedoh Hill, Zach Herreweyers
Projected Selections
 – Zach Higgins, Chase Fraser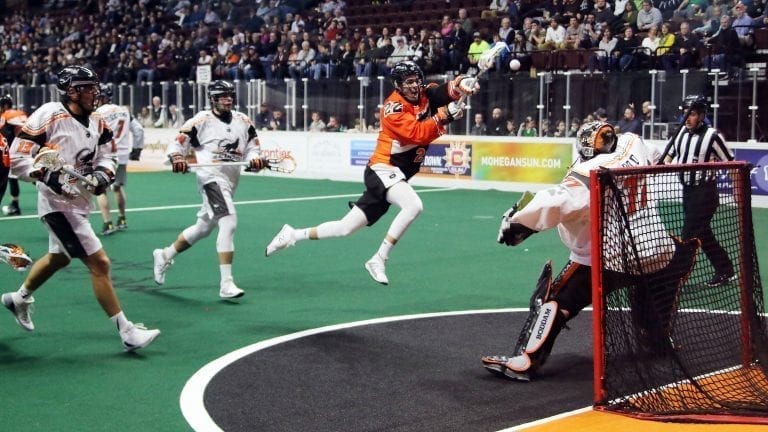 In speaking with Bandits fans, they realize that they like Chase Fraser, and they'll probably lose him. He is likely the casualty from the signing of Shawn Evans. Higgins becomes the other goaltender selected, which isn't the worst thing for Buffalo since they have DiRuscio, but now they are stuck with Buque, and it's debatable if he is the best goaltender on the team.


Rochester Knighthawks

Protected
 – Graeme Hossack, Brad Gillies, Joe Resetarits, Austin Shanks, Josh Currier, Kyle Jackson, Cody Jamieson, Jake Withers, Luc Magnan, Frank Brown (5F, 6D, 0G)
UFA's Prior to Draft – 
Matt Vinc, Angus Goodleaf, Billy Dee Smith
Unprotected – 
Paul Dawson, Cory Vitarelli, Eric Fannell, Dan Lomas, Quinn Powless, Sid Smith, Adam Perroni, Eric Shewell, Scott Campbell, Luke Laskiewicz, Ian Llord


Projected Selections – 
Eric Fannell, Cory Vitarelli
Rochester is the one team where you will see 11 runners protected as opposed to 10 runners and a goalie.  The reason is both of Rochester's current active goaltenders are both UFA's at the end of the season.

This is the team that I have made the most changes to since the last projection. There are two key reasons. First off, Rochester was a 2-6 team back then and things changed dramatically. Secondly, Rochester has made a concerted effort to get younger. As a result, I have revisited every older player on the team and for the most part removed them from consideration.


Georgia Swarm
Protected
 – Lyle Thomspon, Miles Thompson, Randy Staats, Jordan MacIntosh, Shayne Jackson, Joel White, Alex Crepinsek, Mike Poulin, Jason Noble, Jesse King, Bryan Cole (5F, 5D, 1G)


UFA's Prior To Draft
 – Jerome Thompson
Unprotected – 
Kiel Matisz, Jordan Hall, Chad Tutton, Connor Sellars, Ethan O'Connor, Warren Hill, Brayden Hill, Kevin Orleman, Leo Stouros, Zed Williams, John Ranagan
Projected Selections – 
Kiel Matisz, Connor Sellars
The first name in the projected selections, Kiel Matisz, says it all. Georgia runs all kinds of problems with the five forward rule. Age and availability are factors when it comes to passing on Jordan Hall for now, although if either expansion team picked him up, it wouldn't surprise me. It also wouldn't surprise me if Zed Williams was selected. But don't fear, Georgia has a ton of first round draft picks the next few years to fill the gaps this expansion draft creates.
Make Them Game Ready!
I am still of the opinion that allowing teams to protect 11 players each is far too many.
You want to make these expansion teams competitive from the start to give them the best opportunity to succeed financially.  If you look at what the Vegas Golden Knights were able to receive out of the expansion draft, the results on the ice have been fantastic and the team has quite the buzz going.  I'm not so certain that the players listed will create enough buzz considering what they will be facing.  Even reducing the number of protected players to nine gives the expansion teams considerably better talent without having too large of an impact on the existing teams.

While I am more confident in the players that will be protected and selected than I was three months ago, there are still question marks on the players near the fence. But in any case, the expansion teams will have a lot of work to do beyond this draft as they still have a number of holes to fill via free agency. Luckily you have two expansion owners with the available cash to go after free agents aggressively.
Let the debate continue.

As always a big thank you to all the readers out there.  For the latest articles follow me on Twitter @evanschemenauer.