[rwp-review id="1″]
Company: Epoch Lacrosse / Product: The Hawk / Price: $99.99
Today I'm checking out The Hawk by Epoch Lacrosse on LaxAllStars.com! I have been exposed to this head for months now, and I've seen it develop through 3D printing, talked to the original creator (Flip Naumburg), and learned a lot by being so intimately involved. This first hard experience gives me an unparalleled insight into this new product, and now I'm sharing that perspective with you.
Why is The Hawk the first truly different lacrosse head we've seen in a long time? Allow me to explain…
Editor's Note: Epoch Lacrosse is a proud LAS partner, and they sent us a Hawk and a piece of Otter Mesh for this review. What other online review would tell you that?
The Hawk by Epoch Lacrosse
Appearance… +9
Maybe you like the look of the Hawk initially, and maybe you don't, but I'm not really talking about the aesthetic of the head, or its sidewall design, instead I'm talking about the fact that this product actually looks different from anything else out there. The thick upper half of the sidewall, thin lower half, and laid back tilt all make this head truly unique, and that will lead to people taking a deeper look. And they should!
The head looks aggressive, has a narrow face, solid keyhole shape, and looks like something intriguing. People will ask if they can look at your stick, or if they can try to throw with it just because they are curious That's how different it looks. If that's your thing, different, than you might love this. To me, that's worthy of a 9. Especially when you move on to the details…
Stringing… +9
The Hawk has a ton of stringing holes (19 on each sidewall to be precise), and they run the full length of the sidewall. The scoop holes are well place, and the bottom holes easily allow for mesh or traditional stringing techniques, as they are wide, thin slots.
While the head is designed to take a high pocket, or mid-high pocket, that doesn't mean you can't try some different stuff. High pockets, mid pockets, and yes, even low pockets can work in the Hawk, and the stringing holes allow for solid creativity. It's a fun head to string, and it provides some new challenges because of the sidewall shape, which any dedicated stringer can appreciate.
Stiffness… +9
The Hawk is lightweight, but it doesn't feel flimsy. The sidewalls can be pinched in a bit with your hands, and it makes for a good face off head pretty quickly. The weird thing is that it doesn't bend or remain flexed as much as other heads I've used for face offs. Instead, it eventually flexes back to its original shape.
Epoch has been finding new materials for use in their DragonFly shafts and Otter Mesh, so we shouldn't be surprised to find them using a composite polymer blend when they cast their heads. This results in a light, but stiff and strong head, and I'm personally excited to see if this new technology becomes an industry standard. The material experimentation wars are alive and well!
Durability… +8
The true durability test for the Epoch Hawk will take place on the fields of play over the next year, so all I can judge the head on for now is what I've seen personally.
Take the head out in the sun, and it warms like other heads, and gets slightly softer. Bring it back inside, and it's back to normal. Go outside the next day and the head is just fine, like nothing ever happened.
Take some face offs? No problem. Give the stick to a 12 year old to bash around? Also not a problem. I don't seen any problems in this regard, but consensus will tell us the ultimate truth down the road. For now, an 8 seems fair.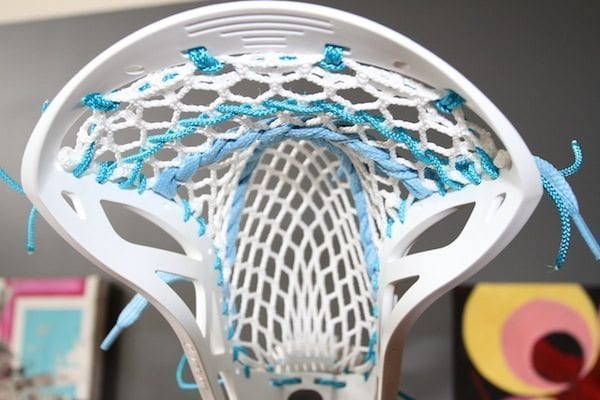 Value… +8
$100 is a lot of money for a lacrosse head. There is no question about that. If The Hawk were just another offset head, the value score would be much lower. But The Hawk IS something different, and I guess you have to pay for that! It's not just stiff, or light, or narrow, or even all of the above… it literally throws and feels different, and that's what you're paying for.
Overall… 8.6/10
In my view, this head can be a game changer for SOME of the lacrosse playing population out there, and I've seen many of them out there. These are the players who rarely cradle vertically or with one hand. They are the guys who love hold in their stick, and love throwing fakes. They are also quite often the guys who throw passes into the ground because of excess whip, or the guys who can't make a quick feed because of their stick set up.
THESE guys are going to love this head.
The Hawk's laid back design and high sidewall thickness work some weird physical magic on the ball. It allows for all the hold and feel of a high pocket, but when you throw, the ball really does want to come out going straight, and not down. It's almost like the head was designed to reduce whip to a manageable level while keeping all the hold. I'm still trying to understand the physics of it, but from using it, I know it's true already. My brain will catch up eventually!
Overall, I'm really impressed by The Hawk, and I hope you don't write it off as a gimmick. It is truly something different, and it might not be for you, but it also might be. Find a friend who has one, find a store where they are sold, and PLAY with one. Try it out… you just might be pleasantly impressed!