Editor's note: StikerDanger, the designer and manufacturer of the most aggressive shorts and shooters in the lax world also has a blog. You didn't know this? Well, they do, and it's pretty darn awesome! They're not talking SD shorts and gear either… they're just talking LAX! That's what we like to see!
When Chazz Woodson had some advice for Syracuse regarding the future of #22, a lot of people chimed in with comments, but this is the reaction to take the cake! Check out the StrikerDanger blog, ask them why they don't have a blog on our network and then get right back into the raging debate over the legend that is NUMBER 22.
___________________________________________________________________________________________________________________
There's no denying the fact that the Syracuse #22 has taken a major hit the past few years. It belonged to a first team All-American from 1996 – 2004, and it hasn't been worn by one since. In the post-Powell era of 'Cuse lacrosse, everyone who's worn it has been second-guessed and bashed by message-board haters on a daily basis.
It's been years since the jersey was worn by a legend, but the Orange can't retire the #22.  Want to know what would happen if they did?   You're in luck, because we've already seen it.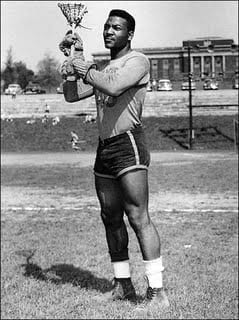 At Syracuse University, they've got a real thing for jersey numbers.  The #44, worn by hall of famers like Jim Brown and Ernie Davis, is the football version of the #22.  Because of those players, every phone number at Syracuse University now begins with 44. The University zip code now ends in 44.  One of the bars next to campus was called "44's" until new management changed the name to "Konrad's," after a Syracuse player who wore, yup, #44.  Just like the #22, wearing the #44 put you in the company of greatness.
As the years went by and the All-Americans stopped coming, Syracuse made the controversial decision to retire the #44 in 2005. Every year since then, angry fans have demanded that it be un-retired.  Why?  Because it's the number the hero wears.  It's King
Arthur's sword in the stone, Thor's hammer in the rock: one day another legend will emerge, and when he does, he'll need that jersey.
Their love for numbers aside, there's a more important reason 'Cuse can't retire the #22: they simply can't afford to.
Think about how quickly the landscape of college lacrosse is changing: a team from Denver made it to the Final Four.  The University of Michigan is going D1 next year.  Syracuse needs to do whatever they can to make sure they still get the top-level recruits, especially when you consider that they just missed consecutive Final Fours for the first time in over 30 years.  This is no time to take potentially one of their biggest recruiting tools out of the equation, and I guarantee that somewhere in America, there's a young lacrosse phenom who dreams of walking into the Carrier Dome with the #22 across his chest.
Now, here's the thing: if you're waiting for the next Mikey Powell to show up, get ready for years of disappointment, because yes, he broke the mold.  His accomplishments were freakish even by #22 standards: four-time 1st team All-American.  Four-time attackman of the year. 307 points.  Two national championships.  I don't care what number he's wearing, we may never see that again.
But here's the thing: I think most of us understand that. Come on, read that resume again.  You know how many people in lacrosse history were four-time 1st team All-Americans?  Four. Four-time attackmen of the year? Just him. So don't bother waiting for the next Mikey Powell; just be glad you got to see that one.
For the past few decades, the #22 hasn't just been about offensive ability, it's been about flair.  It's the Air Gait.  It's Casey Powell setting the SU scoring record with a behind the back rip in the 1998 NCAA tourney.  It's Ryan tying Casey's record two years later, with time running out in the title game against Princeton.  It's pretty much everything Mikey did.
'Cuse fans should hope to see more performances like these, understand that they may not, and look forward to watching the newest #22 attempt to take his place amongst the legends. If the coaches believe in a player enough to offer him the jersey, and he believes in himself enough to wear it, then I want to see what he can do when the biggest spotlight in college lacrosse is pointed right on him. Syracuse may never find a #22 who takes it back to where it once was, but they definitely can't give up trying.
Bonus Mikey Powell highlights from his days at Cuse. Will we ever see this again? Probably not.
[fvplayer src="https://youtube.com/watch?v=g9Zytgixk6g?version=3″ splash="https://i.ytimg.com/vi/g9Zytgixk6g/hqdefault.jpg" caption="Mike Powell Syracuse lacrosse highlights"]