I started my day with a 6 AM flight out of Seattle, WA and ended it on the sidelines of a thrilling USA vs Iroquois Nationals lacrosse game held in Netanya Stadium. With just those two events it would be a relatively full day, but there was so much more in store for me as I set out on my journey to Israel.
First Impressions
This country is beautiful! Flying in we were treated to a glorious view of the coast and a peek at all of the development happening across the country. As you might imagine with a country in the Middle East, the landscape is covered in a sandy texture with pops of green that offer an oasis for their residents.
As we landed I certainly felt a warm welcome from the locals on my flight, so I was eager to venture out and experience the community first hand. We quickly learned that the Iroquois Nationals were also expected to land around the same time but had hit some roadblocks along the way. Needless to say, the folks at Israel Lacrosse did everything in their power so that the Iroquois could complete their journey. That warm welcome feeling soon came rushing back as we watched the team clear customs and get greeted by adoring media and fans.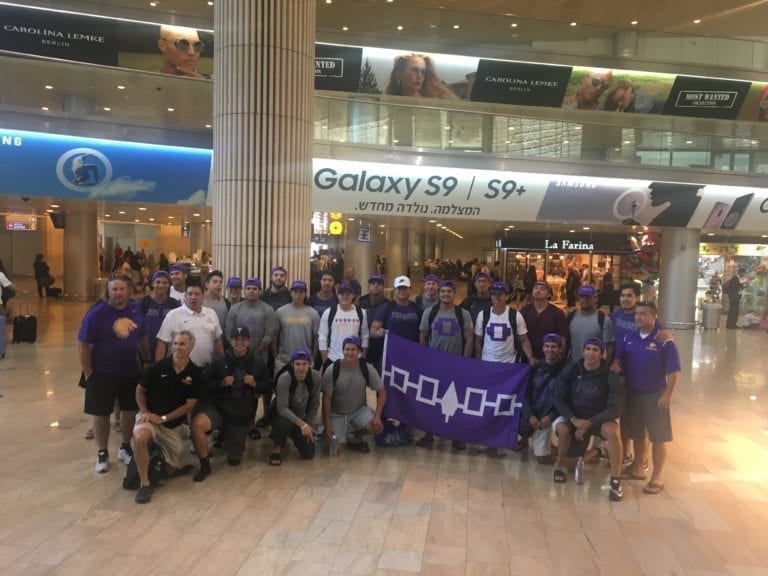 My first taste of the 2018 FIL Men's Lacrosse Championships came in the form of a sweet victory for the home team over the newcomer, Jamaica. The local fans were out in full force, armed with passionate cheers and supportive signs. Soon after the final whistle, the field was cleared and the stands emptied as the bulk of the fans joined their own teammates to really kick-start the tournament with the opening ceremonies. The ceremony paid tribute to all 46 participating countries and the tireless work that everyone here in Israel put in over the past year to put on such a great event. No better way to cap off that celebration than with a thrilling USA vs Iroquois match up.
Looking Ahead
July 13th marks my first full day on the ground at the World Championship event which will mean non-stop lacrosse, and I wouldn't want it any other way. Personally, I will be on the field sidelines covering 3 games on Friday starting with Uganda vs Luxembourg at 2:30 PM local time, China vs Denmark at 5:30 PM then finish the day with Turkey vs Peru at 9:45 PM. You can follow my coverage on the LaxAllStars Instagram and Twitter as well as read game recaps here on laxallstars.com.
But before I really hit the fields on Friday, I am looking forward to tasting some local delicacies and soaking in the beauty of the Netanya beaches.