Welcome to World Championships Game Reports Super Post: Day 4! Get the details, know the game! GROW THE GAME!
Colombia 4, Finland 20
Authored by Matt Anderson
Having been shutout in the 2014 FIL World Lacrosse Championships by Finland, Colombia was looking for revenge at the 2018 games in Netanya, Israel. While the game was another blow-out win for Finland, 20-4, you would not have guessed it from the heated play that took place.
From the opening faceoff, it was a physical, hotly-contested battle that when the dust settled, over 14 flags had been thrown with multiple penalties that could have been called more than the usual time.
This style of play heavily favored Finland, as their team had bigger, more physical athletes. The larger Finnish players pushed around the smaller Colombians all day long. Jarno Aaltonen stood towering over opponents and let loose multiple canons from the outside, tallying two goals and two assists on the day. Aaltonen was also incredibly efficient, shooting fifty-percent from the field.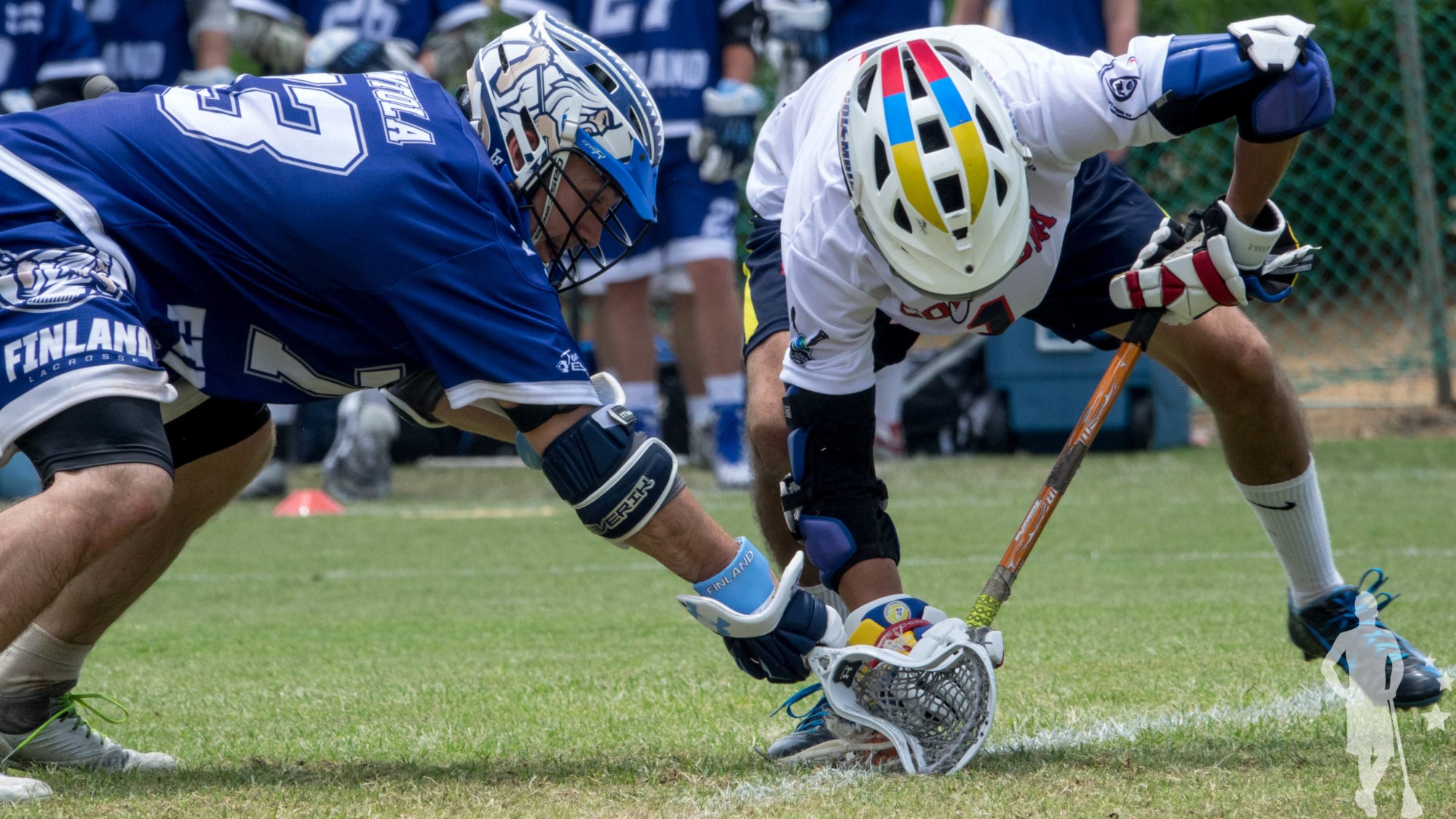 The Finnish players were also entirely well-balanced on offense. Ten players from the team registered a point. Finland was incredibly patient on offense and moved the ball well.
While Aaltonen had a great game, it was Roope Jokela who stole the show for the Finns, however. Jokela registered six goals on the day, shooting fifty-percent from the field as well.
Colombian goalkeeper Oscar Cifuentes Andres struggled early, particularly in the first quarter when he did not stop a single shot while letting in six goals. Andres was pulled out of the game at the 34:16 mark, but was put back in the game less than six minutes later. What was presumably an attempt at a wake-up call worked, as Andres then went on to make 18 saves in the game. Eight of those saves came in the fourth quarter, when Andres turned away shot after shot in fantastic fashion.
Just like in 2014, Finland has gone undefeated in pool play. What remains to be seen is how the Finnish can handle the rest of the tournament. Finland will play the No. 2-seed from the White, Norway, in their next match on Sunday. Colombia looks to rebound against the No. 3-seed from the Grey Group on Sunday.
Finland has seen unprecedented growth in their program since 2014. What is even better for the Finns is that most of those players are actually from Finland. If Finland can keep their momentum rolling in this tournament, it could spell huge success for their program in the years to come.
Greece 9, Latvia 10
Authored by Ryder Cochrane
OVERTIME! After three days of play, Greece-Latvia finally gave us the tournament's first international-style, eight-minute overtime. Talk about a tale of two halves. It was the best of times, it was the worst of times for both squads, who each went on extended runs that showed dominance but did not manage to put together a full four quarters one way or the other.
Early on, it looked as though Latvia's players with their superior size and physicality would steamroll their more slender Greek counterparts. The Latvians bashed their way through the Greek defenses, and Latvia's Lasda brothers ripped off three straight goals betwixt one another. A quick double from Christopher Zarins followed, and Latvia continued a twenty-eight-minute run that saw them leading 8-0 before the second quarter water break had even begun.
The Greeks, historically no stranger to performing against immense odds, fought back from the brink of Hades with their own scorching run. Benefitting from a slew of Latvian penalties in the late second quarter, Greece mounted their own 8-0 run that showcased their team's efficient passing and midfield depth. Six different goalscorers chipped in during the run, with Jordan Korinis leading the way with two goals and two assists, including the Greeks' first goal.
With six minutes remaining in the game, Latvia finally broke their cold streak, only to watch Greece nearly instantly tie the game up and send it to overtime. Unlike lacrosse in NCAA or NFHS play, international play mandates two periods of four minutes for overtime, so when Latvia scored at the end of the first overtime period, they wouldn't win outright on a golden goal. However, Latvia's defense held strong, and they won 10-9 off the goal from Īlajs Lasda.
Credit the Greek coaching staff for strong adjustments to bring them back in. After starting goalie Loukas Sotiropoulos-Lawrence started the game posting a 38% save rate, and picking up a penalty in the process, the Greeks elected to swap in the veteran Anthony Katagas, who posted a 55% save rate through the rest of the game to help the Greeks get back into things. Latvia's Kristofers Doktors saved 69% of shots coming his way, including 8 saves between the fourth quarter and overtime. Despite the strong play of Doktors, the game ball goes to Īlajs Lasda, who led Latvia with four points, including the game-winner in OT.
Luxembourg 6, Poland 15
Authored by Stuart McGregor Dallas
After yesterday's disappointing 9-7 loss to Hong Kong, Poland came into this game with a divine determination to win whilst Luxembourg came into this game hoping to seal their first win at a World Championships. Luxembourg are the new kids on the block, competing for a first time on the world stage and already struggling with the rigours afforded by this kind of intensive tournament, held in such difficult conditions.
Already missing their face off guy to heat exhaustion, Luxembourg struggled to compete for possession at the start of the game. The efforts of star goalkeeper Linus Foehr keeping them in the game as Poland piled on the pressure. The naive leaky Luxembourg defense giving up too many holes for the Polish attackers to creep through and score from the doorstep. Jan Smigiel quickly making known as a playmaker as he scored Poland's first goal, and setup the motions that would help them score six goals in the first quarter as Luxembourg could only muster one goal from midfielder Jacky Liu.
The second quarter was a very similar affair as both teams made many errors, forcing many exhaustive transitions under the blazing Israel summer sun. Poland still faired better scoring two further goals by Marcin Janiszewski and Matt Johnson, with just a single goal in reply from the well known and much liked European tournament regular, Christopher Snaga. Luxembourg trailed Poland 8-2 going into the half.
Hoping for a resurgence in the second half, Luxembourg were seriously lackluster and flat. Unable to hold their own after two back to back games already this week, their bench was lacking numbers as more players combatted injuries and exhaustion. This gave Poland the chance to rack up five further goals, three of them by Smigiel as the powered ahead into a strong lead.
The final quarter was an unusual affair as Luxembourg served 4.5 minutes of penalties but still managed to score as many goals as they had all game. The Polish defense losing focus in the final quarter and gifting Luxembourg the chance to put points on the board. London based attacker Nick Smith repeatedly driving towards the cage before finally finding his target, further goals from Nick Beattie and Christopher Snaga only helping to lessen the blow of defeat as this game finished 15-6.
Poland's Coach Plumly clearly recognized that his team will need to be more focused so that they don't give away another heartbreaking loss like the one against Hong Kong, whilst Luxembourg's Coach Scott was realistic about his program's ambitions to simply grow and learn from these games.
Croatia 2, New Zealand 16
Authored by Ryder Cochrane
After struggling a little in a win over Spain, New Zealand came out hot against Croatia today and never looked back. For Croatia, it was another day, deep in ther trenches, trying to put their nation on the lacrosse map. Hats off to the newcomers for not watching from home, but hualing out to Israel to join history's largest international lacrosse celebration.
It was Haka Flocka Flame all first half for the Kiwis, who roared out to a 12-1 lead at halftime. Andrew Clayton, the former Chapman MCLA National Champion, led the way with four first-half goals. Slowing his roll in the latter, Clayton helped his own squad focus on distributing and locking down the plan for the coming rounds.
For the Croatians, their defensive rotations were a step behind the crisp Kiwi passing all day. The New Zealand physicality seemed to surprise a Croatian squad that began to shy away from ground balls after a few early big hits from New Zealand on transition. A growing timidness is tough to fight through, especially when the team is falling short so largly of their goals. But, for most team, just being here and representing their nations carries pride greater than winning does.
For New Zealand, Puerto Rico awaits. It's a matchup that should be a fantastic show. Both teams have come out of the gates strong in group play, and the two should combine for a high scoring showdown. The Croatians draw Chinese Taipei in the next round, both teams are looking for their first win here in Netanya.
Australia 1 vs USA 19
Authored by Justin Meyer
Another day, another domination.
USA cruised to its second victory of the World Championships on Saturday at ESPN Field, handling Blue Division foe Australia 19-1.
The Americans controlled the game from the first face-off, piling up 14 before Australia got onto the scoreboard 56 minutes into the game, proof positive of a defensive clinic.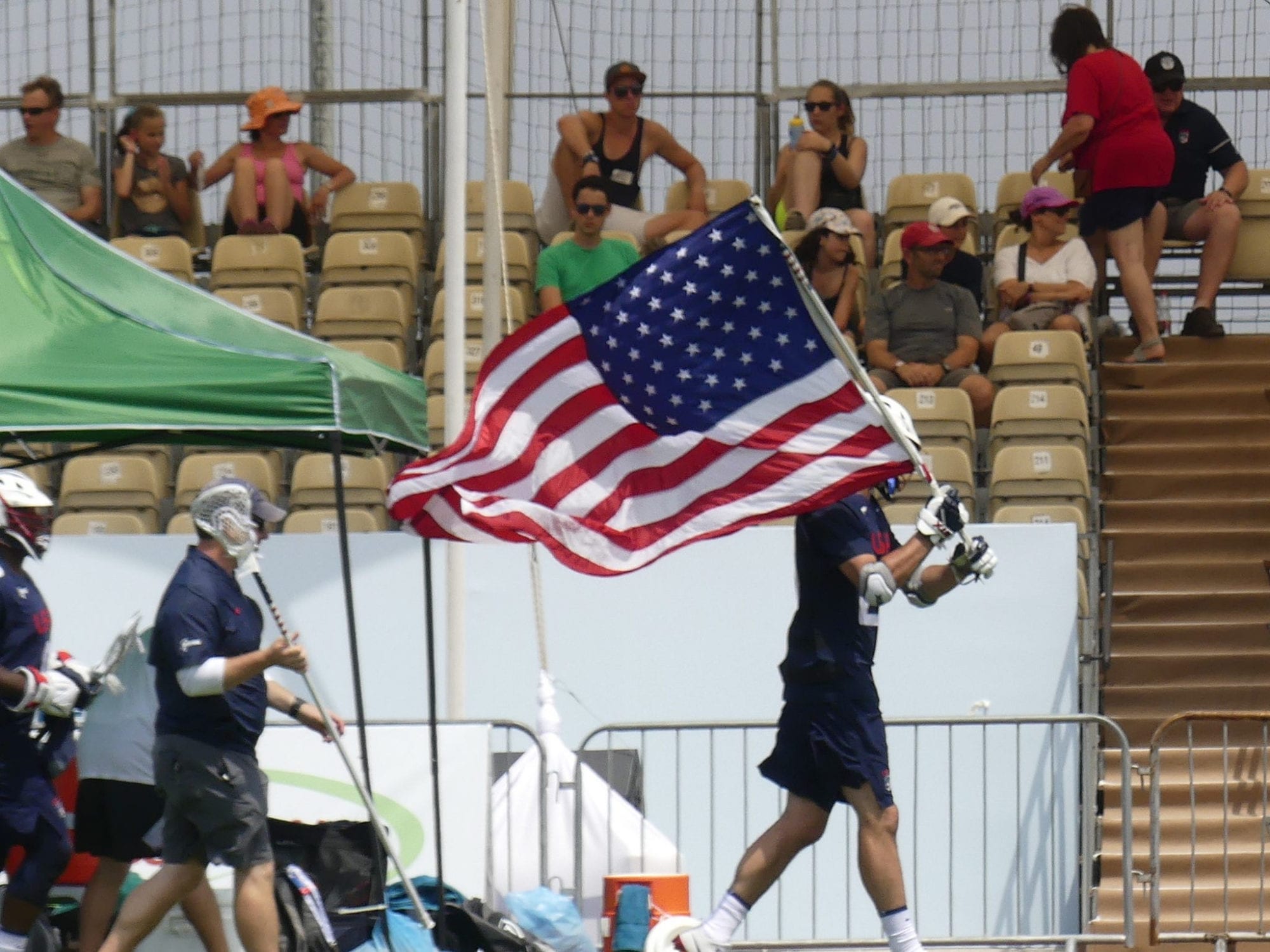 "They communicate so well," said American attackman Marcus Holman, who scored a hat trick on the day, of his team's defense. "If the ball is on the ground, they get it up so quickly. They're really great at first-time ground balls."
USA's transition play in particular was clicking, with several of the team's goals coming off the break. Even when the Americans weren't able to turn transition opportunities into goals, they found plenty of value in moving upfield quickly and avoiding any chance of a turnover in their own half.
Improving in transition was something Holman said the team zeroed in on after defeating the Iroquois Nationals 17-9 on Thursday.
"It was something we had mentioned after watching the film," Holman said. "I think we only had two transition opportunities against the Iroquois, and we had a few more today. I think we did a good job of capitalizing when we had them."
Australia's shot quality wasn't where it would have hoped, with plenty of the team's looks on net going stick-side high, easy work for American goalies John Galloway and Jack Kelly.
"The American defenders are very good at getting on gloves, we couldn't get our hands free to make that bounce shot that we wanted," said Australia head coach Glenn Meredith. "It wasn't for a lack of trying, but credit to the American defense. They put us under tremendous pressure. It's a learning experience for us."
Despite the defeat, Meredith found silver linings in his team's performance. In the third quarter, Australia was outscored only 2-1 and managed to hold America to five in the fourth, possible good signs for the Aussies moving forward.
"We only play at this level once every four years," Meredith explained. "It took us probably half a game to adjust to the level, but by then the score was out of our reach. We know where the level is now, and if we start at that level, then we should be just fine."
USA didn't escape cleanly, though, as Kelly left the game after a non-contact injury during an attempted clear in the third quarter. After the game, he was seen limping off the field on crutches with a bandage around his right knee.
"From what I've seen, it doesn't look great," Holman said. "I hope he's able to help us out moving forward."
USA matches up next against archrival and reigning gold medalist Canada on Sunday at 7 p.m. on ESPN Field. Australia will be back in action Sunday at 8:15 p.m. versus the Iroquois Nationals on Epoch Field.
France 4 vs Germany 15
Authored by Katie Conwell
Le 14th juillet (July 14th) is a special day in France. Also known as Bastille Day, this date marks the anniversary of the 1789 storming of the Bastille during the French Revolution. On this celebrated holiday, the French national lacrosse team looked to secure an important victory in their second game of the World Championships in Netanya, Israel.
Their hopes for a July 14th victory, however, were dashed by a disciplined and determined German team.
Germany's Moritz Spiegel netted the game's first goal, and France's Remy Giacotto scored the team's lone first-quarter goal a few minutes later to tie the game. That was as close as the game would be, and Germany proceeded to score five straight goals to close out the first period of play.
In the second quarter, Germany dominated the time of possession and controlled the pace of play. Two of Germany's more memorable goals of the day came right before halftime. The first occurred when long pole Maximilian Nösser flew down the field off of a German faceoff win and buried the ball in the back of the net.
The second came soon after when Per Anders-Olters soared through the air to pick off a pass during a French clearing attempt, twisting his body as he came back to the earth. He righted himself, drove to the goal, and scored. When France had possession of the ball, players were quick to go to the goal and rushed their shots rather than working through their offense. They also had costly turnovers in transition that undermined their efforts to chip away at Germany's lead. The half ended with Germany up 10-2.
Even though the German team had several unforced turnovers in the third quarter, the French failed to capitalize on these opportunities. France only attempted one shot and went scoreless in the period. Despite France's struggles to maintain possession and score, the team shows promise for future growth. Coaches and team leaders constantly mentored other players both during the game and breaks.
Germany won the game 15-4, led by Anders-Olters's 5 point performance (3 goals, 2 assists). Marc Brandenburger (2 goals, 1 assist) and Wolfgang Grießl (1 goal, 2 assists) both contributed 3 points apiece.
Germany looks to stay undefeated in their game against a 3-0 Hong Kong team on Sunday at 11:15am, and France looks to rebound from this loss in their game against the Netherlands on Sunday at 2:00pm.
Hungary 6 vs Sweden 16
Authored by Mark Donahue
Completely blanked in the first half by the Swedes, Hungary used the second half to build on a rough first go. As Sweden continued to march forward through the Orange group. The final test with the Hungarians would set them atop the pool and still with a clear sight at making a run.
Harrison Mack go the party started on a nice assisted goal early in the game, but it would be over 15 minutes before the Swedes would strike again. The second frame picked up speed as the Swedish offense began to click as a group but the points still rolled in slow. Mack would net his second and Sanny Falk matched feet with a pair by the break as well.
Dealing with the taste of a first half shutout, it seemed that Hungary was ready to come back swinging. It wasn't until after another three goal spree, led by attackman Kevin Powers with a pair, that they responded. Tyler Martin was Hungary's first to break the ice, but it didn't spark the momentum they hoped for. Martin would be the only Hungarian with even two goals, as the ones that did fall only speckled the consistency from the Swedes.
The contest got almost unnecessarily chippy as the Hungarians would use force to get under the Swedish skin. Sweden collect 10 flags to Hungary's seven, an issue that will need to be dealt with before the bracket if they hope to grind post some of the other hungry one-seeds.
Denmark 3 vs Ireland 14
Authored by Ryan Conwell
Ireland used a 5-0 first quarter to take a 9-1 lead into the half time break. The Irish opened the scoring less than a minute into the game and methodically kept the pace up for much of the game. Denmark played a tighter game in the second half, losing 5-2 in those frames, and Ireland earned a big 11-goal win. Corey McMahon absolutely went off in this game notching 6 goals and adding 3 assists for a tough 9 points. Ed Forst was solid with a goal and 3 helpers.
Belgium 4 vs Philippines 11
Authored by Mark Donahue
Philippines, in their debut World Championships, walked past a strong Belgian squad completely unscathed. While some have had high hopes for Belgium, riding a high from a recent World Cup run, Philippines seems to be one of the talks of the town around campus. Coaching from the legendary Kirk Ventiquattro has kept the bench in line and the group laser focused at the potential at making a real run at Blue Division glory.
But we aren't that far yet.
They've got a long line of top seeds to deal with on the road to instant glory. It starts the following afternoon with a test from Switzerland.
It never got better than one tally a period for the Belgians. The Philippines have a distributed workforce putting in the effort across the board. They aren't relying on stars like Mario Ventiquattro to carry the weight, despite consistent multi-goal performances. Matthew Speciale did step up for the Filipinos, registering four across the 80 minute contest. The defense is tight, goaltending from Daniel Morris, making 18 saves at 55% in the group, is keeping it organized. Try to keep up, this team is playing full speed and they aren't short on legs.
Watch out for the Philippines.
Switzerland 17, Chinese Taipei 1
Authored by Katie Conwell
17-1. That was the final score of Saturday afternoon's matchup between Switzerland and Chinese Taipei.
Swiss attackman Felix Stutz scored only 48 seconds into the competition, and his team secured a 6-goal lead by the end of the first quarter while also holding Chinese Taipei to zero points. Early in the game, Switzerland's offense was able to get many open looks on the crease. The final score could have been much worse if the Swiss players had not missed several of these on-the-doorstep shots. Much of their success was due to their ability maintain long offensive possessions and outshot their opponents 55-12.
Chinese Taipei's goalie Yu-chi Tsao made several huge saves to keep his team within reach of Switzerland at the beginning of the game (he would end up making 15 saves on 29 shots), but Switzerland's offense proved to be too much for Chinese Taipei. The Swiss had ten different goal scorers and eight of their shots were assisted. Christopher McCall and Felix Stutz each recorded a hat trick. Stutz also had three assists in the game.
One of the major obstacles for Taipei—and many other young teams in this tournament—was their inability to successfully clear the ball. Regardless of the level of lacrosse being played, sound fundamentals matter in games. For developing teams like Chinese Taipei and Switzerland, time and practice will improve these skills.
A few minutes into the fourth quarter, Chinese Taipei's Ting San Wan ended Switzerland's 14-goal streak and scored the team's first and only goal of the game. It was also their only shot on goal. Cheers erupted from fans in the stands and teammates on field and e sideline. Many people would not see any reason to cheer in a 14-1, but they did. I silently cheered for this small victory as well.
We have now completed the fifth day of competition. Many of the final scores have been lopsided. I have heard fans and media bemoan this fact. As I was scrolling through hundreds of pictures from the day's games, I came across a picture in which the player's body position nearly matched Paul Rabil's in the poster behind him. The photo in and of itself is not of great quality, but it reminded me of why I am here:
I envision a future where a player from any team could be the next Rabil or Thompson. I imagine that he, along with his teammates, would have the ability to compete against future USA, Canada, and Iroquois teams. I hope that the lacrosse world embraces these changes and the challenges that they will bring.
The lacrosse world is not there now, but the 2018 championships are a step in that direction. For those of you who are bored of or frustrated with the games so far, I ask you to try to look for the beauty in each match, to see the small successes of teams like Switzerland and Chinese Taipei, to recognize and acknowledge the powerful origins of this game, and to fall in love with this game (again).
Canada 22 vs Scotland 3
Authored by Ryan Conwell
As Blue Division play continued, the next stop for the defending gold medalists from Canada was to face Scotland. Canada's only previous performance was against a surprising English squad that held the Canadians to a much lower offensive output than I was really expecting. Scotland opened with Australia and fell far below expectations with their, 18-,6 loss. Things were not set up very well for Scotland to emerge from this one victorious. And they would not do so.
Canada took control of this game early on and absolutely never let up. Just like in their opener against England, Curtis Dickson was the first one to put the ball in the back of the net just over a minute into the game. Once that goal was scored, they never turned back. They would up reeling off the next 16 goals before Scotland would put up a single point, and that did not happen until the fourth quarter.
What stood out about Canada in this game was the unselfish play of their offense. I would not call it a surprise, but even if you were expecting it, it still stood out.
The amount to which the Canadian offense moved the ball was truly astounding. Whether it was a fast break, a settled offense, or man-up, they moved it quickly and with purpose. While watching, I was joking with some of my fellow spectators at times that it reminded me of a youth lacrosse practice where you were required to pass the ball four times before anyone could shoot. As much as we can say 22 goals is a lot of goals (because it is), they were pushing themselves constantly for more and better opportunities.
There were several times when the ball was spinning around the outside, and they would try to feed someone on the crease for a quick stick shot and it would be mishandled by the finisher. For any fans of Canada, this type of thing should actually be very encouraging for several reasons.
One of the biggest being that in order to beat the USA defense, ball movement will be vitally important. Not just regular ball movement,  but anything that will force the back side of the defense to rotate out of possession and find an open backside shooter. While they were doing a great job with the concept and identification, their execution still requires so work before they really get to the spot they need to be.
When asked about this ball movement after the game, Canada's head coach Randy Mearns said, "Our guys like to share the ball, it's like a box lacrosse standpoint. If you can move it, move it, move it, move it, if you can get ahead of the rotation, then it's a lot easier to score from three yards in front of the net, or six yards in front of the net, than to hammer it in from 15."
While the offense earned the attention, Canada's defense should not be ignored for their role in this game.  The majority of the game was led by Brennan Donville in net, but the squad of defenders in front of him were equally important to this win for a number of reasons.
The first and most notable thing with the Canadian defenders is how they would identify and pick up ground balls on their defensive side of the field. While clearing the ball, they did not do anything excessively elaborate but were still able to clear it with relative ease. One major exception was with Scotland's Colin Uyeki. He had a fantastic individual effort where he actually picked the ball off from Brodie Merrill's attempt at a cross field pass.
For the defense in the ride, things changed drastically when Canada switched into a ten man ride. Oddly enough, Scotland was pretty good at breaking the ride, which means Canada will have some things to focus on when they sit down and see this game film. But, with more pressure comes more opportunity to give up fast breaks. So while Canada did come away with the considerable win, there is still plenty to do before this group will be ready to fully defend their gold medal.
Bermuda 3 vs Puerto Rico 18
Authored by Rien Zabor
In the battle of the islands, Puerto Rico started hot and stayed hot as they took on Bermuda. If time of possession was fuel, the Puerto Rican fire was blazing.
Even when the Bermuda keeper stood tall denying doorstop goals, the Puerto Ricans collected the rebounds and kept unleashing shots. In fact, they made no hesitation in firing off shot after shot knowing that some would eventually land in the net. They built up a 4 goal lead before Bermuda notched their second goal in the first quarter which would be their last of the first half ending at 5-2.
The Puerto Rican game plan clearly showed that they value possession, working the ball around and executing the textbook dodge-pass-pass-shoot play. On the other end, Bermuda was stifled by Puerto Rico's tough ride and stingy defense that granted the ball back to the Puerto Ricans. This well-rehearsed play and aggressive defense helped push their lead to 7 by halftime with a score of 9-2.
Due to some technical mistakes, Puerto Rico started the second half down 2 men but that did not stop their dominant performance. Their goalie rallied by making 4 back-to-back saves, killing off the penalty time, and feeding an eager middie who ran the field to bump up their lead. With a similar desire, Bermuda put together an impressive individual effort running end to end scoring their third goal of the game, which would ultimately be their last.
Nearing the end of the game, the Bermuda sideline started to look worn down from the heat and the team frequently dropped passes and failed to clear the ball. Puerto Rico took advantage of these mistakes as they pushed their lead to 14 giving us a 17-3 final score.
Given the secluded nature of their native countries, it can be difficult to get their squads together as often as any national team would hope. The Puerto Rican team, however, showed a heightened level of familiarity that gave them the advantage in today's matchup.
Hong Kong 16, Uganda 1
Authored by Stuart McGregor Dallas
After the delight and celebrations of yesterday's win against Luxembourg, Uganda always knew that this game against Hong Kong was going to be tough. Hong Kong came into this game with two important wins against Luxembourg and more importantly Poland, and just needed one further win to make it three from three to put them top of the Olive division.
Two early goals by Hong Kong's Nicolo Hayat set the tone for the game as Uganda struggled to maintain long possessions and clear the ball out of their own half. The highlight of the first half for Uganda was an energetic drive from behind by number 18, Patrick Oriana resulting in their only goal of the game as they trialled Hong Kong 5-1 at half time.
Four unanswered goals in the third quarter highlighting Hong Kong's better composure against their African rivals. Further domination of the face-off by Hong Kong's Shek Hin Leung, and long periods of possession sealing Hong Kong's dominant 16-1 victory as Uganda failed to muster an any form of attack against their Asian rivals during the second half.
Coach Ginnegar highlighted the difficulty that they faced in this game playing "70 minutes of defense" and how "the chances they had, offensively, were squandered away".
In only their second World Games Uganda are certainly still learning their trade, but no-one will ever question their commitment and heart, even after today's performance.
Hong Kong now face Germany in the next round. Germany are ranked 9th following Denver 2014, and during that tournament beat Hong Kong 21-2. Coach Browning acknowledging the difficult game that will follow this one, especially after playing an extra pool game owing to the structure of the Olive division.
Japan 18, Netherlands 3
Authored by Rien Zabor
It was a tale of two speeds at the Japan vs Netherlands game this morning on field five. The Netherlands approached their game with a slowdown mentality and elected to run set plays on offense. The Japanese squad, on the other hand, thrived in transition and looked comfortable within the chaos.
As one of the first games of the day, both teams took a few minutes to shake off the exhaustion from the hot and tiresome tournament. Japan was able to collect themselves early by taking advantage of some sloppy passing,  netting 2 goals off unsettled transition plays. Not much longer after that, the Japanese team put together a quick inbounds play that found an open player in front of the crease for an easy goal making it 3-0.
When the Netherlands took possession, they were stifled by a lockdown Japanese defense that was quick with their second slide. These early slides lead to a number of turnovers which fed into Japan's game plan nicely, giving them a handful of unsettled goals. Japan took advantage of the failed clears and dropped passes, turning them into an 11-0 lead.
Even with a large deficit in front of them, the Dutch were not deterred. What they lacked in execution they picked up in energy. Defensemen jumped on their opposition early and the attack relentlessly rode the clear, giving them some opportunities on offense to finally net their first goal in the 3rd quarter. But even with an energetic Netherlands team, the Japanese team took control and dominated possession time in the 3rd quarter, allowing them to build on their lead and push the score to 16-1.
The first three quarters were owned by the Japanese team but the Dutch took control in the 4th after a rousing speech from the coach demanding that they make a statement with their effort. The Dutch walked into the final set fired up, lead by their goalie who made some incredible saves off open shots. This inspired their offense to tally two more goals before an 18-3 final score.
Ever since 2014 World Championships, the Japanese program has been determined to move back into the top-seeded group. Through 3 years of development and constant practice, these players showed a heightened level of familiarity backed by a solid understanding of the game which was apparent given that the players were coaching each other just as often as the coaches were breaking down plays. Solid effort on both sides but the speed and skill of Japan won the day.
Peru 7 vs Italy 13
Authored by Matt Anderson
To say that there was no love lost between Peru and Italy is a little bit of an understatement. The game had 21 penalties and a total of seventeen-and-a-half penalty minutes.
After the dust settled, Italy was able to come away with a 13-7 win in which the Italians dominated the second-half of the match. Italy went on a 5-2 run in the fourth quarter to help seal the victory.
Italy got the scoring started when Allessio Giovannetti won the face clean and charged down the field, scoring within seconds of the opening face-off. Another Italian goal by No. 30 Christian Renato Cuccinello put the Italians up by 2 before Peru knew what happened.
The teams largely traded goals from that point on until the end of the first half, which finished with a score of 8-5. Italy then went on their five-goal run in the second half to put things away.
Despite Peru dominating the face-off X, going 22-for-31 between James Alexander Burleson-Porras and Christopher Albert Davila, Italy was able to win back possessions on their ride. This was critical for Italy as Peru had a difficult time clearing the ball, especially in the second half.
This was evidenced by Italy's 53 shots to Peru's 26, which meant that Italy was able to come up with multiple second-chance possessions. Italy then capitalized on these errors by Peru and was able to outlast the Peruvians.
Italy was led in scoring by Cuccinello, who had three goals and two assists on the night. Luca Ippolito also chipped in three goals.
Part of Italy's success had to be credited to Alexander Di Scala, who made saves at critical junctures in the game to help stave off the Peruvian attack.
The Peruvian offense ran through James Alexander Burleson-Porras, who had four goals and an assist, and Isaiah Edward Arteaga. Arteaga had three goals in the contest.
Peruvian defender Ben Acosta was recently featured in a LaxAllStars article talking about how even though he is one of the youngest players at the World Lacrosse Championships at age sixteen, he is certainly prepared for his role.
Italy has had a wave of ups-and-downs in terms of domestic participation. However, recently there has been a steady growth of lacrosse in the country according to LaxAllStars' Brian Witmer.
Italy will play Sweden on Nike Field at the Wingate Institute at 2:45 p.m. IDT. Peru will play the winner of Israel and Russia.
Iroquois Nationals 18 vs England 7
Authored by Justin Meyer
When you watch the Iroquois, you can expect to drop your jaw more than once.
Saturday against England was no different.
Acrobatics around the crease coming from seemingly nowhere characterized the Iroquois goals in its 18-7 handling of the English on Epoch Field.
The men in red jumped out to a 3-0 lead, but once the Iroquois settled in, England has no answers. The game's inventors scored 12-straight, living up to the team's long-standing reputation of a creative spirit.
"It's unreal," said Iroquois attackman Lyle Thompson of his team's stick skills. "Our offense is run through basically eight attackmen. People look at me and think I have a creative stick, but with some of these guys, it's an extension of their body. You can see it when you watch us play."
Fans filled the stands, eager to ooh and ahh at Iroquois magic. Some chose to climb the dirt hill overlooking the venue for a better vantage point. Others found whatever room they could around the field, even packing like sardines in the small room remaining between the Iroquois bench and endline.
"It gives us a little more to play for," Thompson said. "We play with a purpose, but seeing a solid crowd and seeing people follow us around, it's nice to see."
Those lucky enough to earn an unobstructed view witnessed the stunningly orchestrated concert the Iroquois put on, with attackman Lyle Thompson working as conductor.
The internationally-known commodity scored two goals and added three assists in what could only be described as a beautiful performance.
"He played up to his potential," said Iroquois head coach Red Burnam. "Wherever you run him out of, the matchup is a nightmare for most guys."
It wasn't all doom and gloom for the English, though. Attackman Ryan Hunns tallied three goals, continuing to prove why he's one of the best young attackmen in the international game.
"He's a great finisher and a great shooter when he gets his hands hot," said England head coach Tom Wenham. "He makes a real impact for us and did a great job tonight."
But Hunns's factory of goals wasn't enough to even bring the English within striking distance. Wenham said consistency is the top problem for his team to solve.
"Our gameplan revolved around frustrating them and attempting to deny them possession, which we were able to do for patches," Wenham explained. "When we were, we felt we were effective. But we weren't able to do that consistently, and that's the next challenge for this team. We know we can run with the best teams in the world and be competitive. We need to be able to do that for the full 80 minutes."
The Iroquois are back at it Sunday at 8:15 p.m. against Australia, while the English will continue to search for their first win of the tournament Sunday at 5:15 p.m. versus rival Scotland. Both games will be played on Epoch Field.
Russia 2 vs Israel 19
Authored by Justin Meyer
When Ori Bar David first took up lacrosse, he couldn't have known he would score a goal in his hometown at the World Championships.
On Saturday, that's exactly what happened.
Bar David's goal was inconsequential in the scheme of the game. It was Israel's fourteenth goal of the night in the middle of the third quarter of the Blue and White's 19-2 blasting of Russia to secure the Red Division title. But in the context of what it means, it was the biggest of all.
"I scored a goal in the U19s, now I score a goal in the men's," Bar David said after collecting himself. "It is a dream come true."
The 18-year-old midfielder is from Netanya, the tournament's host city, and coaches a local youth team of children ages 9 to 15. Some of his players were at ESPN Field and watched their lacrosse mentor score his first senior international goal on the biggest international stage and add another one shortly before the end of the game.
"I wanted to score in front of my Kiryat HaSharon kids, the kids who I coach," Bar David said. "I tried to score a few times before that, and it didn't go my way. Finally, I score, and I'm really happy about that."
As if the moment wasn't perfect enough, Bar David scored off a pass from midfielder Dan Leventhal. Years ago, Leventhal came to Bar David's school and introduced students to lacrosse. Bar David was one of those students.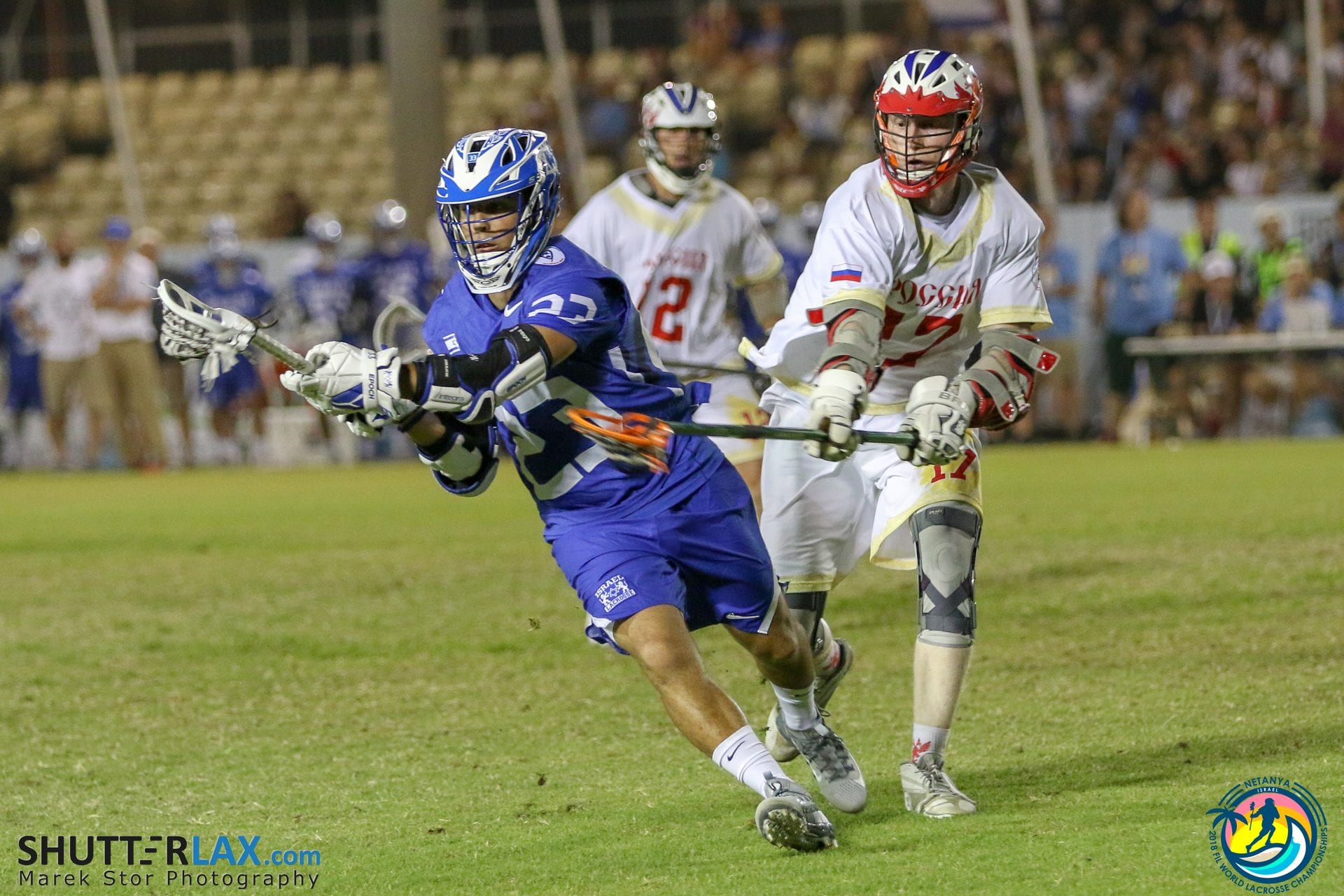 Now, Leventhal not only gets to wear the same national jersey at a World Championships as his former pupil, but he had a hand in the proudest moment of his lacrosse career.
"Absolutely incredible to see him on this world stage playing with men at 18 years old," Leventhal said. "The guy I introduced the sport to coming here and lighting it up today, I couldn't have been happier that I had the assist to him. So happy for him, so happy for his family, so happy for all the Israelis here. This is what it's all about."
Bar David couldn't have picked a better player to assist his shining moment.
"We had a connection from the first time he coached me," Bar David said of Leventhal. "We are thinking the same things. I knew it was going to happen."
The moment was important for more than Bar David and Leventhal. For his other teammates and coaches, some of whom have watched the native Israeli grow up in the sport, they couldn't be prouder.
"It was amazing for the program and him personally," Israel head coach Bill Beroza said. "He's 18 years old. His next step after this is going into the military. He must have taken 10 shots before he got his first one. He wanted a goal badly."
Israel will start its bracket play Monday at 2:30 p.m. on ESPN Field with the opponent to be determined. Russia will challenge Luxembourg in its opening bracket play matchup Sunday at 10:30 a.m. on Cascade Field.