When STX signed on to be an equipment sponsor for Major League Lacrosse, we KNEW that more moves were coming. It just made sense, and now only two days later, we have confirmation that the professional lacrosse world is changing… and for the better.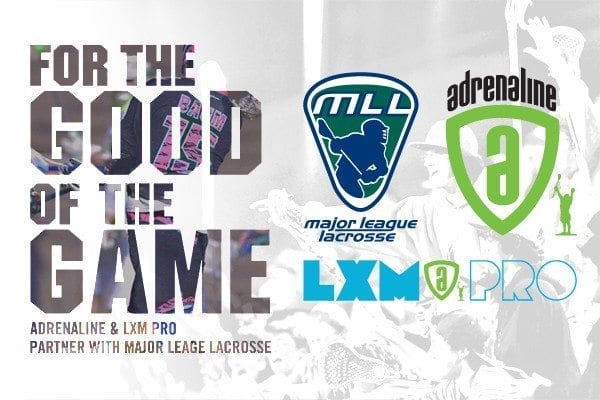 Major League Lacrosse will continue to play their season over the Summers, but now LXM players will be allowed into the league. The LXM PRO will run during the MLL offseason, and will allow even more of the top names in the game to get involved in areas where the game is newer, and rapidly growing.  Here is a little stock quote from Dave Gross, Commissioner of the MLL:
This is another major step in unifying the sport of lacrosse and getting everyone to work as one to grow the sport. Having Adrenaline as a league partner and creating an opportunity for lacrosse players to compete year round is a win for everyone involved. We have further decided to work with LXM on growing the game in markets where the MLL doesn't have a presence. LXM will move their tour to the MLL offseason and will focus their events in markets where MLL does not currently have a presence. MLL will work with LXM as it relates to selecting markets for tour events. This offseason (Sept 2014-March 2015) MLL players will be allowed to compete in LXM events if they so choose. Current LXM players will have the opportunity to play MLL in the 2014 season as well.
Usually I cringe when people use professional lacrosse and "Grow The Game" in the same sentence, as it is often lip service, but with this move it fits 100%. Both the LXM and MLL realized that they were competing against each other, and that this was fracturing the community in some way. So instead of ramping up the competition and going head to head (which at this point is a financial lose-lose situation), they found a way to work WITH each other, and to help each other grow.
It's a no brainer move, but also one that took a LOT of relationship building and trust. People on the outside (like myself) could sit back and propose ideas like this, but for it to actually happen, and happen as quickly as it did, speaks to the true community feeling that exists in the lacrosse world. You can argue that these guys just saw the partnership as a way to make more money, and while that might be true, it would miss the point: No one is making it rain in lacrosse. Why fight each other for scraps when we can be stronger together?
If that last sentence doesn't resonate with you, I recommend playing more team sports.
When Alex Cade says:
This partnership between Adrenaline Apparel, Adrenaline LXM & The MLL is one that truly shows the spirit of cooperation that is taking hold within our sport. This positive movement is at the core of everything we are at Adrenaline. After speaking with David Gross it was refreshing to hear firsthand the shared mutual appreciation and respect we shared for what each professional organization has done for the sport. This partnership between the MLL and Adrenaline LXM is one that is inclusive in nature and provides top level professional athletes the freedom to play where they want, when they want, and how they want. I can't think of anything better for the sport than that.
I know this sounds crazy, but I'm actually buying what this press release is selling, and I believe this partnership is definitely going to be good for the professional game of field lacrosse. It even has the potential to push lacrosse into the next level of American sports, and I'm all for that.
To take things a step further, I hope the box lacrosse community takes note of this. While efforts to expand, help, and partner are strong in Europe, the same can simply not be said for box lacrosse in the States. There are so many disparate groups doing different things and fighting each other for little pieces of the pie. If the MLL and LXM can team up, so can you… do it for the game!
We'll be talking with all of the parties involved over the coming days, and we'll be sure to have more on this developing situation. Professional lacrosse is changing before your eyes. Don't blink.