There's a lacrosse free-for-all in the MLL gear market, and it seems to be flying under the radar.
For the first time in the 20 year history of Major League Lacrosse, athletes can use just about whatever equipment they want. In recent years, the MLL opened the door to partnerships with manufacturers aside from Warrior / New Balance, the league's leading sponsors. Maverik, Powell Lacrosse and TRUE have also been official partners of the league and fair game for players to use in recent years.
Thanks to the coronavirus pandemic, the door has been busted wide open in 2020 for players to have complete freedom to wear what they feel comfortable in or are paid to wear by their sponsors. The only real caveat is color, which is to be approved by the league, and likely a much smaller agreement between brand and league than required in years past.
MLL partnerships and rules have been in flux as long as the COVID-19 shutdowns have been rolling across the U.S. Unable to announce the eight-day event serving as the 2020 regular season until just a couple weeks before opening face-off, the league has been scrambling to host any sort of lacrosse this year to begin with. With too many unknowns surrounding the season until July rolled around, the MLL was left only guessing when attempting to work with potential sponsors. Spending on marketing as a whole is down around the country and especially in lacrosse. The tough economic times created a unique opportunity to watch Lyle Thompson play professional lacrosse completely adorned in Nike Swooshes and a player-coach tandem creating their own brand roll out for the shortened season, like PeakPro.
Seeing MLL stars using whatever they want is exciting, but it may not last forever.
After the season comes to a close Sunday, we can only expect the league to move back to business as usual. If these brands want to continue seeing their logos on MLL talent, it's going to come with a price tag.
Equipment Manager of the Boston Cannons, Lars Kiel, known to many as Sidewall Jedi, has earned a reputation as a gear expert and stringer in a category of his own. Kiel brought extra stockpiles of gear with him to the quarantined event in Annapolis. Without the ability to just leave the grounds to reload on what's needed, he has loaded up should the players break any more than usual.
"We have a large array of extra heads that we get from Warrior," Kiel explained. "While guys can use whatever, as an organization we can only buy official brands: Warrior, TRUE, Powell, etc. I have a lot with me in my hotel/equipment room."
A lucky stick can last some players games, months, even seasons. For others, like the face-off athletes, casualties of the battle can fill a graveyard by the time the playoffs wrap up. The decision of not only how many to bring but when to rotate them can be as complicated as any game strategy.
"I go through a lot of sticks," Max Adler, Denver Outlaws face-off athlete, reflected. "I've secured enough to be covered, and I'm getting even more sent to the hotel, because I know it's going to be really hot.

"I was thinking about, do I break them in now? Do I wait? I have a couple that are really perfect, game-ready to go and I might save those. Then I think, you know, it's going to be so hot. It's going to be pretty easy to break them in. I want a lot of new heads to use, too."
The beauty about this season, the choice of what to use and when to use it is all their call. If players run out, equipment managers will always have backups of the team-issued stuff to go around.
For new brands like PeakPro, you can bet there will be an abundance of samples floating around the grounds. The company is the invention of Boston Cannons head coach Sean Quirk and goalie Nick Marrocco and is already sponsoring five other MLL athletes to rep their new shafts on the field and their apparel line off of it. Stars like Dylan Molloy have already taken up the PeakPro offer, and the company has also been a bit lucky with the breakout success of rookie Dan Bucaro. While they were sure to bet on Bucaro before the season, the Denver Outlaws attackman is starting to seem un-coverable after seven of his shots have found twine in the first two games of the season.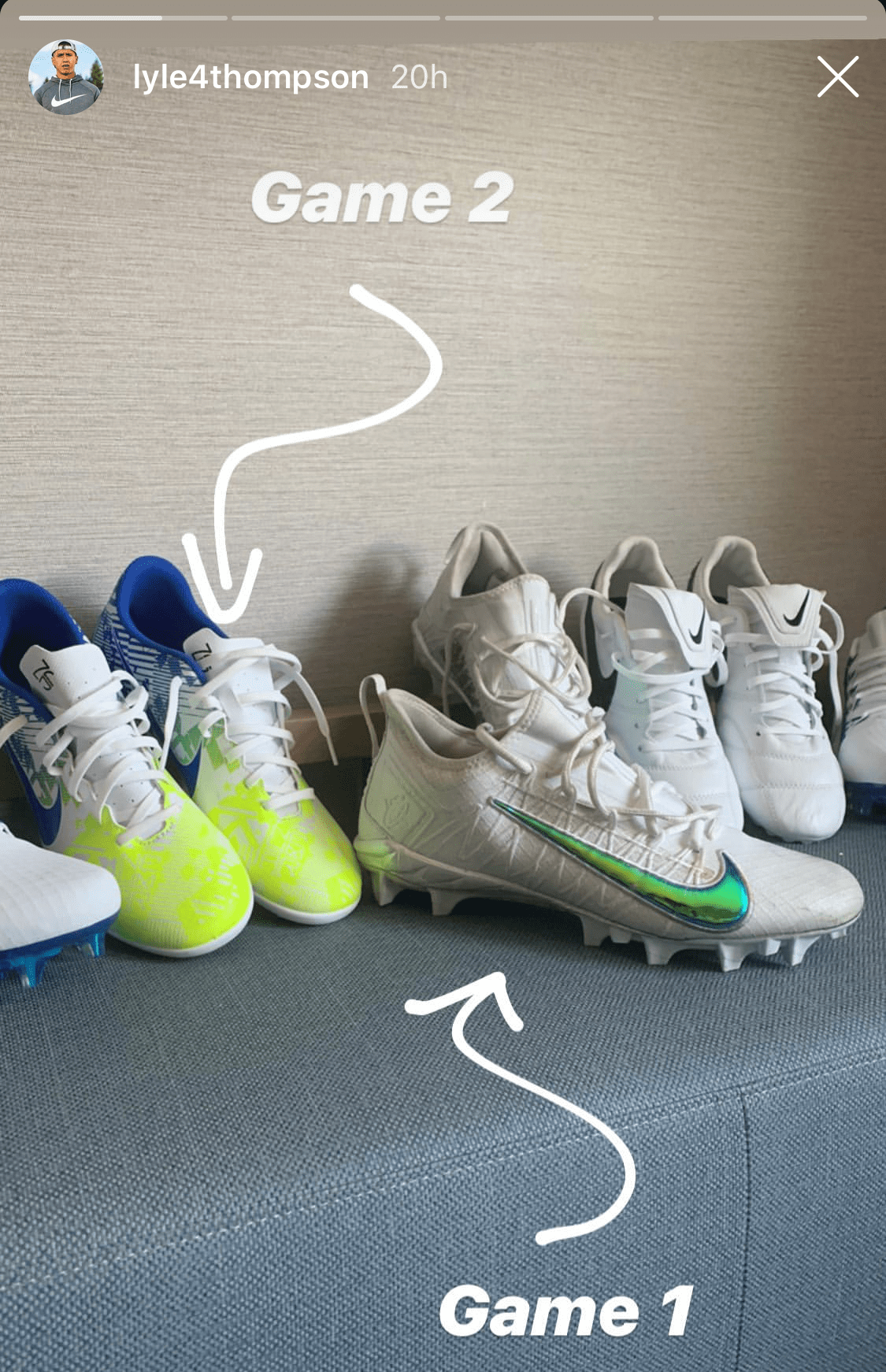 Gates are also open for mega brands like Nike to finally extend a further grip on the pro lacrosse atmosphere. No better example of that is superstar Lyle Thompson sporting the world-famous Swoosh from his all-white Vapor Pro gloves down to his rotating collection of footwear. Thompson shared a photo to Instagram of his kicks roster, highlighting the white Huarache 7 lows he wore on opening day and the also unreleased blue/volt pair he followed up with in game two.
Thompson isn't the only player to sport Nike this year, as we've seen Bucaro also choose the Nike Vapor Untouchable 3. Bayhawks attackman Colin Heacock went for the Vapor Edge Pro 360, although they haven't quite taken off with the lacrosse crowd yet. If it isn't Nike on the feet of the players, it's likely New Balance issued by the league. Creating lacrosse-specific footwear, New Balance has provided the staple cleat for MLL athletes for years.
"We the team know their sizes and buy a lot of shoes so they have options from New Balance," Kiel shared. "This year only, they can use Nike or whatever. If they want to use something else, they have to buy it themselves and it has to be an approved color."
Options can range from the stable and tested FreezeLX 2.0 to more speed-focused models, like the BurnX2 Mid and BurnX2 Low. Opting for comfort over a need for speed, John Grant Jr. has been sporting turfs over cleats the past couple games. Players typically make their selections based on ankle support, maneuverability, weight and ultimately preference.
The same goes for the team issued gloves and arm protection from Warrior. While most players will opt for the Evo Pro glove, some like Andrew Kew have gone with the Burn Pro instead. It's all about what makes them feel empowered to be their best. The tiny Burn Pro elbow caps used by long sticks won't provide the beefy protection attackmen like Kew require in the Evo Pro AG to dominate around the crease.
Aside from the Cascade S, the standard helmet of the MLL, the league is also partnered with Maverik, Cascade's sister company, and all-stars like Boston's Mark Cockerton are trusting it from protection to stick choices. From the new Taktic 2.0 head to the Rome arm pads and Rome glove, Maverik is less prominent across the board but still a confident selection by top talent.
Aside from the Warrior Burn helmet, Grant has been decked out in an array of gear from up-and-coming TRUE. With the custom T1X gloves, thick all-white arm guards, a newly released Vektr head and custom John Grant Jr. orange and black shaft, he's been quarterbacking his Outlaws with four assists through two starts.
Representing a smaller, but also established brand, a slew of talent has been putting on for Powell Lacrosse again this summer. On opening day, Bryce Wasserman buried four goals against the Lizards wearing Switchback gloves and using a Pioneer II Attack with Switchback shaft.
He's not alone, as a group including Justin Reh, Bubba Voigt and Andrew Petit has also been helping to keep the Powell name synonymous with the MLL.
More tied in with the PLL and NLL, Epoch is also sprinkled throughout the MLL with stars like Randy Staats wearing Integra Elite gloves and Integra Elite arm guards.
Other brands like Gait, popular with the Canadian and box lacrosse crowd, have been brought into the MLL by Ryan Lee, and keeping it true to Maryland, Barrage attackman and former Towson star Brendan Sunday was caught in a pair of Under Armour Highlight MCs for optimal ankle support.
The StringKing Mark 2A is a common head choice at any lacrosse field you go to and almost all of the face-off guys are using the StringKing Mark 2F, although they're moving through them like crazy from the heat. They're not the only ones dealing with it, the sidelines are even lined with field players with softballs in their heads to prevent warping.
The goalies seem to be gravitating toward the Maverik Rome or Warrior Nemesis Pro glove options. Their stick choices also stay pretty uniform. The Barrage's Chris Madalon, Hammerheads' Kris Alleyne and Outlaws' Nick Washuta help keep the STX Eclipse II as one of the position's most trusted heads, while Lizards' Austin Kaut, Hammerheads' Sean Sconone, Cannons' Nick Marrocco, Outlaws' Christian Knight and Bayhawks' Brian Phipps trust the Warrior Nemesis III.
The options truly are at the discretion of the user.
While it may be exciting for a handful of players to get to shop around for new MLL gear choices in 2020, and the fans get a new game of "spot the logo" to play, for many guys it's just equipment and the only thing on their mind is raising the Steinfeld Trophy. If that means an extra backup and a dry pair of mitts will boost their confidence, that's all they need.
"Honestly, I only bring one stick, and it's risky," Mark Cockerton, Boston Cannons attackman laughed. "For this tournament, I said, I'm going to bring three, you know, just to be safe. I don't want anything to happen 'cause you can't leave. So, you got to go in prepared with everything you have.

"I think one of the most important things actually equipment-wise is probably an extra pair of gloves. I hate playing with soaking wet gloves."