If you're like most lacrosse fans, once the final whistles blew on the Major League Lacrosse regular season, you had no idea what just happened. Seven teams had just tied with identical 8-6 records, leaving the entire MLL playoff field to be decided by tie-breaking scenarios. Three teams were disappointed (understatement of the year), while four others are going to play at least one more game each.
Now, first of all I do need to apologize for something. I was wrong last week. Based on the work I did to come up with scenarios, after Boston and Rochester had won, I saw no way possible for Charlotte to make the field. At that point, only New York's game mattered and my spreadsheet told me that Ohio would be the top seed, followed by New York, Denver, and Rochester. I am breaking a rule in sports media and admitting I was wrong. Can you imagine if Mel Kiper ever did that? Yikes.
Anyway, here's why I was incorrect. In the MLL tie-breaking procedures, I interpreted them to mean that as the tie-breaking steps were followed, only one team could advance forward. If there was no winner there, they would proceed to the next step in the process. What actually happened is that out of the 7 teams, if two or three teams were tied after the first step, only those teams move forward in the process. The rest wait for the next round. Out of those teams that move forward, it then gets reevaluated as to whether or not to continue with the two team or multi-team system at square one. They do not go to the next chronological step in the multi-team scenario. Confused? So was I.
Why this mattered is that it created a different number one seed, which then changed the complexion of the field that the other six teams were being evaluated against. That ultimately is why I thought Rochester was in, only to see Charlotte in instead. Now as mad at myself I was for not catching this earlier, I went back and redid all my work for this specific case. I also checked my work against a few other places to be sure I was correct. I still was. This pulled me into the same mental state as a few others where I needed some answers and fast. Why was my work that I had verified not lining up with what the MLL had published on their website?
It turns out…typos. For once and it wasn't by me. In the information I checked my work against, there was a wrong game result included. So while that wasn't present in the work I did, it oddly enough led to the same result. In what the MLL had published this was corrected, resulting in different teams winning that scenario.
Like I mentioned before, there were some "disappointed" players from the three teams who were eliminated (Rochester, Boston, & Chesapeake). Do I feel that they should be justified in their anger? Yes. Yes I do. Under most situations where tie-breakers come into play, you're looking at two teams tied for first, or maybe "bubble" teams in an NCAA or conference tournament. My answer then is always "well, you should've just won your games". I'm not saying that this time around because NOBODY clinched a spot in the playoff without math and tie-breaking scenarios. We aren't talking about a spot, we're talking about the entire field and all but two teams in the league were eligible and tied for first. Here's a quick look at each of the seven teams and show either how they got in, or why they missed out (and why they're angry).
(W,L)
| | | | | | | | | | | |
| --- | --- | --- | --- | --- | --- | --- | --- | --- | --- | --- |
| | NY | CHE | DEN | OH | CHA | BOS | ROC | W | L | % |
| NY | 0 | 1,1 | 1,1 | 0,2 | 1,0 | 1,1 | 2,0 | 6 | 5 | 0.545 |
| CHE | 1,1 | 0 | 1,0 | 1,0 | 1,1 | 0,2 | 0,2 | 4 | 6 | 0.400 |
| DEN | 1,1 | 0,1 | 0 | 1,1 | 2,0 | 1,0 | 1,1 | 6 | 4 | 0.600 |
| OH | 2,0 | 0,1 | 1,1 | 0 | 1,0 | 2,0 | 0,2 | 6 | 4 | 0.600 |
| CHA | 0,1 | 1,1 | 0,2 | 0,1 | 0 | 2,0 | 1,1 | 4 | 6 | 0.400 |
| BOS | 1,1 | 2,0 | 0,1 | 0,2 | 0,2 | 0 | 2,0 | 5 | 6 | 0.455 |
| ROC | 0,2 | 2,0 | 1,1 | 2,0 | 1,1 | 0,2 | 0 | 6 | 6 | 0.500 |
Margin vs. Group
| | | | | | | | | |
| --- | --- | --- | --- | --- | --- | --- | --- | --- |
| | NY | CHE | DEN | OH | CHA | BOS | ROC | Net |
| Ny | X | 3 | -1 | -21 | 3 | 0 | 4 | -12 |
| CHE | -3 | X | 7 | 3 | 2 | -5 | -14 | -10 |
| DEN | 1 | -7 | X | 0 | 4 | 4 | -6 | -4 |
| OH | 21 | -3 | 0 | X | 7 | 9 | -7 | 27 |
| CHA | -3 | -2 | -4 | -7 | X | 6 | -1 | -11 |
| BOS | 0 | 5 | -4 | -9 | -6 | X | 7 | -7 |
| ROC | -4 | 14 | 6 | 7 | 1 | -7 | X | 17 |
Ohio (#1 Seed)
The first step in the tie-breaking process is to look at the winning percentage within the group. With all seven teams, Denver and Ohio had the best percentage at .600. This is where my confusion came into play. What actually happened here is rather than continue to step B of the tie-breaking rules, Denver and Ohio get compared head to head. Ohio won this by way of total point margin because the teams split their regular season games and tied in points against each other head to head. More than anything, Ohio is here because of their huge wins over New York. Margin mattered for them, and those wins really helped them out.
This also made Rochester's two wins over the Machine and both New York and Boston's two losses against the machine essentially meaningless from this point forward.
New York (#2 Seed)
So Denver and Ohio were fighting it out for the top seed, that means Denver gets #2, right? Wrong. Once you take New York's two losses to the Machine out of the equation and look at the field again, they have the best win percentage against the remaining group. So while they did split the head to head with three of the remaining teams, their one win over Chesapeake and two wins over Rochester is what put them over the top.
With the Lizards now out, Rochester's negative of not having the Machine wins is nullified by now losing their two losses against New York.
Denver (#3 Seed)
The Cinderella of the MLL this year. They traded a legend, turned to some youth, and still made the playoffs like they almost always do. What really put the Outlaws over the top is exactly what got them into this whole scenario. Their sweep of Charlotte combined with the late win over Rochester was absolutely what floated them to the top.
Charlotte (#4 Seed)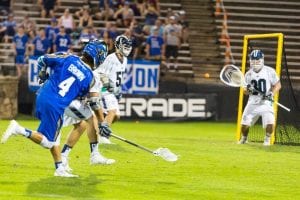 By removing four losses from their record by advancing New York, Denver, and Ohio, the Hounds were left in a great spot. They still had to progress to a head to head with the Cannons, which they won easily by way of their two wins.
Boston also lost four losses by the other three teams getting their seeds already, but they also lost their win over New York. Ultimately, those two losses to Charlotte sealed it.
So those are the seeds. Why are people still upset about how all this went down? It really comes down to strength of schedule and uneven games being a part of it all. With nine teams in the league and only 14 games being played, not everyone plays everyone twice. That means for teams that played more games against the eliminated Blaze or Launch were oddly rewarded.
All seven of these teams were 8-6, we obviously know this. Of those seven teams, only four had all six of their losses to this group (Chesapeake, Charlotte, Boston, and Rochester). Only Rochester played 12 games against the group, while New York and Boston played 11, and everyone else 10. This matters because the primary tiebreaker is winning percentage against the group, not raw wins or losses. As you start taking wins and losses away while whittling away at the group, the total number of games you're dividing against creates uneven jumps in percentage. A one game difference at 9 games is much smaller than a one game difference at 5 games. For example: a 5-4 team is 1 game over .500, but their percentage is .555, while a 4-3 team is also just 1 game over .500, but their percentage is .571. Because of this, the 4-3 team would get in over the 5-4 team, even though the 5-4 team played more games against the same field.
Now, take a look at why each team has a reason to be upset on how the tie-breakers unfolded.
Boston
The Cannons were the last team eliminated, which does sting a little bit, for sure. But, they were even head to head with the Lizards and won all four meetings against the Rattlers and Bayhawks. They still finished under .500 against the entire group, but had the 4th best margins among the 8-6 teams and were one of the teams to have all their losses against this group. Honestly, what pains Boston the most is that they were forced to cheer for New York and it didn't work. That can never feel good.
Chesapeake
The Bayhawks were one of the best teams all season long, and even were in the driver's seat for the #1 seed. They still only had 4-6 record against the group and those wins were spread out among four different teams. Without a sweep over anyone else in the group, they could not make a significant jump until Boston or Rochester were out of the mix. With everything coming down to a two point loss in the finale, it meant there were three points separating them from the #1 seed and missing the playoffs.
Rochester
If you were on Twitter on Saturday night after the results were in, Rochester players were quite vocal. I was right there with them because I still was trying to figure out why they weren't in. It just made sense that they would be. They played the most games against this field (12), had the second highest margin in the group (17), and the most wins against the group (6). There also were only two teams in the field they had a negative margin against head to head, giving them tie-breakers over everyone but New York and Boston. That means of the four teams in the playoffs, only New York had a head to head tiebreaker over the Rattlers. Said in another way, had strength of schedule or margin, or total wins been a more important factor the Rattlers would have been in. They are probably the biggest victims of the order in which playoffs tie-breakers are determined.
So after all the dust settled, we have our playoff field set and the craziest end to an MLL regular season is in the books. I highly doubt we will ever see something like this happen again, but who knows.
The current tiebreaker scenarios were applied as they were intended, but I would advocate for a review of this in the offseason. Unless the MLL is going to move to a 16 game schedule to allow everyone to play each other twice, a better system needs to be put in place for the three-plus team tie-breakers. We just witnessed probably the most extreme example to really test the process and see the result. For me personally, it still does not feel right. And I know I'm not alone.