Last Thursday, the MLL hosted Team USA's full roster with all their alternates for the quadrennial matchup between the MLL All-Stars and Team USA. This was the fourth edition of the game, which USA had won each time. In 2006, when USA won a silver medal at the World Championships, they dominated this game, 18-10.
The 2010 gold medal group won by a narrow, 13-12, score, while the 2014 silver medalist also narrowly won by a score of 10-9. So, while it can be expected that the MLL All-Stars will give the Americans a great game, a win is usually not in the cards.
Until this year. After being down by six goals in the fourth quarter, the MLL All-Stars led a huge comeback (6 unanswered points in 6 minutes) to force overtime and eventually win in the extra period, 15-14. So this leaves two big questions.
How did this happen? What does this mean?
So first, let's look at how.
The entire first half was actually very close. For Team USA, Jordan Wolf looked very impressive at attack which is about as surprising as the sun coming up in the morning. But on a team of dominant players, he really stood out as a difference maker and will likely be playing that role in Netanya soon. The other impressive USA player was Tom Schreiber. That's only somewhat surprising given his limited playing time this year after his NLL injury over the winter. We know the skills are there, but the big question with him is how the body catches up. If this game was any indication, he'll be fine.
For the All-Stars, Kevin Rice and Will Manny were getting the early attention. Both are players I would have predicted to be on a national team roster at this point in the year, so it's no surprise that they came out on fire. They are both proven playmakers, but each had a little something left to prove in this game against the USA defense. The other players not in the Red, White, and Blue which stood out was Scott Ratliff. An MLL Teammate of Rice and recipient of great feed from Manney for a behind the back finish, Ratliff did what he does and caused problems all night long. He was a joy to watch.
Where this game turned the first time was in the third quarter. USA was down by a goal coming out of halftime, and John Galloway was sent back in after giving Jack Kelly his time between the pipes in the second. In that quarter, Galloway had a shutout, which was a huge reason why USA was in the position they were in, having a lead after three. Kelly kept the shutout going early in the fourth and actually kept the MLL All-Stars scoreless for over half of the quarter while the USA margin continued to grow. But with six minutes left, things shifted back to the MLL. The All-Stars scored a bunch of fast goals, which were a combination of transition, broken plays, and capitalizing on USA mistakes. Five of their points came in three minutes
In overtime, while it was Will Manny that ultimately scored the winning goal, the two players who had a major impact were on each side's defense. Matt Abbott for the MLL and Liam Byrnes for Team USA. For Byrnes, it was a great double on Dylan Molloy which caused an immediate turnover to give USA their only chance on offense. Abbott was something else, though. Not only did he pick off Paul Rabil's pass to nowhere coming out of a strange timeout, but he was also key in forcing a turnover early in on USA's offensive possession. Coming in out of the sub box to immediately create a double team and put the ball on the ground may have been the play of the game. But when you look at the stat sheet, Abbott finished with no goals, no assists, no ground balls, and no shots. Stats definitely aren't everything.
Now, what.
So, while stats aren't everything, you can also say wins and losses aren't everything. What does this loss and this game actually tell us about team USA. First off, it definitely doesn't mean that they're doomed in Israel. But there are also some things to worry about. On defense, they know what Galloway is capable of and I think he locked in that starting spot. The other thing USA did an excellent job of was sending quick doubles. That is something which will have to be done in order to come away with gold. But while they did send someone early, they need to get the other four defenders doing a better job of covering. The players who were able to keep the ball and create something from the double were players like Zach Currier and Chris Cloutier. While Cloutier won't be in Israel, a few players with his skill set will be.
On Offense, USA was stuck in a position of "are we trying to win an MLL game, or play our FIL offense?" By the end of the game, it looked like it was the latter with a 60 second clock. USA rarely was pushing early offense. Sure, it happened, but it was rare. They also were not setting up two point looks, which you see with more regularity in a pure MLL format. I can only think of one time that an LSM or SSDM from USA pulled up for a two pointer in transition. That wound up leading to a save and the ball going the other way, which probably didn't make that seem like a great idea to replicate. But when we look at what USA did and what they didn't do, it's important to point out that they were not playing under FIL rules.
Listen, Rules Matter
The reason why the rules matter so much here is that the difference between MLL rules and FIL rules are almost night and day. MLL is designed to be as fast as possible with an emphasis on close games. Think 60 second shot clock and 2 point line. There are others that influence game flow, but those are the easiest to think about right now. With FIL, you don't have the clearing clock, there's no shot clock, and  there is definitely no 2 point line. Now, we can't point to one or two plays to say "there, the rules mattered", but I do have a very strong feeling that USA wins this game under FIL rules.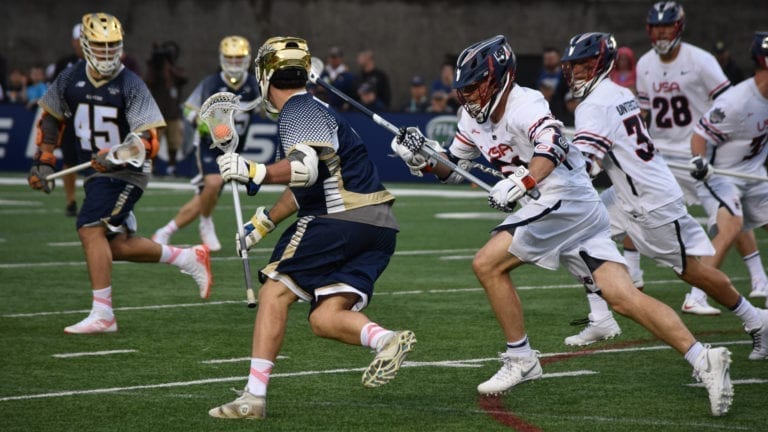 The reason being that the MLL teams were more than happy to take 2 point shots, and initiate early offense. Also, USA was forced into quicker clears than they really needed to. When nobody pressured a longpole like Tucker Durkin, he still needed to fore the ball upfield to give his offense more time with the ball. In FIL, you just hang onto it and let the play develop. No forced passes, no quick shots, fewer fast breaks.
So when you look at a 6 point lead with 6 minutes left, it's hard to imagine USA not walking away with the win in FIL play. It's entirely possible they don't have 14 points, either. It cannot be said definitively that USA would have won this game under FIL, but it is honestly pretty likely. They did have several shot clock calls early on, which could have developed into goals. But that's too much what-if. It also gets you into the mode of thinking where this was USA's game to lose and not give the MLL All-Stars the credit that's due.
Good, Not Great
The MLL squad did many, many things right. One of their best efforts all day was defensively. There's a reason why USA was getting shot clock calls: nobody was getting open off ball with any sort of regularity. This forced USA into a spot where they needed to rely on individual matchups where they disrupted shot after shot. They did a great job with trail checks and lifts to send passes flying out of bounds. This also reduced the number of quality shots USA was every able to create. They definitely did get some, and when they did, it was very effective (think Jordan Wolf open with nobody within 10 yards effective).
The only other thing that gave me even a little concern was one major team aspect: handling adversity.
This group did not handle refs, comebacks, or chatter well at all. There were more than a few times that USA was drawn into full on screaming matches with players from the MLL and even John Danowski had to step in to talk his players down. Some of this was initiated by calls from the refs some was by MLL players. But there were more than just one or two players that became consumed by this at times.
The other thing I noticed during the MLL comeback was just how quiet the USA sideline was as those goals started going in. It was not nearly as supportive as I would have expected where players would cheer each other on to make that next play.
The good news for USA: this wasn't for a medal.
Everything that didn't go correctly is easily remedied, especially by the coaching staff they have. But you can be sure that every player which travels with that team and every coach is going to be thinking about this loss and how to improve from it while not dwelling too much. No sleep 'till Netanya.