During this third week of NLL action, the New England Black Wolves had their home opener hosting the reigning league champs, Saskatchewan Rush. The Black Wolves were coming off a season-opening loss down in Georgia to the Swarm, so there were certainly some questions to answer in this game. The main things to look for were how the Black Wolves defense would keep coming together, how the goalie situation looks, could the offense remake itself without Kevin Crowley and how the crowd size would look.
What happened was a great 12-11 win over the Rush. Historically, the New England Black Wolves have fared pretty well against them, winning their games by a goal in 2016 and 2017 before last year's rout up in Saskatoon by a whopping 24-11. Winning three of your last four games against a team like the Rush is something that not many teams can claim. Even better for the Black Wolves was that this game's attendance was outstanding.
Attendance is something which gets a ton of attention in the lacrosse world. There are many reasons for this, but it's also something I try not to harp on too often. This particular game had so many things happening going into it that you had to have this is the back of your mind. With the Wings back in Philadelphia, the fans who stuck with the franchise and would make the trip up I-95 to see the team in New England no longer had that void to fill at home. They have their team back and don't need to visit the New England Black Wolves. Add to that the delayed season due to CBA negotiations, which to some tarnished the league's image a bit, and the continued absence of franchise player Kevin Crowley and there were plenty of reasons to not attend. If you pay attention to social media, fans were not offering encouragement. But, the New England Black Wolves finished with just under 6,500 fans, which is a near capacity crowd for that arena. Perhaps social media feedback isn't everything?
Now, on to the actual lacrosse. Doug Jamieson started in goal for the Black Wolves for their opener in Georgia. Despite the loss, he did play well. But Alex Buque was expected to see some time in net and that came for this home opener. Jamieson played the full Swarm game and finished with just about a 75 percent save percentage. For Buque's debut, he saw fewer shots, but still finished just under 78 percent. That leaves the Black Wolves in a great spot. They have two goalies that are starter quality, allowing them to go with whoever is hot in a given game. If the starter is having trouble, a great option is right there running the door.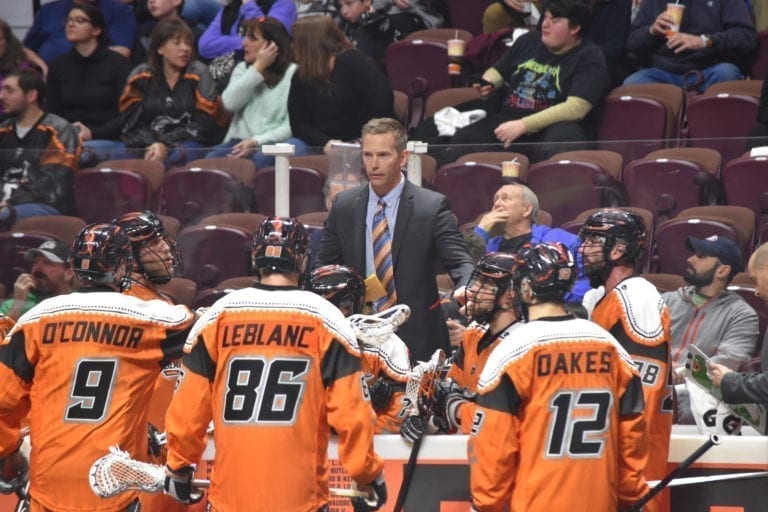 What New England did this game that felt different from their opener was that they were really dictating play on both ends of the floor. Defensively this meant being aggressive and forcing Saskatchewan to actually make plays to earn good shots. For the forwards, it meant not settling for late clock outside shots, and really working to get each other open. They also were relentless in their transition looks. Colton Watkinson was of course a main catalyst of this, but even David Brock netted a goal when the Rush defense opted to cover the forwards running on, leaving him an open look at the net.
Defensively, the New England Black Wolves were very disruptive. Their penalty kill was pretty terrible and does not offer much optimism, but that was one of the only ways the Rush were scoring goals. Their first one was a Mark Matthews shot from top center in man-up. Giving the reigning league-MVP time and room from the middle of the floor is not going to end well for you. In six-on-six play, though the defense was great, two of Adam Bomberry's three caused turnovers were from intercepting passes as the Rush tried passing across floor. John LaFontaine had the play of the night, though as he checked Ryan Keenan hard in the middle of the floor, putting the ball on the floor and allowed him to score an easy empty net goal at the end of the first as the Rush were hoping to run an extra man in the last 10 seconds.
ICYMI: @JLaFontaine33 with an early candidate for #PlayofTheYear.

Hey @SportsCenter, You need to see this. #SCTop10 pic.twitter.com/VKw8kqTwfg

— NE Black Wolves (@NEBlackWolves) December 29, 2018
For forwards, Reilly O'Connor was the man of the night. His four goals are a significant jump compared to his seven total from last season. Coach Glenn Clark said after the game that his offseason conversation with O'Connor was that he in no way was a seven-goal scorer. But even then, his current pace of 63 goals on the season is well beyond what Clark and Black Wolves would hope for. Alongside O'Connor on the left side was rookie Dereck Downs, making his NLL debut in the place of Kevin Buchanan who was scratched. Downs only had one goal (and an assist), but O'Connor was quick to credit him for creating the room to operate. Creating room seems to be the theme for this year's New England Black Wolves. Tyler Digby is on the team specifically for that purpose and it is working. He is able to push the defense inside, giving Callum Crawford the space he needs to create his opportunities. The New England Black Wolves still don't move the ball across sides as often as I would like to see, but their ball movement is much improved compared to last season.
The area which needs to most attention right now may actually be faceoffs. In training camp, Ryan Fournier was good enough to send Jay Thorimbert packing. Since then, it hasn't been great. Fournier went 12/23 against Jordan MacIntosh and Connor Sellars in their opener and was just 6/20 against Jeremy Thompson. What was worse was that against Thompson the Rush were often then allowed to get a free look at the cage. I asked Buque about this after the game to see if they purposefully gave Thompson those lanes instead of him passing it to a forward on the floor, to which he laughed and said "Jeremy's on of the best transition goal scorers in the league. So, no, that was not part of the plan."  While they do have Answer Suitor available for faceoffs, he has not had much success in the handful he's taken this season so far. Faceoffs are not as important as they are in the field game, but nobody wants their top draw guy to have the fewest in the league. Which, if you take out all of the players with more than 10 attempts, is Fournier.