ComLax has really outdone themselves this time. Up for grabs we've got a brand new Nike Lacrosse stick with an unreal custom pocket to match.
Mike Sullivan, aka The Stringmaster General, went to work on a brand new Nike Lakota head to create a beautiful custom pocket that stands out while tying the elements of the head and shaft together.
Choosing his colors based on the Vandal shaft and Swoosh in the head, Mike got to work trying his hand at stringing a symmetrical double traditional pocket.
I wanted to create a unique pocket that is fully functional and ready to throw." – Mike Sullivan
The result was two, 3 Diamond pita pockets alternating with a 7 twist center track using 12 different pieces of string. Wound for aesthetic purposes, but still offering functionality, the sidewall is a beautiful touch to this remarkable work of art!
Mike winds his shooters as many times as possible to offer the most anchor points and stability possible.
The bright yellow center track highlights the Swoosh in the center of the scoop while the blues that Mike used tie the head together perfectly with the blue Vandal shaft to match!
It's extremely hard for us to part with this one-of-a-kind masterpiece, but we've decided to give it to the people!
Here's a look at all of the items up for grabs in our newest #LASGiveaway:
(1) GRAND PRIZE WINNER receives an Nike Lacrosse Stick from ComLax
(5) 2ND PRIZE WINNERS receive a pair of Tomahawk Shades
Follow the instructions below to enter to win now!
[mks_separator style="solid" height="4″]
How To Win the Nike Lacrosse Stick

1. SIGN UP using the handy dandy form below
2. EARN bonus entries by following the instructions on screen
2. INVITE your friends to participate and gain extra entries when they sign up
[mks_separator style="solid" height="4″]

[mks_separator style="solid" height="4″]
LAST WEEK'S #LASGIVEAWAY RESULTS
[mks_col]
[mks_one_half]
Up for grabs last week: an Orange Ghost Shaft and 5 pairs of Tomahawk Shades.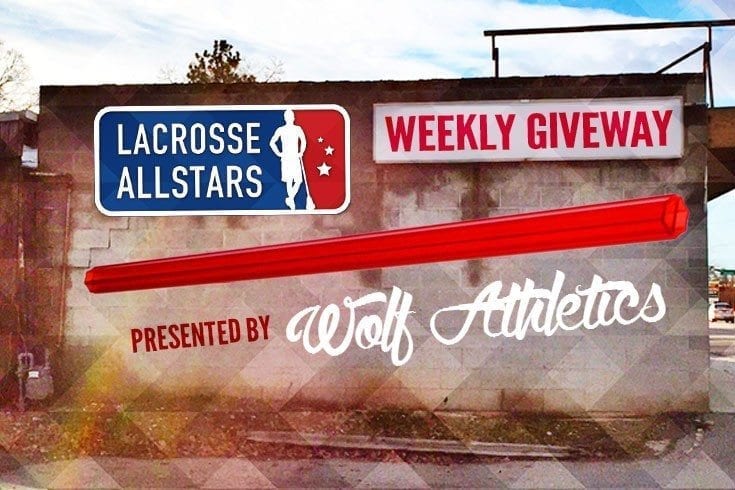 Special thanks to Wolf Athletics and Tomahawk Shades!
[/mks_one_half]
[mks_one_half]
It's time to find out if you won!
Grand Prize


Ghost Shaft from Wolf Athletics

Zach Salido
2nd Prize


Tomahawk Shades

Sam Stowe, Patrick Koenig, Patrick Lyons, Emily Whitlock, Diana Heiss

Congratulations to our winners, and a big thank you to all who participated!

[/mks_one_half]

[/mks_col]

[mks_separator style="solid" height="4″]
Spread the word about this week's #LASGiveaway!