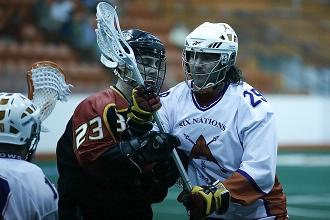 The North American Lacrosse League is going into its first season this winter, and in preparation for this, the league needs to organize and allot players to franchises.  There will be additional combines, drafts and signings down the road, but the first step is complete:  The NALL has finished up their first ever college draft.
Now take the below info with a grain of salt, and try not to assume that these guys are definitely going to play in the NALL.  Jovan Miller for example, is looking to make an NLL team, and if he doesn't there are no guarantees that he'll play in the NALL, even though he was drafted.  A guy like Grant Catalino is also interesting because of his prior box experience.  Will he make an NLL team because of it?  Did Charlotte waste a pick on him?  We'll get into all that later, but the message is the same: these draft results only speak to potential and possibility for now.
The Wilkes-Barre/Scranton Shamrocks (that team name is a mouthful, eh?) had the first pick overall and they selected David Earl out of Notre Dame.  He's athletic and skilled.  Could make for a good boxla player and Earl could probably use at least a year or two in a league like the NALL before he's ready for the NLL.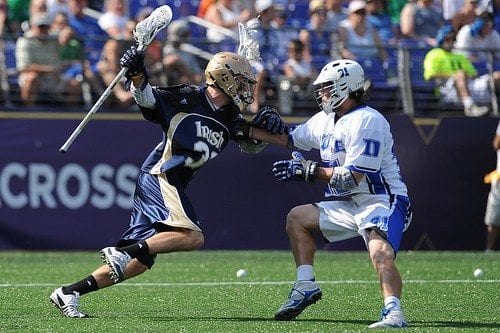 Photo courtesy Flickr
Barney Ehrmann of Georgetown was picked second overall, by the Hershey Haymakers, and the Kentucky Stickhorses (crazy but interesting name!) chose Brian Caufield out of Albany.  I feel like anyone offensive out of Albany is a good pick for a box team.  It's just the style of play they use up there.  The Ehrmann pick is interesting, and maybe he has the potential to become a Brodie Merrill type player, but I have doubts about his stick skills in the box game.  He could be good someday, but the #2 overall pick seems a little high to me.  Then again, I've never seen Ehrmann play box, so that's really unfair of me to say.  What's my deal with not thinking he's that good?
Brett Schmidt of the University of Maryland got first pick love from the Charlotte Copperheads, and to close out the first round, the Jacksonville Bullies chose Bobby Stockton from Jacksonville University.  Jacksonville to Jacksonville!  Something tells me that the Bullies know they have something special in Stockton.  Plus he's now a hometown boy by virtue of playing for JU.  Smart move I think.
Wilkes Barre/Scranton Shamrocks also selected Jeremy Boltus, Kevin Kaminski, Matt Stefurak, Josh Amidon, and John Lade.  A couple Cuse guys in the mix is always good, and Boltus seems like a natural fit for the box game.  He's tough, crafty and has excellent spatial awareness.  He could be a big first year star if he commits to playing the box game in a big way.
The Hershey Haymakers added Travis Reed, Dan Hostetler, Jack Dudley, Nick Elsmo, and Chris Hunt.  I think Reed is the high point in that group and would love to see him make the transition to the box game.  He could probably model his box game after Ryan Boyle, and definitely has the potential to make it into the NLL eventually but again, only if he dedicates himself to really learning box.
Taylor Embery, Max Schmidt, Brian Farrell, Jovan Miller, and Porter McKay were selected by the Kentucky Stickhorses.  As I mentioned above, Miller is a bit of a risky choice, but only because I really think he has the potential to be the next Mark Steenhuis in pro boxla.  Steenhuis picked the game up late, but he's skilled, tough and fast.  I look at Miller in much the same way.  Farrell is my favorite pick for Kentucky and I REALLY hope he learns the box game.  If ANY American player has the chops to be our Brodie Merrill, I honestly think it's Farrell.  Guy is a great defender and he knows what to do with the ball.  Plus he can score and dish.  Brilliant pick.
The Jacksonville Bullies decided on Thomas Compitello, Scott Perri, Joel White, Adam Rand, and Billy Bittler and this seems like a really great draft class.  Bitter and White are the obvious big names stars in the group, but of all these Jacksonville picks, I like Compitello the best.  He played tough behind the net for Stony Brook, has the dive shot down, is built like a brickhouse, takes abuse like it's nothing and is great under pressure.  He's a guy I could see on the US National team in the near future, but AGAIN… only if he concentrates on learning box lacrosse.  The gap is simply that big.
The Charlotte Copperheads ended up with Ryan Flanagan, John Galloway, Patrick Smith, Grant Catalino, and Thomas Langan as their choices and it's a solid group.  Galloway is rumored to have potential, Flanagan is a beast who also happened to attend UNC, and Grant Catalino has box experience, size and a ton of potential in the box world.  I think Tom Ryan knows what he's looking for, and he definitely found it with this solid group of players.  A good draft for Charlotte without any question.
It's going to be interesting to see if any of these guys end up on the teams that drafted them, and I'm hoping that a good number do end up playing in the NALL.  US box lacrosse has a long way to go to catch up to the Iroquois and Canadians, and the NALL is a good start.  Hopefully for the league, fans and future of US box lacrosse, these drafted players feel the same way.