Rhino Lacrosse is back for 2012! Camp officially kicked off today in West Linn, Oregon, and the mood and intensity surrounding it was like a fast-break off the opening face-off. Coaches were excited, campers were ready to work, and the weather was perfect for some hustle.
LaxAllStars.com gets the opportunity to cover the West Linn camp again this summer. We will be coming your way all week with updates, including interviews with coaches and players, "how-to's" on fast-breaks and offensive and defensive principles and of course, everything else Rhino throws at us. Today, let's meet the coaches!
The staff this year is loaded (as always!) with talent and experience for all the campers to soak up. Ryan Powell and Coach Ventiquattro lead this year's coaching staff, which is a mix of new and old faces.
Joel White returns from 2011. When White steps on the field, he immediately raises the level of intensity at camp – the man just exudes hard work and you can see that in everything he does.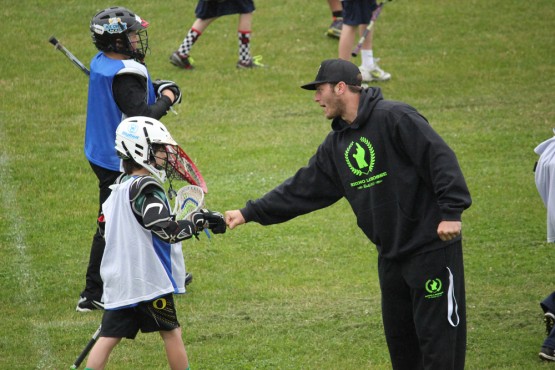 Ben Gaebel also returns to the Rhino camp circuit this summer to help out all the goalies and lend his All-American expertise to anyone hungry to be the best. Benny G is all business, with a dash of fun.
There are also some new faces in West Linn this year. Brett Hughes (Go Hoos!), Mario Ventiquattro, and Nick Piroli of Brown University have all come on board to coach at Rhino Lacrosse Academies.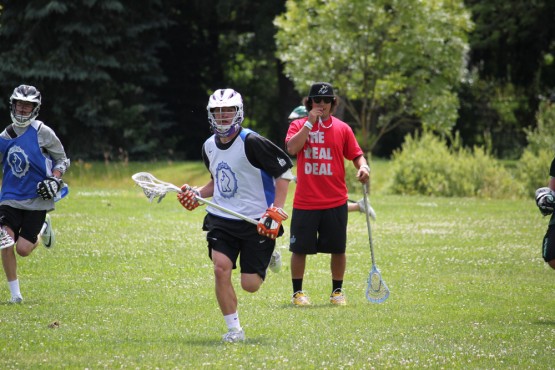 I wasn't sure that you could top last year's cast of coaches, but with these guys on board as well as the very talented Rhino Staffers, this is sure to be another great year at Rhino: West Linn. When the coaches went through their introductions, it was a laundry list of great NCAA schools from around the nation.
Brett Hughes didn't waste anytime making his presence known at camp. Someone needs to get this guy behind a microphone! Hughes brings a wealth of defensive knowledge to the table and showed that from the get-go. Check out this video of a little defensive analogy he gave some campers.
Lastly, we couldn't go forward without recognizing something very special about camp this year. Ryan Powell's best friend and former-high school coach is alive and well one year after he received the call about his test results that would soon lead to news of stage four prostate cancer. Coach V allowed us to share this very special moment for him as he took a second to reflect at the very spot he received the phone call.
Stay tuned this week as the action continues, you know it isn't a Rhino Academy without all sorts of lacrosse wisdom, action, and fun. Day 2 of Rhino Lacrosse: West Linn comin' in hot!