Lacrosse is a relatively new sport in the Asian country of the People's Republic of China. But, that hasn't stopped China Women's Lacrosse from appearing at the 2019 Women's Lacrosse U19 Championships.
The team — primarily made up of Chinese nationals living in the U.S. and the U.K. (with local Chinese players primarily from the Shanghai area) —  is hoping for at least a second or third-place finish in their group, according to China Women's U19 coach Morgan Banaszek.
"I mostly know what the senior women's teams are like," she says. "Germany's team is generally quite good. Same with Korea's. I think those might be our toughest two teams in our pool."
That would certainly be a great result for China, considering this is their first appearance at the Women's Lacrosse U19 Championships ever.
It is not, however, the first time a women's team from China has played in the World Championships. That happened back in 2017 when the Chinese Women's National team played at the 2017 Women's World Championships.
"It's kind of different because our U19 team was different than our 2017 team," Banaszek explains. "Members of the 2017 team were all in Shanghai, so they all were doing daily practices at least the last month or two before the tournament. We were doing 4-5 days a week practices along with training sessions, fitness sessions and little bit of strength and conditioning."
Banaszek continues, "Our U19 team has all been really spread out. They have all been tasked with doing different strength and conditioning, fitness training plans as well as lacrosse with their home teams. Really, until the training camp we haven't had the time to be together."
While this is a monumental moment for lacrosse in China as this will be the first time a women's U19 team has played at an international championship — and only the second time a women's team from China has competed at the same level — it has taken the dedicated work of a lot of people to get this organization off of the ground.
China Women's Lacrosse: A History
The history behind lacrosse in China is like many other nations that have picked up the sport. It has been the tireless work of dedicated individuals, like Banaszek — who originally ended up in China as part of a Master's Degree program through a university in Ningbo, Zhejiang Province, China.
Banaszek eventually moved to Shanghai as part of an internship through her Master's program. There, she was connected with the Shanghai Lacrosse League, in which she started playing with other members of the league.
From there, Banszek met other players in the league who hadn't received much coaching up until that point.
In 2014, the first fall league was organized for women, which boasted a total of two teams. Originally, it was just some locals looking for fun, but gradually the league began to get more and more serious with Banaszek's help.
It was through Shanghai Lacrosse that Banaszek met other lacrosse enthusiasts who were trying to launch the Chinese Lacrosse Association. Banaszek was able to get in on the women's side of things as the head coach of the Chinese Women's National team and as China women's lacrosse director. From there, she was able to take the first Chinese women's lacrosse team to the 2017 Women's Lacrosse World Championships.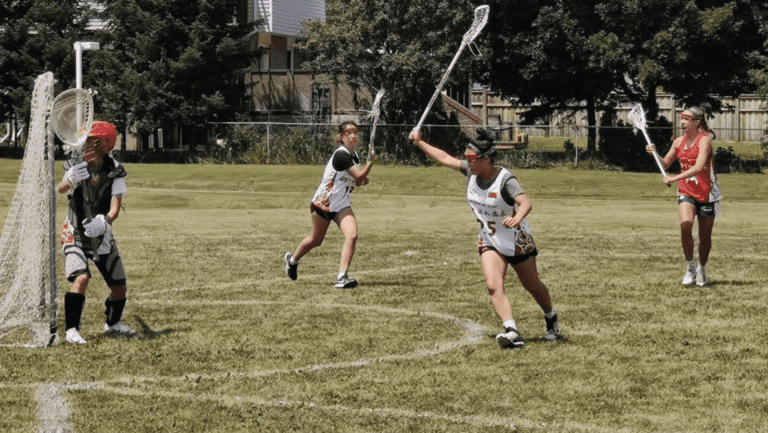 Cultural Differences
There were certainly challenges to growing the sport of lacrosse among Chinese women, as Banaszek can attest. There were many cultural differences that took some getting used to. Unlike the United States, Canada or similar European nations, sports in China is not as heavily emphasized in their culture as it is in the previously mentioned countries, especially among women.
In China, women are not taught that being athletic is a good thing, according to Banaszek. She also describes how unless you are picked for an Olympic squad at a young age, there isn't much need for athletics, as most Chinese parents heavily emphasize academics for their children. Many of the girls didn't even know what athletic wear was. Some of the best players that Banaszek was able to recruit were players who had played basketball recreationally before joining the team. Many of the girls didn't have any athletics experiences at all.
There is no such thing as a high school or middle school athletic team in China. So, for many of the girls, a concept like team organization was foreign to them.
Growing the Game
Over the time that Banaszek has been there, the biggest difference she has realized has been that there are now far more dedicated players to the sport than when she first started.
This was helped by the creation of the Hong Kong Lacrosse Open, which helped give the local Chinese women a goal to strive for and to become more competitive at. The China Women's U19 lacrosse team competed there this past year in preparation for this year's world championships, which Banaszek says was helpful for her squad.
Recruiting efforts for the U19 team were also more successful because they started to have more women stick with the sport due to the tournament. The Hong Kong Lacrosse Open has gotten bigger and better every year, and looks to be a mainstay in the Chinese lacrosse community.
When it came time to put together the 2017 China women's national lacrosse team, Banaszek and her group realized they needed to start recruiting girls at a younger age. It was that realization that has helped form the Women's U19 team as a way to strengthen the senior squad.
So, they reached out to a player from Shanghai Lacrosse that taught in a middle school in Suzhou, a city outside of Shanghai. It is a Chinese school that, surprisingly, is only taught in English. This player began training the girls, who have eventually developed into some of the current China U19 women's lacrosse players that will compete in Peterborough.
The China Women's U19 lacrosse team has seen a lot of growth over the last few years, and the prospects of success grow brighter every day.
It All Comes Together
Now, the Chinese U19 team will take to the international stage at 11:00 a.m. ET in Peterborough, Ontario for the first time ever. Banaszek knows that they will face many tough tests, especially in a pool against Germany and the Republic of Korea, both teams who Banaszek says traditionally have strong women's programs.
Even so, Banaszek would love a second or a third-place finish in their pool.
The team has been preparing by scrimmaging against local U18 and U19 teams at the China U19 team's training camp, which was held last week.
Banaszek describes, "It's been really good to get all of the players in one place. We had that in Hong Kong where they all got to play together for the first time, but they've done a lot of their training separately. It's nice to give them a team atmosphere to help them to get to know each other's styles, and also for us as coaches to get to know where we want to put people on the field and who is right for what position."
She adds, "We'll play our game and get ourselves some wins."
Long Term
Long term, Banaszek would like to see more internal training camps with the women's teams. She really hopes that youth lacrosse will take off in China as that helps with the cultural barrier of girls not being used to competing in athletics.
Banaszek admits it's tough to know which schools to approach and what players to recruit, considering the priority that is placed on academics.
But, she is also confident that lacrosse in China will really take off and become a strong sport for the nation, particularly with the potential of lacrosse being added as an Olympic sport since World Lacrosse announced the proposed modified rules for an international game that would be Olympic friendly.
That will allow China Lacrosse to pull from a more wide variety of players who may have more athletic experience.
For right now, Banaszek is comfortable focusing on growing the China Women's U19 lacrosse team to help feed into the senior women's team.
It's quite amazing, actually, considering this has all been a hobby for Banaszek.
"I didn't move to China for lacrosse. I found lacrosse when I moved to China," she explains.
While her joining the Chinese Lacrosse Association has been a good thing for China Lacrosse and for Banaszek, her last statement may have more meaning than she realizes.