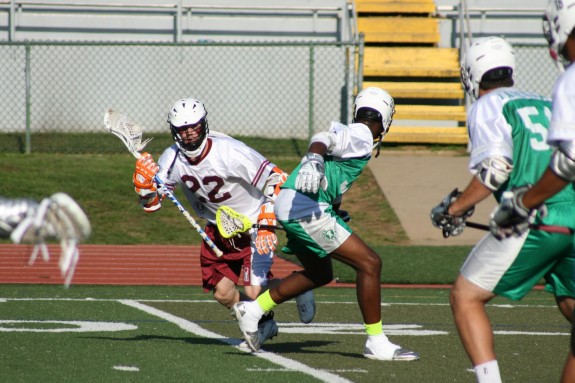 The LXM PRO Tour has been getting mixed reviews both online, and in conversations I've had with a number of people in the lacrosse world, but the fact is that the LXM is still quite young, and when you look at the progress they've made, and lessons they've learned, their growth and improvements are quite impressive.  Let's try to look at this fledgling pro lacrosse venture with a little perpsective, openness and honesty!!!!
Inside Lacrosse gives the LXM PRO nothing but great coverage.  They mostly showcase the good stuff and rarely, if ever, mention the bad.  This is SOP for IL.  412 has had major gripes with the uniforms from both past events and their latest event, but definitely seems to be coming around to the idea that the LXM is a good thing overall.  Again, pretty much SOP.  The guys over on 24SevenLax have also voiced some concerns (mostly surrounding promotion of events), but they also believe that the on-field product is exciting and worth seeing. As you'll see in our new Lax All Stars Forums, plenty of LAS readers have their own views of LXM PRO as well. Lax people I talk to off the record love the idea of the LXM, but question how the tour can sustain itself, and wonder if the greater lacrosse world is ready for two pro outdoor options.
What's really interesting, is that almost every single one of the questions asked above (except the concern about two leagues) was asked of the MLL when it started.  And they're still here.  Yes, they definitely made some major changes, and had their own ups and downs, but the MLL is still around, and it doesn't look like it's going away.  So what does the future hold for the LXM, can the LXM exist for a sustained period of time, and are they making the right adjustments to see sustainable long-term success?
The LXM's first ever event out in Orange County was really a huge success.  They pulled in some high quality players, got two sets of pretty good uniforms, custom helmets, ha some minor celebs in attendance, and had a pretty rocking after-party/concert.  The stands were packed and it felt like pro outdoor lacrosse was BACK in Cali.  The event really went off extremely well, which was good, but it also set a very high standard, and not every event after lived up to that level.  After a small grace period though, people then began to blast the LXM for a perceived drop in quality, and the Jacksonville event did nothing to help this perception.  Of course others acted like it was a total success.  But because it was still SO early… the rushed judgments were a tad unfair on both sides.
In the end, what we really learned was that the LXM would see failure along with success, and that as they grew, the goal had to be to cut back on the failures and increase the successes.  This is an obvious statement, but some pro leagues (like the NLL) seem perfectly content to just keep on their current trajectory of mediocrity (talking about the league here, not the players), so when a Tour or League is willing to really look at themselves and make some changes, it gives me more hope.  The LXM is definitely willing to do this, and all you need to do is consider their latest Philadelphia Event.
The teams were still called STX and Cascade, which makes sense, but their uniforms were clear plays to the local sports fan populace.  Team STX rocked the old school Philadelphia Eagles inspired uniforms, and Team Cascade wore maroon and white Phillies inspired gear.  They even went so far as to have custom helmet decals made, but unfortunately those were stolen, and never saw the light of the field.  Seriously.  If you see someone with those decals (below) on their helmets, you know they were stolen.  Messed up.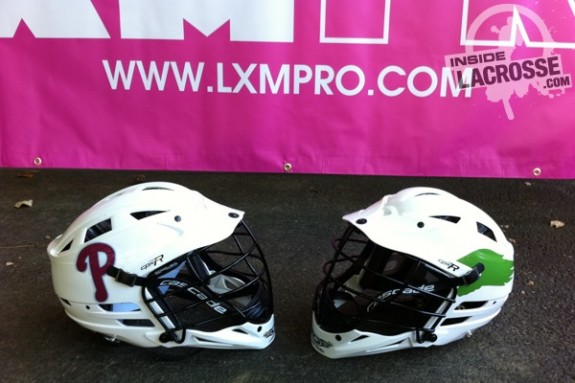 [Photo courtesy InsideLacrosse]
But the LXM didn't just give up after the decals were pinched!  They must have gone to a hardware store and bought mailbox numbers to slap on the helmets in the place of the decals.  Did they look great?  No.  But it shows that even in the face of adversity, the LXM is willing to be creative and think outside the box.  And that really bodes well for the Tour.  Sure, it's a pretty insignificant issue, but it shows that the LXM is paying attention to detail, and that gives me some majorly positive vibes.
The big takeaway here is that the LXM is actively looking for ways to get hometown sports fans more engaged in their offering.  They started this trend by bringing local players on to the teams whenever they went to a new City or area, but the uniform design and helmet decal ideas are another step in this direction.  I don't personally think the old school look was, well, Old School enough, and I'm not sure the decals were totally spot on, but the effort and direction were DEFINITELY there, and this means good things for the future.  They've formulated an approach and are now tweaking their message.  I approve.  If they go back to Philly next time with powder blue uniforms with white and maroon trim, I'll be sold.  I would also accept one team wearing Steelers colors and the other wearing Eagles colors.
The other positive thing to take away from LXM Philly was that Mike Powell came out to play.  The obvious portion of this positivity is that people love watching Mike Powell play, and the LXM gave them this opportunity.  But the less obvious positive aspect is that it gave MIKE POWELL a place to play, and he loves to play lacrosse.  Before you say, "but Mikey could play in the MLL if he wanted to", let me just say this… I don't think he wants to.  His video interview with European Lacrosse Magazine made this pretty clear.  He's looking for something different, and less structured than the MLL, and the interesting thing here is that I don't think he's alone!!!
Guys like Kyle Harrison, Brett Hughes, Shamel Bratton, Sean Morris and Alex Hewit could all play in the MLL today if they wanted to.  But it seems like their focus is no longer 100% on being a player in a league, it is now just on playing the game, and the former is what the MLL seems to ask of their guys.  It's more than fair of the MLL to ask these guys to dedicate themselves to an extreme level because they are trying to build something big, and serious.  But it's also more than fair for great lacrosse players to want to do something a little bit different.  In Mikey's interview above, he makes this point a couple of ways and in interesting fashion.
And the LXM provides this outlet quite nicely.  It's flexible, with some guys playing all the time, and others only coming out for a game or two.  There are no serious coaches screaming at you or busting you over a fancy missed behind the back.  The only people that matter are one's teammates and the people in the stands, and while both teams want to win, the real goal is to have fun and put a great product on the field.  It's an interesting balance between Pro and Exhibition, and at this point in Lacrosse's growth and development, it seems very appropriate.
The MLL will continue to get more serious.  More teams will be added to the league, teams will practice together more, the season will be lengthened, and eventually player salaries will start to climb back up.  But in the meantime, the MLL will have to ask its players to give more in the meantime.  And there are guys out there who want to give, but just not in the way the MLL has envisioned, and that's actually a good thing!  It means the best players in the world will continue to have more opportunities to play, and not less.  It means that more people will be able to go and watch a pro game, and not less.  These are both great opportunities for the future of our sport.
The LXM still faces challenges.  They need to continually draw in good numbers and find a list of locations that definitely work.  Then they can continue to experiment in new locations every second or third event.  Excellent promotion goes hand in hand with site selection, and I dropped some ideas yesterday on how the LXM could benefit from an NBA lockout, and one of those ideas centered on getting LXM games on local TV BEFORE the LXM plays an event in their region.  This idea is doable even without an NBA lockout, but I mention it again today because local outreach is going to be really important for these guys.
And they're going to need to be creative here.  When the LXM travels to Vegas, they can't craft uniforms to play off of local pro sports teams, because there aren't any pro sports teams there.  They could go with one UNLV themed team and one minor league baseball or hockey team, but that's not really what Vegas is all about.  Vegas is about gambling.  So I'm kind of hoping that a casino will be the name sake sponsor of each team, and that people who are staying in either of these two hotels/casinos get free tickets to the game.  Casinos get promoted, the lax teams get names and color schemes, and hopefully some new fans are drawn in.  Or the Casinos could give tickets to all of their EMPLOYEES, and not patrons, and those off could go see the game for free.
I brought up Vegas because it's going to be a VERY different event than Philly.  But it showcases a broader point; that the LXM PRO Tour needs to focus on each and every event like it's their first.  They need to work within the region to build support, and find unique ways to ingratiate their new idea into the hearts and souls of potential new fans.  And if you look at the trajectory they've been on, and the recent changes we saw in Philly, it looks like that is just what they are doing.