I recently received a copy of the book Salmonbellies vs. The World, and the self-proclaimed "story of the most famous team in lacrosse & their greatest rivals" delivers thoroughly. The information packed pages are a vivid trip through the New Westminster Salmonbellies' long and storied existence and they are filled with stories, opinion, and plenty of research, along with a staggering number of historical and amazing photographs from the earliest days of the club.
I personally gained a new level of insight into Canadian lacrosse, and learned enough about the history of lacrosse in British Columbia to hold my own in any conversation. The book is absolutely riddled with things that had almost slipped through the cracks of time, and I'm very glad to have read it.
The old photos of field lacrosse being played inside a giant oval field with fencing at the perimeter were quite interesting. The number of spectators at games was equally impressive. I was enthralled by the discussion of professionalism vs. amateurism in the book. It seems like semi-pro vs. pro vs. club has always been a thin distinction, and it's amazing at how relevant that discussion still is today.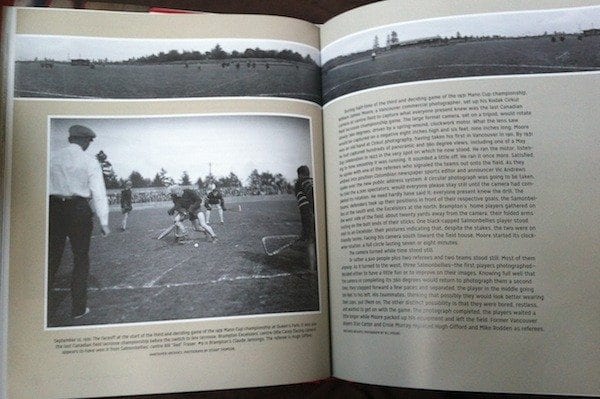 Another topic often mentioned is the idea of homegrown players vs. importing more talented players. New Westminster routinely went from all home grown guys to some out of town players in a matter of years. Their attempt tot keep it homegrown while oscillating consistently shows just how hard that goal can be to achieve. And like the issue of professionalism, the issue of bringing in the best vs. working locally is still largely at play.
The book is tilted towards New Westminster's favor, and certainly sheds the club in a positive light. The author, W.B. MacDonald, is from New Westminster, and that should be mentioned. But the historical perspective MacDonald sheds on the team grossly outweighs any small bias he may have. His work is thorough, fun to read, and highly engaging. He writes about New Westminter positively, but why shouldn't he? Their rivals may dislike them on the floor, but there is also respect there. The history you'll learn of in the book shows it's been earned.
The Salmombellies have one of the most iconic mascots in all of lacrosse, and they have been at it pretty continuously since 1889. If there was lacrosse to be played in Canada, New Westminster wanted in on it. If that sounds like, you'll enjoy this book.
You can find Salmonbellies vs. The World for sale on Amazon.com. We recommend the book highly. It's a good read and you'll definitely learn about the history of our game.