Yesterday we got to see the USA Blue Vs White game from IMG in Bradenton, Florida. And before we get into it, I want to shout out some big THANK YOUs to those who made it happen. THANK YOU to USL for showing the game (for free!!!!!), thanks to all the players who put on a show, and thanks to the US coaching staff for giving us a peak into the 2018 selection process! I LOVE LOVE LOVE watching free high quality lacrosse, and this game was just that. Thank you to all who made it happen!
Now, let's get to the 2018 USA team, the action, and how things are shaping up for the summer.
According to the announcers for the game, the Blue team was made up of guys expected to make the roster and the White team was made up of guys who were on the bubble or lower on the depth chart. We had not heard any confirmation of that statement from Head Coach John Danowski, but as you can see below, only one player from the White team (Marcus Holman) made the final cut. Myles Jones of blue was dropped from the final roster and now if anyone complains about supposed "Duke homerism" you can slap them in the face.
So what are some of the OTHER big takeaways from this past weekend's USA Blue Vs White game?
2018 USA Roster
The USA roster has been announced, and here it is! Makes sense to start here, right?
Name – Position – College and graduation year
Trevor Baptiste – FO – Denver '18
Jake Bernhardt – SSDM – Maryland '12
Jesse Bernhardt – D – Maryland '15
Ryan Brown – A – Johns Hopkins '16
Ned Crotty – A/M – Duke '10
Matt Danowski – A/M – Duke '08
Steve  DeNapoli – SSDM – Hofstra '11
Tucker Durkin – D – – Johns Hopkins '13
Michael  Ehrhardt – LSM – Maryland '14
Joe Fletcher – D – Loyola '14
John Galloway – G – Syracuse '11
Greg Gurenlian – FO – Penn State '06
Kyle Hartzell – LSM – Salisbury '08
John Haus – M – Maryland '13
Marcus Holman – A – North Carolina '13
Jack Kelly – G – Brown '16
Rob Pannell – A – Cornell '13
Paul Rabil – M – Johns Hopkins '08
Tom Schreiber – M – Princeton '14
Drew Snider – M – Maryland '12
Kevin Unterstein – SSDM – Hofstra '08
Joel White – LSM – Syracuse '11
Jordan Wolf – A – Duke '14
While this roster is "final", it is not 100% set in stone and could conceivably change due to injuries and/or other issues.
Danowski's World
Ok, this is by far and away the most important takeaway of them all, and that is for 2018 it's Danowski's world, and we are just living in it. This means he and the team won't care one bit about the "now" until the now actually matters. Think of Danowski's teams at Duke. Do they start out hot every year? Nope! But they build to something bigger and better, over the course of time, and the team at the end barely resembles the team at the beginning. Judging from what we saw in the USA Blue Vs White game, this is a good thing, because there is plenty of work to be done with this team.
Danowski is also known to always emphasizes that each team he coaches is different and unique, and there is absolutely no doubt that he WILL take that approach here, and he has started already. He builds a foundation around what he has, and then the team adds in layers and wrinkles. The whole thing evolves into something new, and something better.
He also has a knack for finding the "right" guys, and putting them in good spots to be productive. It's a mix of direct coaching and indirect coaching (aka letting the players play), and JD does it as well as anyone out there. For the coach of USA's national team, he's a great fit. Players love playing for him, and while it's important for players to love playing for a coach at any level, when you're dealing with this level of high caliber player, it can be the difference between gold and silver.
Don't believe me? Look to 2014 for some proof.
The Canadians LOVED playing for Coach Mearns and his staff. There was mutual respect, it was fun, and it was very often a two-way street. No one was expected to be a machine, the group was loose but focused, and after losing to the US in the round-robin, Canada came back to win Gold in the finals. It was a family affair and the guys loved every minute of it. On one of Canada's off days I saw a couple of their guys crushing a few beers and watching other teams play lacrosse. These guys were in untucked team polos, casual shorts of their choosing, flippy floppies, all smiles, dark shades, and they were loving life.
Now look at the US team in 2014. It was not exactly a "fun" experience in Denver. Everything was scripted down to the minute and some of the pro players on the team felt a little infantilized. Grown men were told to go back to their rooms and change if they were wearing ankle socks when the dress code for the day said calf socks. Seriously, that happened, and you might think I'm making too big a deal about clothing, but it is emblematic of how both of these teams operated. I was around all the teams, and what was going on with the US was the only thing that felt really forced. The USA guys did what they were asked, but they just didn't seem 100% bought in to what was being sold. It was similar to when someone you love cooks something that is not that great but you eat it anyway, smile, and tell them it was delicious.
On top of that, when the team played the Gold medal game, they approached it in almost the exact same way that they approached the round-robin game with Canada only a week before. Canada, on the other hand, changed and improved over that week, while the US did not. The US peaked at the beginning and maintained that peak, but Canada got better, built a new family, surpassed the US standard, and won the gold medal.
Danowski will do things VERY differently. How do we know this? Because he's John Danowski, and he has always been a player's coach who builds teams up. For Team USA (or any high level national team) this is incredibly important.
Can This Team Beat Canada?
If you wanted the USA Blue Vs White game, I am hopeful that you saw the same thing I did, and that is this:
If you took all 50 players' names and threw them in a hat, and then drew out 5 attack, 6 middies, 2 FoGos, 2 goalies, 2 LSMs, and 6 defenders you could take any combo of US players and be confident that you would make the gold medal game. This is not a knock on the next teams up (Iroquois, Australia, England, Israel, etc), but I firmly believe that any combo of the 50 guys we saw play on Saturday can make the finals with confidence. The team that was announced today should fit the bill as well, and should be considered as close to a lock to make the Gold medal game as Canada. That's just how deep the USA talent pool is, but that's really not the issue!
The issue is beating Canada when it matters, in that gold medal game. Canadian teams are built to play their brand of the game, but they are also very much built to beat the USA. The US needs to show Canada the same respect.
In this vein, it really impacts how we look at the USA Blue Vs White game.
In a weird sense, it doesn't matter if some of the players on White are better than some on Blue or vice versa. Maybe they are. Maybe the entire White team is a better team than Blue or vice versa… But who can beat Canada? This is NOT some open tournament where the US will face any other American players or a group of MLL all-stars. It is really only about a couple of games, and beating Canada is what this team will have to do in order to win Gold.
Here is a great example. I don't care who the best FOGO is out of the four guys the US has right now. Gurenlian, Baptiste, Kelly, and Fowler will not face each other. Not even once. They WILL face Jake Withers for Canada. A lot. So I don't care who beat who in the Blue Vs White game… at all. It is literally meaningless to me. I only care who consistently beat Jake Withers head to head over the last year. The best face off guy the US has may, or may not, be the best in general, but that does NOT matter. Gurenlian going 4 for 11 on Saturday does NOT matter. What matters is who is the best to go against Withers this summer.
Does that seem really simple and also a little weird? Good, because it is both, and it actually makes sense.
For me, the same holds true for longsticks and shortsticks. Who plays the best against Canadians? If it were up to me, John Ranagan (not even in the final 50) would be on the team as a d-mid by virtue of his play in the NLL, athleticism, and knowledge of Canadian players and their tendencies. Tom Schreiber is a lock for the same reason (above any beyond the fact the he's legit), and I'd probably be giving Brett Manney or Chris O'Dougherty a look too at this point. Knowing one's competition always helps! I like that Tony Resch is involved on the sidelines, and he gives them great input on the coaching side, but I'd like to see more US NLL guys being considered for the actual roster. Chris Schiller was a long-time NLL player and it was always comforting to see him on the USA field roster. He provided insight others simply did not have. There is a lot of value in that!
I have long believed the same approach should to be taken with all of the US players, because it really is about winning ONE truly tough game. This is always easier against a team that you know well on the field and from the sidelines.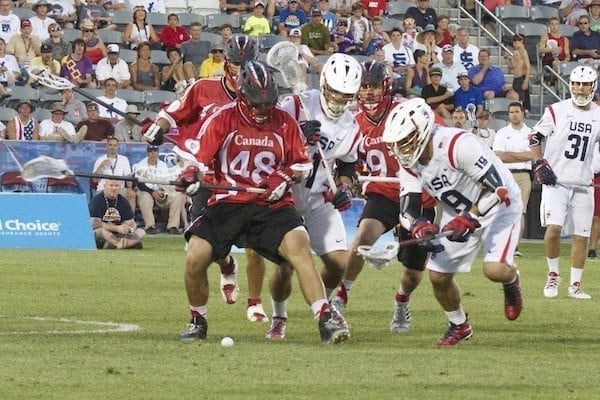 Now, we need to take all of the above with a grain of salt, because it's possible that Danowski will take a totally different approach with this team, and it could still work. That approach would be focusing on the creation of a real team of guys and poo-pooing the "match up approach" all together. This other approach just focuses on guys who LOVE each other and will run through a wall for one another, and then keeping them happy, well-oiled, and ready to compete. The 2014 group was not really like this as it lacked true solidarity, but it's definitely something Coach Danowski cares about. Character, intelligence, passion, and a bit of an edge… a team full of those guys all on the same page could actually be enough to win it all, but that doesn't change the fact that this team needs to beat Canada.
There is a LOT left to change in the coming months, so I can't answer this question for the 2018 games. It would be like asking how good Duke will be in May when they are 2-3 in early March. We simply don't know… yet.
FIL Game Is A Different Game
Ok, now that we've talked about the important stuff, like how Danowski will run the ship and if this team can beat Canada, let's talk about the fun (but relatively unimportant) stuff – breaking down the Blue Vs White game itself!
Blue was up 4-0 after the first quarter, but White pumped in the next 4 goals to tie it up at the half. The teams went back and forth, and each scored 3 goals in a bit of a lackluster second half. During an 8 minute OT period, White scored 2 goals, Blue notched none, and the White team came out with a 2 goal win.
A lot of people have been talking about the result, especially on Twitter, and what it should have meant for team selections, but I think it's important to recognize that the USA Blue Vs White game is only a small part of the selection process. We simply can't get too wrapped up in one inter-training squad scrimmage. Yes, it was the last event before final cuts are made, but that doesn't actually make it any more important than other moments from the process. In some cases, it's likely much LESS important than some of the earlier moments, as the team seemed to have been largely picked before this game was played.
I tweeted out that I'd like to see at least THREE TIMES MORE BLUE VS WHITE GAMES, and while this was jovial reference to Zoolander was mostly a joke, there was also some truth to it.
The USA guys do NOT look comfortable playing FIL rules right now. Not one bit. Clears are often rushed when there is no need to do so because there are no clearing clocks. Too often decent (but not great) shots were taken within a minute or two of gaining possession, but there is no shot clock in FIL games. Passes were forced inside far too often after short possessions or limited off ball movement. Feeds were made standing still. Checks that would be called slashes in FIL were thrown too much and there were a number of missed penalty calls from the refs. During one rare flag down situation, a USA player left the box with possession which blew the play dead. Players talked back to refs at times or didn't hustle off after penalties… the list of small issues goes on and on. Even the refs struggled at times with quicker re-starts.
While I don't expect the USA to be perfect, I do think it's odd that the team is being picked when so many of the guys still don't seem that comfortable playing this slower, more deliberate brand of FIL lacrosse. So when I say I'd like to see three times as many games, I do kind of mean it. Which USA guys can figure out how the FIL game really works? A lot of the 2010 or 2014 veterans seemed more comfortable, but I'm not sure we can really answer that question for many of the guys trying out. Again, if you want to beat Canada for Gold, it helps to have guys who really understand the FIL game on a deep level. I remember playing my first FIL game after 2 years of NCAA rules and I felt like a freshwater fish in saltwater.
I did like some of the inside looks that both the Blue and White created, but the overall offensive schemes seemed lacking. As this was still a tryout period it makes sense, but 7 (or 9) goals is NOT going to keep pace with Canada and I expected to see a little more individual firepower at the very least. We can credit both defenses and all four goalies for a lot of the low scoring, but offensively you are fooling yourself if you do not think the USA has a LOT of work to do still.
Middies seemed content to settle for the alley too often on dodges from up top, and wanted to run around their defenders without taking too much contact. When others were dodging, US middies also stood around and watched way too much. There were some exceptions to this (Myles Jones dodged physically and inside, Drew Snider was moving off ball), but in general the US mids did not seek the middle out like they needed to with or without the ball. This makes me a little nervous because the Canadians will defend the middle as hard as anyone, and unless the US guys commit to getting inside, this could be an issue.
Maybe our US middies just need to start padding up a bit more. Seriously. The Canadians will give you the business all game long on your arms. THE BUSINESS!!!! The Iroquois may give you a love tap with a 6 foot wooden stick. A "love tap". And you're wearing elbow caps? Um, ok! There are pads out that will protect you and team sponsors make them and you can get them for free! Why not wear them? Wear bigger arm pads and some bicep pads boys, we still think you're tougher than us (it's not hard). If it helps you dodge the middle, GREAT, because the alley dodge 13 yard rip falling away from the cage is a TERRIBLE shot, and we saw far too many of them on Saturday. Plays like that will lose the big game for the USA and I hope it is addressed soon.
On the attack side, I liked the action a little bit more and guys showed much more willingness to get inside off cuts and dodges, but for an 80 minute long game, neither group created enough high quality chances. Dylan Molloy was probably the most creative shot taker of the day and Rob Pannell looked super dangerous early on, but as the game wore on the White D really started to focus on him. Wolf and Brown did Ok on the day, but did not step up enough when Pannell became the focus. For me, Marcus Holman and Matt Kavanagh stood out a bit more as guys who were willing to get dirty and make it happen, even as each only scored a single goal.
Overall, the USA offense did not look smooth. They didn't seem to really know how to work a 2-3 minute possession resulting in a lay up goal. There was some individual greatness, a couple of nice feeds and cuts, but an overall lack of cohesiveness, ball movement, and understanding led to a somewhat lackluster performance.
Now, as I said earlier, while we should recognize this was still part of the tryout process and that the offensive group will need time to come together, we simply MUST credit both defenses and all of the goalies for their play. The keepers made some incredibly impressive saves, and kept the D units on the same page. The D focused on "stopping ball" first, and working its way out from a center hub to protect the middle. Defenders also showed confident stick skills and a real hunger for GBs. It is an extremely hard task to pick from this group, but I don't see how you can wrong, and I like what the USA picked up. I don't see many true 1on1 takeaway guys out there, but that seems to be a dying breed in the US, and it is what it is. The D group is really solid, the goalies look dialed, and I liked what I saw from both 'current' and 'future potential' points of view. Plenty of promise there!
USA Blue Vs White – Final Thoughts
At the end of the day, here are my biggest keys, put in their simplest form.
I like the USA roster.
I love Coach Danowski as the man at the helm.
The defense looks solid early on!
Why isn't a USA team ever called "USA Red"?
Communism?
The offense has a lot of work to do.
This is a team that will get better between now and the world championships, but also DURING the world championships.
If they don't Canada will win again (because they will get better during the tourney)
USA middies need to get to the middle more and be more threatening.
Longer possessions, better passing, more movement and patience is still required
SO MUCH IS STILL UP IN THE AIR.
I guess the first, second, and last points are really the only ones that matter right now. 3000 words just for that? You're welcome!