Wesleyan Lacrosse won the 2018 DIII men's lacrosse championship on Sunday, and as a proud (and old – 2003) alum, I could not possibly be any happier for Coach Raba, the entire staff and team, and in a personal turn, that I actually got to see it happen in person on Sunday at Foxboro.
Usually, I work all Memorial Day Weekend long and cover the games as a part of the unbiased media cohort, but this year I took Sunday off from work completely, and thanks to the team here at LaxAllStars, I was lucky enough to simply be another fan of a program playing on Memorial Day Weekend, while they did all the work, and it was absolutely glorious.
I left my media pass at home, drank beers in the parking lot for a couple of hours before the game with all my old teammates and friends and Wesleyan Lacrosse family, and then yelled like a lax dad for the next two hours with wonderful people I hadn't seen in years. It was like nothing had changed, except now we were older, and on the sidelines.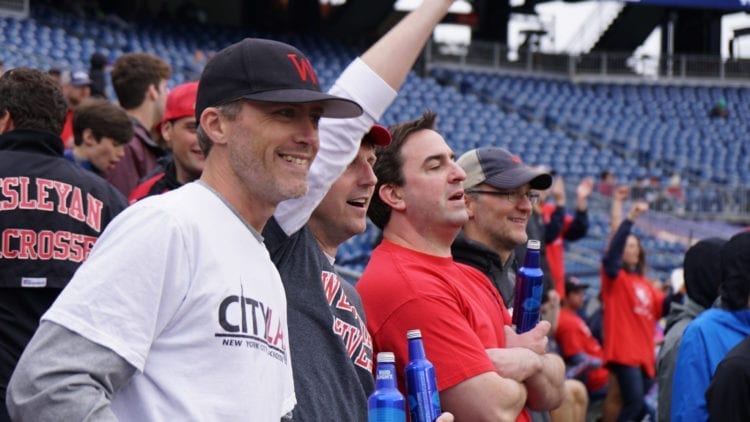 My voice is still shot. Totally worth it!
I want to be clear that this is not an unbiased, journalistic approach to talking about Wesleyan Lacrosse. This is me, openly admitting that I love this program, and always will. It simply can't be helped, but I'd like to invite you in to see what this program is all about, and why it means so much to so many people.
I can readily admit that I haven't cared about who won a lacrosse game with that level of passion and intensity since I was playing in college. To get that feeling back now, as a fan, even for just one day, was a true gift.
Another true gift was the fact that Wesleyan was playing Salisbury in the finals.
Before I can go on to talk about Wesleyan Lacrosse, I need to give a ton of credit to Salisbury. Simply stated, if there is a clear cut definition of what a successful DIII lacrosse program can be, it is the Salisbury Sea Gulls.
Jim Berkman, his staff, his players (both current and former), and their entire fan base is all class, and as professional as they come. The Sea Gulls play hard, they play smart, and they make you work for every single thing in every aspect of the game. They are relentless, disciplined, and skilled. Above all else they are both mentally and physically TOUGH, and they expect to win it every year, and they put in the work required to make it happen time and time again.
If there is a team to truly test yourself against on the biggest stage, it is Salisbury, and I am grateful that Wesleyan's first title appearance was against the best of the best in DIII, year after year.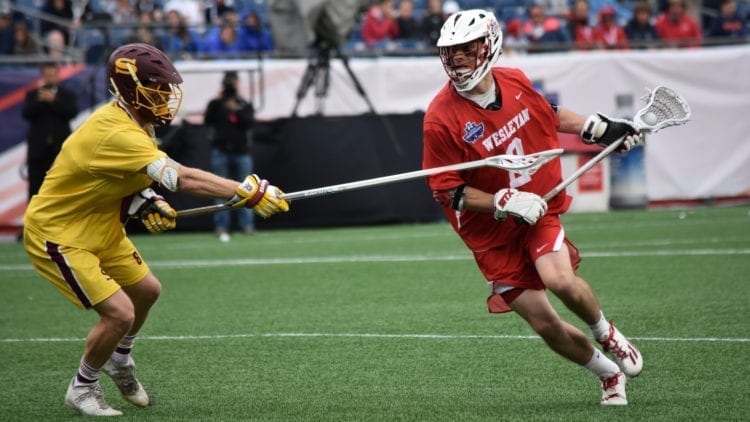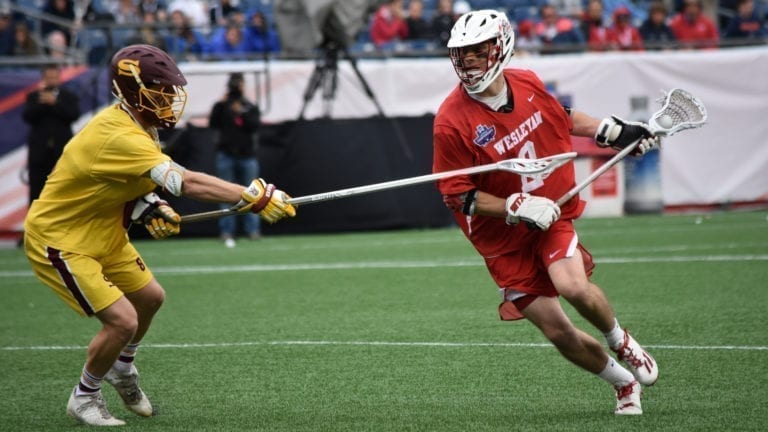 An Ode To Wesleyan Lacrosse
Obviously playing for a title is big, but doing so against Salisbury definitely added to the lead up to the game, even though it had been an absolutely incredible playoff run already. As a player, I always wondered what it was like to play on the biggest stage, and as an alum I was always a little jealous of my friends from Tufts or RIT whose teams were competing for a title. But this time… this time it was our program that was playing, and the entire experience changed for me, in the best possible way, because it made me truly think about the Wesleyan Lacrosse program, and just how far it has come under Head Coach John Raba over the last 22 years.
Alumni from all over were buzzing, and the text messages crushed my data plan leading up to the weekend. All that buzz told me our alumni/fan base would show up in force, and out in Lot 5, every single graduating class of the last 20+ years was represented by multiple players, parents, and friends.
This showing speaks volumes about what Coach John Raba has built in Middletown, CT.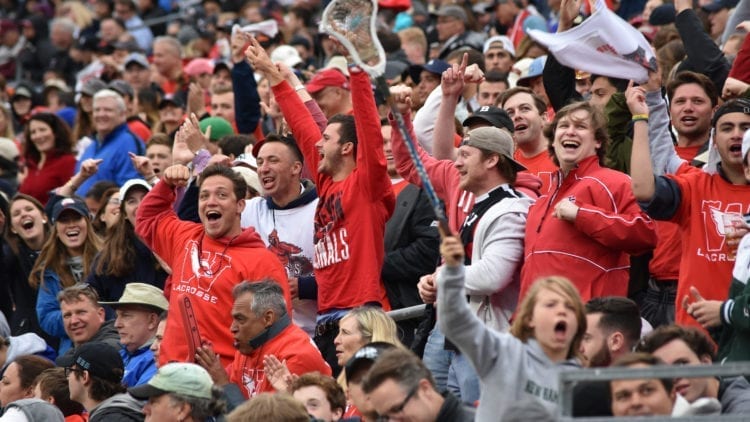 So this is an ode to him, and his long-serving assistants, Will Parker and Rick McCarthy, and our trainer, Ken Dompier, as well as all the other assistants over the years, as much as it is to the program, because this national championship has been 22 years in the making, even as this team stands alone as Wesleyan's first ever national champion in any team sport, and the truest definition of Raba's vision.
The current players TRULY believed in everything that the program could possibly be, and it brings tears to my eyes to see an entire group realize the dream, and turn it into a reality.
These guys deserve their title – they worked for it, they are GREAT kids, and the program has never been in a better place, and its thanks to this group, especially this senior class of 2018.
All the alums are hoping that every other class will treat it the exact same way.
The below quote from Senior attackman Harry Stanton explains it from the current team's perspective:
Yeah, I'll go back a couple years. You know, we talked about our sophomore year, you know, we lost a bunch of games, by one goal. We felt like we were right there and we had what it took to win those games. And we walked away our sophomore year. Then junior year is one of those years where we broke through and we went on that incredible 20-game win streak.

Just to be honest, I think the moment was a little too big up in RIT last year in 2017. We were down 9. We actually got through the first quarter, and it just felt like we were just happy to be there, and we were. But this year there was a different mentality. Coach talks about it all the time. After last season we started our season with the legitimate goal of winning a National Championship. Maybe freshman year we would say that, but, you know, wouldn't believe it as much as we probably could. And last year coming into preseason that was the goal.

When we talk about ups and downs – in the Coast Guard game, everyone wants to talk about that. But when we talk about ups and downs, a lot of people say it but don't mean it. We actually went through it. We lost to Tufts twice, lost in the (NESCAC) championship – we could have folded, but we decided we had bigger goals this year. It's an incredible moment, an incredible feeling. We have this game circled. I think our parents were confident that we'd be here, and we made the most of it.
While this team will forever be etched into history at Wesleyan, it really all started 22 years ago.
When Coach Raba took over at Wesleyan, athletics were not a real focus point for the school. We had some decent years in football, or baseball, or crew, but it was academics first, athletics 10th (maybe) on the priority list. Wesleyan lacrosse had seen some really good years (1964-66, '74-75, and '94 were all great seasons) and a lot of great players, but success was not consistent, and more often than not, Wesleyan sat at or near the bottom of the NESCAC across a number of sports.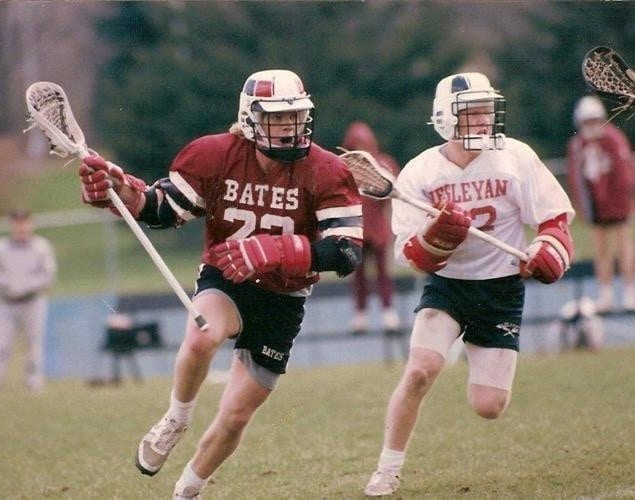 John Raba took over in 1997, but before he could really focus on building the program, he and the team had to deal with tragedy, and Raba would be tested as a young leader of young men, almost immediately.
During Coach Raba's first season at Wesleyan, the team started out well, going 4-2 in early games. The day before they were set to play Bates, senior midfielder Luke Yohan was killed in a car accident, and the focus completely switched from winning games, to helping young men heal. John Raba had graduated from college in 1993, and this was 1997. He was only three years older than some of the seniors on the team, and they were looking to him for help and guidance. Both Zack Stanton ('98) and Dixon "Mac" Merkt ('00) remembered how Coach Raba kept the team together, and honored Luke appropriately. It was an unthinkably tough time for the players on the team, but it bore out an incredible reaction from Coach Raba, and it cemented his status as a man his players could trust fully, and with confidence, when things mattered most.
The team finished at 5-8 in 1997, and while they won just one game after Yohan's death, the team did not fold or give up, and Coach Raba got to work recruiting players. The team would go 9-6 in 1998, and in 1999 the team went 7-7, erasing the program's status as a bottom dweller, and providing a solid foundation for future success in a relatively short period of time.
During those seasons, Coach Raba was challenged again when one of his players, Tim Palombo, was diagnosed with cancer. Tim was incredible, and won his battle with cancer, but the situation once again proved how strong of a leader John Raba is, as the team stayed together, played together, and welcomed Tim back in 2000 with open arms for his senior year. I was a freshman battling Tim for the fourth defensive spot, and he made me better every day. Coach Raba made us compete, and I think it's just what Tim needed. Somehow, it was what I needed too. To have successful seasons in the face of this all of that very real life adversity at such a young age set the stage for a priority-driven approach, where academics, but more importantly, PEOPLE, came first for John Raba and his staff.
Coach Raba may not have recruited players like Zack Stanton, Alex Benik, Tim Keeney, Dan Osborne, Mark Pruner, Jake Kheel, Miriti Murungi, Chris Shelton, Andrew Svensk, Davis-Thompson Moss, Murro Van Meter, or Ben Work – but they became "his guys", and they started the buy-in process when it came to program goals and a new philosophy. Svensk would stay on as an assistant, and always heaped praise on Coach Raba, which again, says a lot towards what the man was building, but also to how he was building it. It was going to take time, but these players buying in was the first step, and it was a big one for a young coach leading a program.
A lot of things still needed to change, as athletics were still not a high priority for the school, and a lot of work had yet to be done, but Zack Stanton's memories add a little levity to what was a tough situation at times, describing those early days, and what made WesTech lacrosse special from even the earliest moments:
Back then the equipment room was stocked with a couple of pairs of well-worn L-35s, some busted aluminum shafts and some excellent early 80s vintage button up jackets – perfect for evening wear… but it will always be bus trips, Neon Deli sandwiches, walking to the CFA field, and always WesTech. And we played with traditional… TRADITIONAL!
It was always about more than just the lacrosse. It was about people.
In the postgame press conference, Coach Raba addressed Wesleyan's lower tier status in the ultra competitive NESCAC, and how big the challenge was going to be early on, and how it related to eventually winning a national title:
We talked about my first season here – we won one NESCAC game. And we talked about the losses we had, and we'd lose 7-3, to Amherst 16-3, and Williams 18 — and if someone asked me or told me you're going to win a National Championship, I would have said to them – in what sport? Because it's not going to be lacrosse the way it's going right now.
With teams liked Williams and Amherst and Colby attracting so much talent, the road was going to be challenging. So what changed?
Coach Raba explains how the slow build progressed over time, how that built to their 2018 title, and how this team was able to reach a level no previous Wesleyan team ever had:
So in that moment, again, it took us a long time to kind of get the right guys we wanted, and it wasn't an easy road. We didn't take shortcuts academically. We did it the right way. All these kids are great student-athletes. They come here for a great education, and then the lacrosse piece – we want to make sure they understand your education is coming first.

When we practice every day, it's not going to cut into any academic time. It's happening later in the day, at 4:30. It's not the most optimal time (for me), and as I get older, I'm tired and I'm starting to figure that out too. I wish it was earlier in the day, but that's the way it goes because it's the best for our student-athletes.

But in terms of the path we took for all our coaches, we've got long-time serving Coach (Will) Parker, who has run our D for 20 years. Coach (Rick) McCarthy has been with me over 15 years. Lot of continuity on the staff. These guys are part-time guys – they're not full-time guys like a lot of other staffs have. But they're loyal guys and they work really hard like they are full-time guys.

So, again, the appreciation I have for them, and we talked about that with the team, and the effort we make to give the best we can, and we just ask them to do the same for us, it's really special. I felt it today, this morning I was just feeling like what they've done all year has just been remarkable. We've been close. We've had some other great years, but we were never able to get over the hump.

We've been to a few Final Fours and we were very close a couple times. But to finally get to the championship was great. But we also told them it's still going to hurt as much if we lose the game. If it was a semi final game or any game, let's win it. Our guys did a great job of stepping up today and taking it.
There were always a couple of the "right" guys at Wesleyan in any given year, and so many of the guys I mentioned above were great players and teammates. The school drew in good (if not weird) players at the time, and when I arrived as a freshman, seniors like Dan Case, Mac Merkt, Tim Palombo, and Jeremy Klatell all made my transition from shortie to pole a lot easier, and they fostered a positive team culture, and that stemmed from Coach Raba. Steve Ngo and Joedan Okun were amazing guys who did whatever was needed and Ngo perfected face off late in his career and Okun scored pretty much any time he touched the field. It was kind of miraculous.
The only thing holding us back was that there weren't quite enough of those "right" guys on the roster from top to bottom. We had great guys on the team, there was no doubt about that, and a positive team culture that was heading in the right direction – but the gap in talent between us and a team like Middlebury was also quite evident. When we finished 12-5 in 2000, it felt like a real accomplishment, given that the team had gone 21-21 over the previous 3 seasons, and dealt with so many challenges, with such a young coach at the helm.
One of the first big time players that Coach Raba was able to bring in to Wesleyan was John Landay, aka the Manta-Child. Landay was a member of the class of 2001, which was one of Coach Raba's first real recruiting classes, and he was not alone in being the "right" kind of player. Landay would go on to be a multiple time All-American and the program's all-time leading scorer, earning the newly shortened nickname of Man-Child. But Craig Schortzmann, Rob Wilcox, Pat Reid, Alex Healy, Luke Cash, and Jeff Del Rosso all fit the mold as well, and played all four years.
During their senior year in 2001, they led our team to an at-the-time program best 17-3 record. They played hard, they were driven to success, and they pushed underclassmen to step up and contribute. Practices were intense, but they were fun, and we got after it.
Multiple players were named All-NESCAC, Wesleyan made the NESCAC semis two years in a row (2000-01) with this group, and just barely missed out on a Pool C bid to the NCAAs in 2001. For Wesleyan Lacrosse at that time, seven big time contributing seniors playing all four years was impressive, and this group set the new standard for Wesleyan Lacrosse for the next two decades. Success could be had – it was possible, and 2001 made every future class believe it just a little more.
What was becoming clearly evident was that while he was an intense coach, Coach Raba also interacted with his players in a very open and honest way, and he had a great sense of humor. Players often gave some pretty ridiculous quotes to the school newspaper, the Wesleyan Argus, and John Landay still does it today. When I asked him for a quote, he dropped this gem on me:
When I first arrived at Wesleyan, and began to get to know Coach Raba, and his vision, drive, and relentlessness, I did initially wonder whether I had signed on to play for Captain Ahab or Henry Ford. I think history has clearly shown it was the latter, and I am grateful for it. Coach used to describe his own playing style as a better, faster, stronger, John Landay, which drove me to work harder, and play better. Watching his old highlights on YouTube, it's clear this statement wasn't correct, but that's the thing – he was always a master motivator like that.
The WESTECH dream had started to take shape. It was a little weird, but we all liked it like that, and Coach Raba made it work for the betterment of the program, and for all of us as players, students, and most importantly, young men.
Ok, let's divert for one second and cover the whole "WesTech" thing once and for all. I'll let Coach Raba explain:
Kyle (Devitte) did a piece on us earlier about our backer zone defense. I give a lot of credit to Coach (Jack) Kaley from New York Tech. I'm not the one who invented it. He invented it and won National Championships at Division II. One thing I'll say is we've run this for a long time. So guys who have been through the program, when you hear everybody yelling "TECH" in the stands, that means they know our defense. That's the name of it.
All right, back to history!
2002 saw the program dip back down a bit. There were only four seniors on the team that year, and only four of the members in my class (2003) would be on the team the next year. While the classes of 2004 and 2005 were loaded with talent, numbers, and dedicated players, the program learned a very valuable lesson in 2002 and in 2003 – to sustain success year in and year out a full court press was going to be required. The NESCAC, and NCAA DIII lacrosse, was simply too competitive to see wins with so few upperclassmen on a roster, and so little veteran depth. Andrew Rotondo, RT Treveloni, Mark Ungar, and Ed Yoo still led the team to an 8-7 record, and with 5 one goal wins on the year, it could have been a lot worse. Ask any NESCAC team with only a few upperclassmen how hard it is to win games and they'll tell you. The drive to succeed, even in a down year for numbers, was now a program constant.
During my senior year, in 2003, I'd love to say that Chris Walsh, Pete Salisbury, Ben Vaughn, and I turned the program around a bit by picking up 11 wins, but the fact is, a lot of the credit goes to the members of the 2004, 2005, and 2006 classes. Chris, Ben, Pete, and I tried to set the table for a future run of successful seasons, and we were extremely fortunate to have so many invested underclassmen in 2003 for our senior year. There were only four Seniors, but we ended up with an 11-5 record, and won 5 NESCAC games by a single goal. The team worked its collective ass off, and the coaches made the most of what we had. We bought in. We tried to do more little things right. And the younger classes took to it with a renewed passion, that far surpassed our own, and it looked a lot like what the class of 2001 had done, but with 3 whole classes buying in, and doing so early on.
The margin between an 11-5 season and a 6-10 season in 2003 was razor thin, but the younger players had bought in, were already leaders in the way they played and acted, and five of our top six scorers were freshmen or sophomores. We made the NESCAC semis again, and right after we lost to Tufts up at Middlebury, I remember telling fellow defender Jeff Jorve that they WOULD be better in 2004, as well as moving forward beyond that – but those guys really had to make it happen and earn it. It wouldn't happen on its own. I was crying because my playing days were over, but I was smiling because I knew Wesleyan was heading in the right direction. It was a bizarre feeling, and a big part of why I stayed on as a an assistant coach for the next two seasons.
I was never a great player – I filled a hole when the team was less deep than they are today – but Coach Raba and the entire staff was always there for me. Even during my freshman year, when I told Coach Raba that I was going to transfer, his response was "Where do you want to go? Who can I call on your behalf? I just want you to be happy." That conversation is why I stayed. To know a coach cared about me as a person more than anything that had to do with lacrosse was it for me. I left our meeting in his office and fully bought in to the program that very day. I'll never forget the character he displayed then, and I'd still run through a brick wall for Coach Raba any day of the week because of it. He was a leader of men, not lacrosse players, and I wanted to follow where he was leading us all, even if the school was a little outside what I had initially expected from college.
I'm far from the only player with a story like that, but I'll let the other guys have their privacy.
It should be noted that Wesleyan was still an… "interesting" place back then, and recruiting or keeping guys wasn't always that simple. Sometimes it worked out great, but plenty of players dropped off the team each year to pursue other things. I also remember showing our new assistant coach around during my senior year and he came from a more, shall we say, traditional school. When he saw a guy wearing what looked like a long skirt (it was technically a sarong), he asked me "is that kid wearing a dress?" I answered, "Yes, he's a starting defender on the lacrosse team." I'm pretty sure he thought I was kidding. I was not. That same defender would take your cookies with a rusty gate any day of the week though, so don't laugh too hard. He's also very good at ultimate frsibee. Not every lacrosse player was looking for that, but Coach Raba embraced the challenge anyway, and found kids who would benefit from being at a school like Wesleyan.
In 2004, the team went 14-4. The senior class graduating that year was seven players deep, and Chris Mele, Ian Applegate, Brian Adams, Jared Funt, Dan Ackil, Dave Fine, and Jeff Jorve all played vital roles for the team since their earliest days, and that group of seniors set an incredibly high standard once again, making the NESCAC finals for the first time ever, and just barely missing out on an NCAA berth. These guys expected to win, and they worked for it, and they brought WesTech to the next level on the field, believing in our system, and our coaches, and knowing that it could all work at the highest level.
There were always questions surrounding the Wesleyan zone, and if it could win the big games, but the class of 2004 really started to prove just how good it could be. The parent group for 2004 is also worth noting because that's when we really started seeing banners, and tailgates, and support at every single game. We had done stuff before then, but 2004 was a turning point in parent support and involvement, and from there it only kept building.
The goal of making the NCAAs had been realistic in 2004, and it would have been another step, but the 2005 team made it a very clear cut goal that they would go dancing, even if there were only five seniors by the time it was all said and done. The parent group in 2005 also brought things up another level, and they still support the program today.
Chris Meade, Chris Knacke, Paul Malangone, Phil Amidon, and Matt Wheeler were guys who put this program on their backs as players and leaders. All of them fought for time immediately, and none was content to bide their time, or wait their turn. They had been recruited by Raba around 2001, seen what the program could do, and that was the Wesleyan they wanted to play for. These guys were really the first class to all dedicate fully to the weight room, to doing more optional fall ball practices, and to playing all summer, and to… everything.
Our helmets were not all the same, our jerseys were still from the early 1990s, and we bought our own team sweatsuits (which were somehow terrible AND awesome at the same time). Wesleyan did not look the part, but we PLAYED the part, and that was what mattered. The team went 13-6, and made the NESCAC championship game for the second year in a row, losing to Middlebury 9-5. The team was selected to the NCAAs with a 12-5 record and second place NESCAC finish, beat Springfield 10-7 in the first round of the NCAAs, before falling to Middlebury 11-8 in the NCAA Quarterfinals. Senior Paul Malangone was named an HM All American, Wesleyan had won its first ever NCAA tourney game in men's lacrosse over longtime powerhouse Springfield, and Junior Glenn Adams was named a second team AA after making HM the year before. The team had made the Elite 8, and things were starting to come together.
2006 was a banner year for Wesleyan Lacrosse, and the 11 seniors on the roster had to be a school record at the time. 9 of the players – Glenn Adams, Nate Byer, Bob Diehl, Jordan Funt, Whit Harrison, Matt Smith, Mike Vitulano, and Mike Walsh had been recruited as lacrosse players, but Jeff McLaren and Shem Johnston-Bloom were football players converted to lacrosse players during the offseason. Neither had ever played lacrosse before coming to Wesleyan, and McLaren developed into an All NESCAC level SSDM and provided incredible leadership through action and tireless effort. Another guy on this team who really showcased what the program was all about was Bob Diehl. The Real Deal never started down low for Wesleyan, but he worked his rear off for four years, and ended up starring on a stellar man down unit and being the epitome of a team player. He was named a captain for all the qualities he possessed, and when I talked earlier about the need for veteran depth, willing to do whatever it took to help the team win, Bob Diehl was it, to a T.
The 2006 squad went 16-4, and beat Middlebury in the regular season, which was a landmark win for the program. Making the NESCAC yet again, the team again dropped the title game to Middlebury, this time by one goal, 10-9. At 14-3 they made they NCAAs, beat RIT (11-8) and then Geneseo (16-10), before falling to Cortland (7-6) in OT in the Final Four. It was a heartbreaking loss, but it also represented the program's deepest dive into the playoffs, and it set a whole new standard for success. The WesTech Zone was still a mainstay for the program, and it was getting the team further and further into the playoffs, as the players got better and better, and the staff continued to grow and improve.
Glenn Adams would go on to see time in the MLL for New York and Boston, and to this day he is the only Wesleyan graduate to play professional lacrosse. His 207 career points are still a record for a Wesleyan midfielder.
2007 matched 2006 in almost every way, and exceeded every previous season in other ways. The team went 18-3, which broke the 2001 record of 17 wins. The team again made the Final Four, but again, Wesleyan lost to Cortland 9-8. The team also lost to Middlebury in the NESCAC championship game, but this year, Wesleyan beat Middlebury in the regular season, 5-4 in OT, and in the NCAAs 13-9, and that seemingly signaled the end of that one-sided budding rivalry. It was now anybody's game. In 1964, 3 Wesleyan players had been named HM All-American, and that was the most ever. In 2007, four players were named to the AA team in Mike Hines, Russ Follansbee, Charlie Congleton, and Spike Malangone.
While there were only six seniors on this team, all of them made a big impact on this team's success. Hines, Congleton, Peter Harris, Matt Burke, and Tom Bendon were all huge contributors on the field and in key game moments, but in the spirit of Bob Diehl, Jesse Bardo made a positive impact, and I can't think of a single player in Wesleyan history who got the sideline more jacked up, and the team ready to roll. He was a senior doing what he could to create team, and get wins.
2008 saw the team go 10-5, as new faces were working in, and a couple of close out of conference losses killed any chances at an NCAA bid. With only five seniors on the team, and a tough schedule, it was never an easy go, but Grayson Connors, Bobby Goulding, Chris Jasinski, Alex Kaufman, and Zach Librizzi (another converted football player) did a great job leading a young team that year. They were supported by a huge and talented Junior class, but they provided the direction for that team in a tough year where Bowdoin knocked them out of the NESCAC semis, 11-9. Spike Malangone, Grayson Connors, and Russ Follansbee were named All-Americans.
This team knew what "close" felt like, and it informed what would happen in 2009.
The 2009 team went 15-4, and while they lost a tough game to Middlebury 15-4 in the NCAAs, they won Wesleyan's first ever NESCAC Championship with wins over Williams, Middlebury, and Tufts to mark the achievement. As the program progressed, it can not be understated how important this season was. Up until this point, Wesleyan had made the NESCAC finals a number of times. When the old ECAC tourney existed, the team made the finals there as well. The team had made the NCAAs, and gone deep, but one thing remained – Wesleyan had never actually WON a championship, and truly sealed the deal. But in 2009, the team took home the NESCAC crown for the first time ever, and new sense of belief emerged. This program could do it.
Russ Folansbee was named an All American, and while Wes only got one other on the list, another first was breached as Spike Malangone was named Defensman of the Year for all of DIII. I would honestly argue that John Landay and Glenn Adams were both the best players at their positions during their Senior years, but I'm biased and my opinion is meaningless. Seeing the USILA recognize a player as the positional guy on top is something else entirely.
In addition to Folansbee and Malangone, the 2009 senior class was HUGE. Jason Ben-Eliyahu, Trevor Adams, Kwasi Ansu, Mike Borrero, Nate Green, Nick Hayes, Adam Kirk, Dan Latzman, Eddie McLaughlin, Jeff Strittmatter, Baker Woods, and Field Yates made up a 14 man wrecking crew, and when this class graduated, it left a big hole.
The 2010 team went 8-8, with a tough record of 3-6 in the NESCAC. A lot of new guys were seeing a lot more time, and the hardest thing about this season was how many close games there were. 2010 was a talented year in the NESCAC, but this group knew how to be competitive, and while their worst loss of the year was 12-5 to Middlebury, every other loss was 4 goals or less, and five losses were by 2 goals or less. They say close only counts in horseshoes and hand grenades, but I think that's bologna. When you fight hard and lose, sometimes it forces you to look deeper and find new ways of doing things. It forces reflection on a program, and as a player who was on a team that went 8-7 at Wesleyan, I know what it feels like. I also know what it feels like to come back the next year. It can be meaningful if a team lets it be meaningful.
Gabe Kelley was named All American, and in a move that would make '98 grad Zack Stanton proud, he used a traditionally strung pocket and a wooden shaft on his longstick.
Seniors Nick Ajello, Lonny Blumenthal, Colin Campbell, Jon Killeen, David Layne, Kyle MacDonald, Dan O'Brien, Bo Pratt, Ramanam Savilngam, and Matt Ward carried the torch and kept the dream alive as Tufts had jumped to the top of the league, and looked like they had no designs on ever leaving.
In 2011 the team got back to its winning ways, going 10-5, but things had changed yet again the NESCAC, and parity was reaching new levels. The 2011 team managed to win an amazing five NESCAC games by one goal, dropping two others 2 goals or less. In the first round Trinity knocked Wesleyan out 10-5, and the season was over. Seniors Brandon Coulter, Tim Dodds, Graham Gnall, Gabe Kelley, Conor Malangone, Adam Michael, Chris Michael, Pete Modera, John Olbeter, and Zach Radler stoked the fires of the classes below them, and the whole time the coaching staff was rethinking, plotting, and trying to find new ways to gain an edge.
Since 2010 there had been some tweaks. Sometimes it was a change to the zone from a backer to a 5 man and a lock, or 1 on 1. At times it was more double heavy, or less, and it changed and morphed. The offense tried new things, and the staff continued to figure out how to best use speed and size across the field. The play across the NESCAC continued to rise, as it did across the DIII men's lacrosse universe, and Coaches Raba, Parker, and McCarthy were on the hunt for new answers constantly.
Had they peaked? Was this the best that Wesleyan could do? Coach Raba told a group of alumni that he had asked himself this question, but that the only answer he could come up with was no. There simply had to be other things that could be done. Mike Whalen took over at the Athletic Director in 2012 as well, and there was a similar discussion. The next level could be reached. It would be hard, but it was achievable. Raba and his staff redoubled their already tireless efforts.
The 2012 season was another of earning tough defensive wins, and suffering close losses to teams that had seemingly jumped the Cardinals in the NESCAC pecking order somehow. The team finished 9-6, but lost in the NESCAC quarterfinals 6-4 to Bowdoin but a record-tying four All Americans were named in Grant Covington, Brendan Hanley, Lex Johnson, and Sam Stanton. All four players were on the defensive end of the field, and with a lot of talent returning on that end, things looked up for 2013. Covington, DJ Bernatavitz, Teddy Citrin, Cam Davila, Joe Del Visco, John Froats, Max Landow, and Matt Meade made up a strong senior class, and they instilled a desire for more in the next group to come.
The 2013 team went 13-5, and made it back to the NESCAC championship game against Tufts, where they fell to the Jumbos 11-6, ending a promising season prematurely. A record five Cardinals were named All American in Aidan Daniell, Brendan Hanley, Graham McNab, Mike Robinson, and Sam Stanton, with Stanton being named a positional player of the year a SSDM.
The class of 2013 was another big one, and with so many players staying involved and earning minutes, the grouping of Nick Albrecht, JD Dietrich, Jeffrey Giocondi, Jon Guzman, Brendan Hanley, Lex Johnson, Dan Mena, Chris Pao, Mike Robinson, Max Rosenman, Arthur Stacey, and Gus Vita had a big effect on the direction of Wesleyan Lacrosse.
In 2014 the team went 12-5, but got back to winning a good chunk of their NESCAC games, going 8-2 in conference. An exit in the NESCAC semifinals to Amherst and some out of conference losses to NY teams kept Wesleyan out of the NCAAs, and showed once again just how competitive it was in the world of DIII lacrosse. Every team was good, there were no easy games, and it was going to take something special to win it all. Tufts was proving that, and plenty of other teams like Stevenson and RIT looked like they were right there too.
Eliot Albert and Graham Macnab were named All Americans, but the large Senior class of Chris Walsh, Ian Vazquez, Sam Stanton, Bennett Sluis, Mark Simmons, Joey Porcelli, Remy Lieberman, Jasper Kubasek, Mike Giambanco, Zack Gaitz, and Aiden Daniell contributed mightily to the ongoing success and competitive nature of the program. The next level still eluded these most recent classes, but the zone defense was getting back to its old form, and change was yet again on the horizon.
2015 saw a number of new faces seeing time once again, and it was a season filled with tight games, decided by the closest of margins. Finishing 6-4 in conference and 9-7 overall, it almost seemed like the large size of the two past classes had worked against the Cardinals, but 2015 was an incredibly important year for Wesleyan, because that is the year where this current Senior group from 2018 learned what it was like to be a part of this program, from the inside. They saw what it took to win in this league, and they benefitted from the knowledge and play of Seniors Jake Turkowski, Mikhiel Tarheen, Justin Schick, Nate Ryan, Matt Prezioso, Gabe Nardi-Huffman, David Murphy, Kyle Gibson, Stephen Dodd, and Kevin Campbell. A 9-7 season did not sit well with this group, and a strong desire to do something truly impressive started to take hold. A belief was starting to form.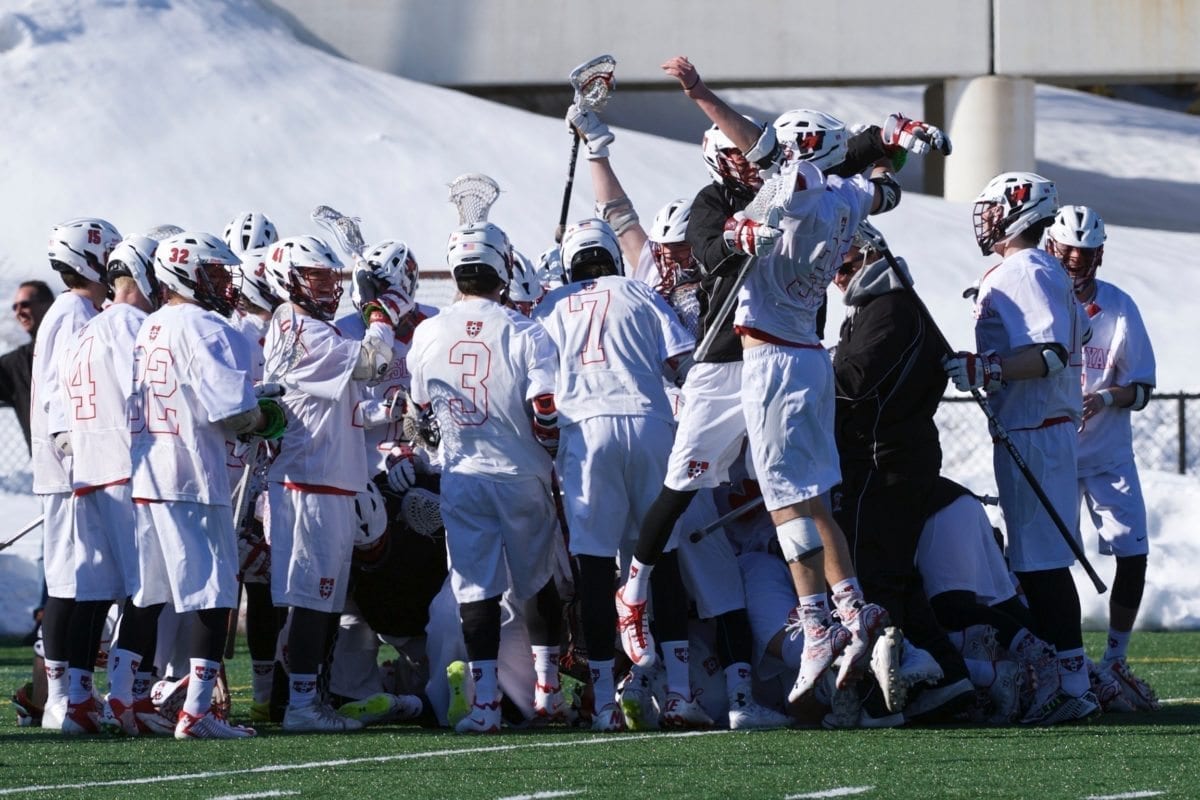 2016 saw the team go 10-5. At first glance, that might not look all that different than the 9-7 season from 2015, but it was a huge step in reality. Bigger losses were now extremely tight, and Wesleyan lost 4 of their 5 games by a single goal. 3 of those 4 losses were in OT. The other was a 2 goal loss to Bowdoin in the playoffs. It was heart breaking for the team, but it definitely made something click for the guys, and for the coaches. They looked at each of those losses, and saw 3-4 plays, 3-4 mistakes, and 3-4 moments that could have changed each of those games. It meant they were right there, but also that it wasn't enough. There needed to be something more. Every little detail mattered. Offense. Defense. And everything in between. An extra edge had to be gained.
While younger guys were taking on many of the starring roles for Wesleyan, the 2016 Senior class was instrumental in taking the next step – Joey Amendola, Jackson Arnold, TJ Blackburn, Quentin DellaFerra, Niall Devaney, Jared Jacobs, John MacIntosh, Lyle Mitchell, and Greg Pietroforte all left the program in a better sport than when they came in.
2017 was supposed to be the year it all came together and with a 20-2 final record it looked like it was certainly possible, and for a good long run of time. A 15-14 loss to Bates to open the season was followed up by 20 straight wins, with games going the team's way in a multitude of ways. 9-8, 17-8, 17-16, 11-4… the scores were all over the place, but Wesleyan was winning, and they didn't stop until the Final Four when RIT came out blazing hot and ran away with a big 22-9 win over the visiting Cardinals. As Harry Stanton was quoted above, the Cardinals, at least to a certain extent, were just happy to be there. While the program had been to the final four before, no player on this roster had ever played in an NCAA playoff game. All the talent was there, but that final step was still missing. As crushing as it was, it turns out that loss was just what the program needed to make it happen in 2018.
7 players were named All American in 2017, and both Harry Stanton and Ted Bergman were named to the first team, marking not only Wesleyan's most amount of AAs in one year, but also the first time 2 players were named to the first team. Taylor Ghesquiere, Quinn Mendelson, Ben Shively, Christian Barker, and Carter Hawthorne were the other five players, and of the seven, five would return the next year.
Bergman, Mendelson, Hank Barrett, Grey Bradshaw-Mack, Tom Dupont, Cory Ekstrom, Jason Gibson, Gus Greenberg, Evan Isaacs, and Brendan O'Brien gave it all they had, and left the program in the best position it had ever been. Their dream was cut short, but without their leadership and four years on the team, 2018 never happens.
So we get to this year, 2018, and you really know the rest. This Wesleyan Lacrosse team was tested, not only on the field, but with personal loss and heartache. They rallied around each other when most people were starting to write them off. They made time to give back to those who are less fortunate than they are. The made it about the game, but they also made it about so much more than the game. They made it about PEOPLE, just as Coach Raba had preached from Day 1. From inside their locker room, and on their practice field, they talked about winning a national title, and they meant it. Not as a dream, but as reality.
It didn't matter that Harry Stanton was severely banged up and injured, basically from the very start of the season. He found different ways to score. He rode harder. He gave even more of himself on any little thing he could.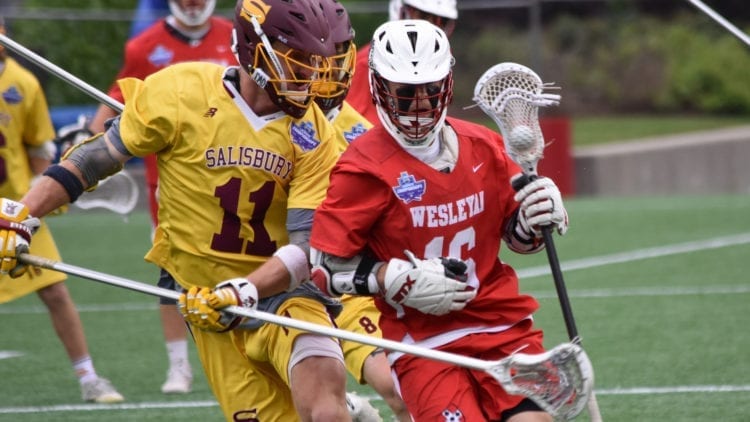 Carter Hawthorne and Ronan Jacoby were equally electric at attack, and when Colin Uyeki and Tom Martello got time, they were active and engaged and the future looks bright. This Wesleyan offense ran a hidden ball trick in four straight playoff games. It worked each time. I'm still not sure most of the announcers ever caught it. They played hard, they scored big goals, and they dealt with pressure all season long.
Throughout the midfield Wesleyan got great play from Taylor Ghesquiere, Christian Barker, Cole Turpin, Ryan Flippin, Ryan Lynch, Sean Penney, Zander Kotsen, Eric Meyreles, Colin Hitter, and Scott Irwin. Whether it was Zack Zavalick chasing down the RIT FoGo to create a turnover, or Corey Aviles scoring his second goal of the year in the title game, or Chad Malinowski scooping up another ground ball, EVERY SINGLE PLAYER gave it all they had, all the time, and they did it together. Ben Shively had an unreal year on the field, and I can't think of a kid who deserves it more.
Jake Cresta, Thomas Clejan, Colin Malarchuk, Mitchell Patton, Matt Metros, and Curran Sullivan all played valuable minutes and showed the unreal level of depth and skill the entire defensive unit possessed. And when Andres Rodriguez stepped up this year, he became a whole new player, and all the other guys picked their game up to match. Rodriguez had always been very good, but he was so focused on doing every little thing right that he seemed to make a play whenever Wesleyan really needed one. And this extended well beyond, to every single player on the field.
Otto Bohan saw the most time in net, and turned in a great performance when it was most needed, but when other goalies were tasked to the net, they also performed and both Steve Kovalsky and Max Powers each saw at least an hour of game play this year. The depth Coach Raba always wanted was there in every spot it seems, and the team bought into it all, culminating in their first title. There are even other guys, who made little plays I didn't notice, or did things in practice, or for teammates that we will never know about. All we know is that they happened, and they mattered.
To the 2018 Seniors – Nick Annitto, Jake Cresta, Ryan Flippin, Taylor Ghesquiere, Colin Hitter, Tasso Karras, Steve Kovalsky, Ryan Lych, Matt Metros, Eric Meyreles, Andres Rodriguez, Ben Shively, Harry Stanton, Curran Sullivan, and Cole Turpin – THANK YOU for what you have done for this program, and for all of the coaches. Thank you for leading by example, and thank you for making the dreams of so many a reality for Wesleyan Lacrosse.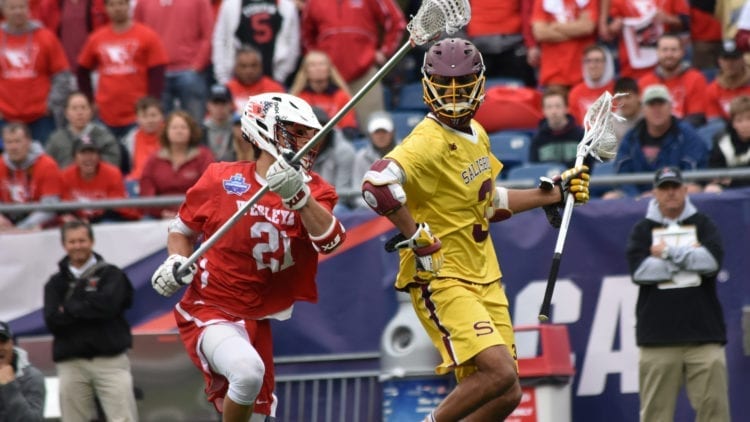 This team stands alone within our program. They are the best team ever at Wesleyan, in any sport, from top to bottom, and for 2018 they will forever be the best team in all of DIII lacrosse. While no other Wesleyan lacrosse team will get a National Championship hat, or a ring for this win, they can rest easy and know that Wesleyan Lacrosse did it, and they were all a part of that happening in one way or another.
Whether it was the legend of our only 1st Team All American for decades, Doug Maynard (as a midfielder in 1970), or our first multiple time All American, Bob Dyer (1966 and 1967), our first winning season in 1962, our first ten win season in 1964, or Terry Jackson's best season in 1994, where the team went 11-6 – all of these guys, and so many countless others, helped build Wesleyan Lacrosse to where it is today.
This title represents years of playing for the right reasons. Years of putting Academics first. Years of being about PEOPLE, more than wins. And years and years – decades – of coaches who got that. It's about Coach John Raba, and his commitment to honor what makes truly amateur college athletics special, and then win after all of that is taken care of, while maintaining life-long friendships, and being a man who cares deeply for his family. They were a huge part of this all as well, from the very get go, and while Jen, and their sons, Jack and Jason, don't get a lot of credit in articles, they are just some of the finest people on earth, and it's an honor to have them in our lives.
As a proud alum, I can't take even a lick of credit for this national championship. All of that belongs to the players, the staff, the athletic department, the school administration, and the families that love this program and were involved this year. The fans who attended home games and cheered all season deserve more credit than I do, as an old alum. But I do feel a sense of connection to this victory, and it takes a certain monkey off my back, one which I didn't even know I had. All those years of believing in Coach Raba, Coach Parker, and Coach McCarthy were worth it. The lessons they were teaching worked, and this win proves it to the entire lacrosse world. You can fight, and strive, and still do things the right way. It may take time, and there will certainly be challenges along the path you walk, but character and hard work can still pay off.
It's nice to see that cemented forever.
I am so incredibly happy for the entire program, and to the guys on the team this year – thank you, sincerely, for giving an old lax alum the gift of a lifetime. Sunday is a day that I will never forget, and I can guarantee everyone in the stands cheering for your all game long feels the exact same way.
To the guys on the team, coming back in or getting ready for their first year in 2019, or thinking of Wesleyan for the future, heal up, and enjoy this very brief moment of respite, because this is not the time to rest. This is the time to get going all over again, with a renewed passion, and a desire to prove people wrong yet another time. Take the next step.
Roll Cards. GO WES!