Last night I went to the CityLax Gala in New York City, and of course it got me thinking of how we can TRULY Grow The Game and continue to Break Down Walls.  The event itself was fantastic with big time lacrosse names in attendance, from Billy Bitter to Max Seibald to Jack Kaley, and a lot of money was raised for a great cause.  As we all know, it takes money, but it also requires time, to really grow lacrosse.  And here is how parents, and other adults, can get even more involved, simply by learning the game.
Maybe you are a parent who has already given financially, or maybe you're a parent who can't afford to give any more.   Perhaps you're a teacher, or school administrator, that is working with the lacrosse team.  Or maybe you're just interested in the sport, and want to help the kids in your local community.
There is simply no better way of doing this than by playing wall ball.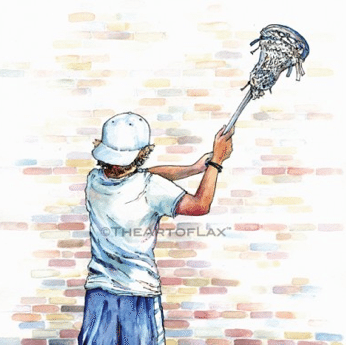 Photo courtesy the ArtOfLax blog
Quick Intro to Wall Ball
For those of you out there that are unfamiliar with wall ball, let me quickly introduce it to you:  Wall ball involves a player, a stick, a ball and a surface that they can throw the ball against.  It is THE key ingredient to developing great skills with a lacrosse stick, and every great player in the world has spent thousands of hours throwing a ball against a wall.  It is also the key to success that every single lacrosse player has at their disposal.
ANYONE Can Be Good At Lacrosse!
Wall ball is the great equalizer.  Nothing levels the playing field, and land of lacrosse opportunity, like wall ball.  So obviously it is something that every player should be doing.  But it isn't limited to players by any means, and in the end, wall ball presents one of the biggest opportunities to really connect with a player, whether the kid is your child, student, or just a youth from the neighborhood.
WHY Adults Should Play Wall Ball
The first reason to play wall ball is that the "do as I say, and not as I do" thing only works for so long, if at all.  So if you're telling your child, student or player to play wall ball, they might.  But if you were to take the lead, and actually play wall ball yourself, those words would mean so much more.
And it really doesn't matter if you played lacrosse in high school or college.  In fact, you don't have to have played lacrosse ever!  The point is that wall ball can make any player much better, regardless of their history with the game, and that by getting out there and doing it, you're setting a good example.
The other big line of reasoning behind adults involved in lacrosse playing wall ball is that it gives you something to talk about with the kids.  It's not a topic like drugs, alcohol, sex, or even school and grades, and it won't elicit the knee-jerk reaction of "I can't talk to YOU about this!", which so many young people possess.  It's an easy bridge to further communication via a safe shared interest.  Wall ball can be a great starting point.
Keeping It Real
If you're new to the game, kids will see you struggle.  But hopefully, you'll use your adult maturity levels to just keep at it, and not get frustrated.  And after some time and dedication, the kids will see an improvement in skill from you.  And THAT will cement how important wall ball is more than anything.  If Mr. Smith, the physics teacher, can get that good in only a couple of weeks, you can bet the kids will believe that they can too!
If you're an experienced player, playing wall ball with kids still sets a great example.  The kids see how good you are, and yet they also see that you're still practicing, and still trying to improve.  It can be easy for kids to fall on to the train of thought that they are "good enough" already.  But if they see you striving to improve, they may realize that the journey never really ends when it comes to skill development.  They will see how much you value wall ball, and hopefully, because they respect you, the kids will want to emulate that behavior.
Time to INTERACT!
For parents looking to get their kids off the couch, or find a way to connect again with a teenager that is distancing themselves, wall ball is perfect.  It's something you can do, and learn, together.  It's harmless on the surface, but it can open doors to bigger issues.  It creates a bond, often via a shared struggle to improve.  It gives you something to talk about on an even footing, or it could even allow for your kids to teach YOU something.  If you listen, and keep at it, you might just impress them!  And maybe they'll listen to you more next time you're lecturing!
For teachers and school administrators, it's a great way to keep in touch with the kids on another level, outside of schoolwork.  And it's a great opportunity to show the kids you're more than "just their teacher".  For the adult that wants to get involved with their community and help out, it presents an opportunity to get involved, and help future generations grow as players, and people.
The value of wall ball is clear on the field.  It improves a player's skills, and can help them reach whatever goals they might have.  But the activity also improves confidence, and it shows kids how hard work pays off.
So if you're a parent, teacher, or just a person looking to get involved and do some good, why wouldn't you want to be a part of that?
Plus wall ball is a lot of fun!  So get out there and hit the wall!!!!
Want to learn a little bit more about the benefits of Wall Ball?  Check out our interview with John Galloway, All-American goalie at Syracuse, and wall ball fanatic!
And if you still have no idea what I'm talking about, check out Ned Crotty and Trilogy Lacrosse's wall ball video below: