The World Indoor Lacrosse Championship 2015 takes over the Onondaga Nation next month and in preparation for the historic event we will be taking a deeper look into each of the 13 nations that will be competing for the gold September 18th-27th, 2015!
Today's topic nation has been playing box lacrosse for a very short time, but that is no knock on their athleticism and determination. Loading up with the few NLL players boasting deep rooted heritages, get to know Serbia before they make their WILC debut!
[mks_separator style="solid" height="2″]
Serbia
Lacrosse Founded: 2010
Governing Body: Serbia Lacrosse Federation
Previous WILC Finish: N/A
Website: slf.rs
Facebook: /serbianlacrossenationalteam
Twitter: @serbia_lax
Instagram: @serbia_lax
Preparations for the WILC 2015
What are some of your biggest concerns when traveling with Team Serbia to the United States and the Onondaga Nation?
For many members of the team, this will be the first time that they have ever left Europe and visited North America. It's going to be a really exciting experience to see western culture and visit a city where lacrosse is a well-known sport.
The biggest concerns traveling to the United States & Six Nations for our team is obtaining the appropriate visas, which so far is going well.
What other obstacles are still in the way of Serbia having the ideal trip to the WILC?
Aside from visas, this effort will require a lot of international coordination and funds. Not all members of the team are traveling from the same place and it's been a challenge coordinating information.
It will be amazing when we finally assemble together in Syracuse and work together for a few days before the tournament. Most of the trip is also being funded by the players themselves and we're still looking for sponsors to help us cover some team costs in Syracuse.
Serbian Lacrosse History
When was lacrosse founded in Serbia and by whom?
Lacrosse was formally introduced to Serbia approximately five years ago when an international school teacher, Brian Gorodetsky, brought sticks from Canada and started community development program.
Luckily, a few Serbian students who participated in high-school exchanges in United States helped promote the program and grew interest in Belgrade. The majority of players learning lacrosse in Serbia are university students looking for a new sport or activity to take in while studying in Belgrade.
In those 5 years, how long has box lacrosse been played in Serbia?
The first official game of Serbian box lacrosse was played just 3 months ago when we took our development team to the European Nations Cup in Dresden.
The boys have learned the basics of box lacrosse in Belgrade for the past 9 months and really learned a lot from Europe's best in Dresden.
What other events has Serbia competed in internationally?
Until now, Serbia has only played field lacrosse and players from the Belgrade Zombies lacrosse club have traveled to many neighboring countries to play in weekend tournaments.
We have a regional lacrosse league in the Balkans and play with Croatia, Slovenia and Hungary. The European Nations Cup was the most official international event that Serbia has ever played in.
2015 Players and Staff
In general, how would you describe the players on the Serbian national team? What are the guys like off the field?
We have a good mix of players on our team. From seasoned veterans to grass-roots beginners, all players are eager to put Serbia on the lacrosse map and use this experience as a launching board to popularizing the sport back home. Most of the players are finishing university or are just beginning their careers.
Like most university athletes, they like to have a good time off the field and enjoy the nightlife that Belgrade has to offer. They also like to sing folk songs a lot as people will notice at our games in Syracuse.
Which key individuals from your country should lacrosse enthusiasts look toward as an ambassador of the game? Why?
Aside from our NLL talents like Nik Bilic and Ilija Gajic, whose YouTube videos already inspire many, it's been great over the past few years seeing Serbian players step up and take on leadership roles.
Guys like Aleksandar Jovanovic and Mladen Bukorovic have developed great stick skills and knowledge of the game. They travel and play with international teams – bringing back knowledge and connections for Serbian lacrosse. On the other hand, guys Ivan Negrojevic are skilled at educating the Serbian population about the unique culture of lacrosse and is promoting interest throughout the country.
Who are the team's most experienced players for the WILC?
Offense: Aleks Gajic – Youngest of the four Gajic (GUY-ch) brothers, Aleks had a run in the National Lacrosse League with the Colorado Mammoth and Vancouver Stealth from 2010-2015. The Burnaby native will bring years of experience to the Serbian offense.
Transition: Ilija Gajic – Ilija has been in the NLL since 2010, also with the Mammoth and Stealth. He was a crucial force in the Vancouver Stealth offense in 2015 and with the Burnaby Lakers of the WLA. Ilija will be looked upon to handle business on both sides of the floor.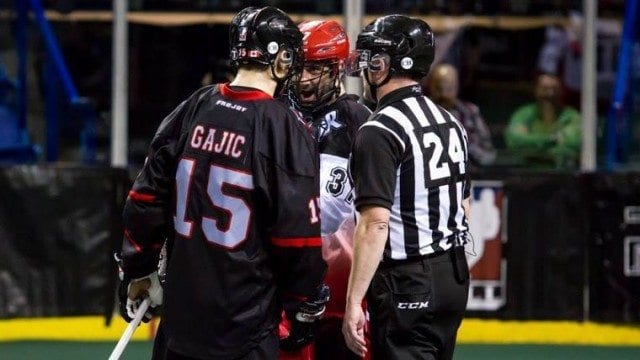 Defense: Nik Bilic – Also from Burnaby, BC, Nik Bilic has earned his earned his spot at one of the NLL's top defensemen. Nik has been in the league since 2012, starting with Minnesota before moving to Edmonton where he recently won the championship. Bilic has also spent the past 5 seasons with the Langley Thunder of the WLA.
Goalie: Marko Celic – Marko currently lends his services between the pipes to the Six Nations Slash of the Can-Am Sr. B league. Celic's experience with the game of box lacrosse will be crucial for steering the team.

Who is your coaching staff, what is their experience?
Stu Sterparn will lend his experience as the Defense Coach. Stu is long-time friend of Brian Gorodetsky and is a very seasoned lacrosse player. He currently manages and coaches the Sr. B Edmonton Outlaws and has NLL experience with Calgary Roughnecks.
Jonas Derks will take care of the other side of the floor as the Offense Coach. Jonas is currently the GM of the Durham Turfdogs of the CLax and had an extensive playing career in the NLL. His offensive talents and knowledge of game will be a key asset.
What is the team's ratio of Serbian to North American born players?
Our roster is still going through finishing touches but we will have a good mix of Serbians that learned lacrosse in Serbia and in North America.
Is there anything else you would like the worldwide lacrosse community to know about Serbia or the team?
The first step to understanding Serbian culture is to shift your core values so that they become family centered. Most Serbians value spending time with family and friends over getting ahead in the rat race. They love to celebrate and share food and drink at local taverns and Serbian food goes down easy because it usually resembles the most amazing Philly cheese steak you have ever eaten.
Foreigners love the night life of Serbia with floating restaurants and clubs lining the Danube river banks. So the best way to understand the culture is to live it by visiting us some time.
[mks_separator style="solid" height="2″]
Thanks to Organizer Brian Gorodetsky for taking the time for this interview.