The WPLL is pleased to announce its 2019 Regular Season Schedule; a 10 game season spanning from June 2nd until July 20th. This season the WPLL will travel to 5 states, play at 5 top of the line venues, and host two weekends alongside the Premier Lacrosse League (PLL), bringing the game of women's lacrosse to fans in a way that has never been done before.
"We can't wait to take the field for season two," explained WPLL Founder and CEO Michele DeJuliis. "We are excited to once again give the top players in the game an opportunity to showcase their talent for the next generation of players. With the addition of new players from our Fall Draft and 2019 College Draft, we are thrilled to bring the fans the most competitive women's lacrosse games that the world has ever seen."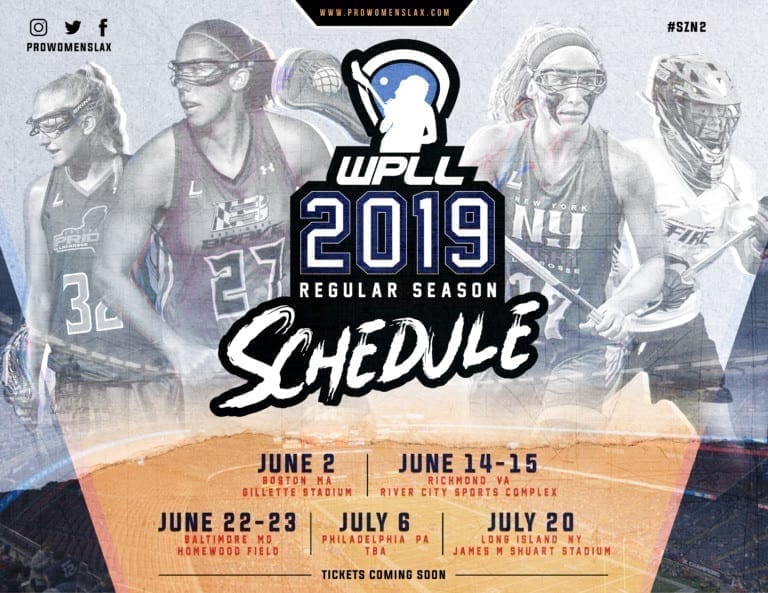 The 2019 WPLL Season kicks off on June 2nd with a double header (Pride vs. Fight, Command vs. Fire) at Gillette Stadium. These games will be held in conjunction with a PLL Double Header, as will the June 22nd (Fight vs. Command) and June 23rd (Brave vs. Fire) games at Homewood Field in Baltimore, MD. After stopping in Richmond, VA (6/14-6/15), Philadelphia (7/6), and Long Island (7/20), the WPLL will enter post-season play. Stay tuned in the weeks to come for an update on our Semi-Finals and Championship Game locations!
Featuring the top post-collegiate women's lacrosse players in the world, the Women's Professional Lacrosse League gives players an opportunity to continue their playing careers well after graduation while also working to empower the next generation of talent through the WPLL Futures Program.
About the Women's Professional Lacrosse League:
Founded in 2017 by 4 x All-American, and 2-time World Champion Michele DeJuliis, the WPLL is a professional league made up of 125 of the top post-collegiate female lacrosse players in the world and a youth development league connecting with the top high school players in the country. For both our professional and our youth players, the WPLL prioritizes character development as a means to excel in life on and off the field. The WPLL uses lacrosse as a vehicle to provide girls with skills that allow them to not only become better athletes, but also grow into confident and brave women. For more information, visit prowomenslax.com, and follow on social media:
Instagram: @prowomenslax
Twitter: @prowomenslax
Facebook: https://www.facebook.com/prowomenslax
YouTube: https://www.youtube.com/channel/UCyr0EWTSb-yauUp155iTOig