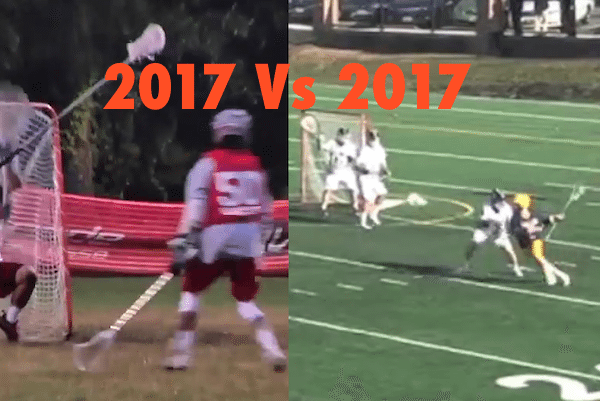 Today I'm showing you two electric 2017 lacrosse recruit highlight reels, but I want to know which one you think is MORE electric. Is it Alex Trippi of the Bullis School? Or Westy McLaughlin of Avon Old Farms? Both players just finished their freshman seasons in high school (I know, how are they this good?), and both have recently put up ridiculous highlight tapes.
Watch them both, then decide which of these excellent players' games you appreciate more. Both can ball, but who is your top dog? Just to make it clear, I would be happy to be as good as either of these young bucks!
2017 Lacrosse Recruit – Alex Trippi
2017 Lacrosse Recruit – Westy McLaughlin
Subscribe to the LaxAllStars YouTube Channel for more great lacrosse video!
If you're asking yourself, "why do these kids seem so familiar?", it's because we've talked about both of them before.
I loved Trippi's game back in a Hot Pot over a year ago. He has since committed to UNC. Seriously, he committed to UNC before his freshman year of lacrosse. I guess the Tar Heels saw the same things I did! He should fit in great there and could be in the mold of Bitter, Bitter, and Sankey.
McLaughlin first appeared on LAS almost a year and a half ago, and we noted how he wasn't the biggest player, but that he was clearly a baller. He plays high school lacrosse at Avon Old Farms, and plays for SweetLax and Mesa Fresh when it comes to club ball. As far as we can tell, Westy has still not committed anywhere.
Now when it comes to WHO is more electric (or which tape is more electric), supply some reason. "Name, for the win" is not a very compelling argument. Step your game up… these two 2017 lacrosse recruits clearly did! Follow their examples!
No matter what, or which video you prefer, I think we can all admit that both of these kids can ball! Good luck to both as they continue their lacrosse journeys.