The Duel in Denver was a huge success and the GTG'ing was going on everywhere, even bright and early Saturday morning. US Lacrosse put on a clinic with the help of the Team USA Coaching staff and players for 60+ young Denver laxers.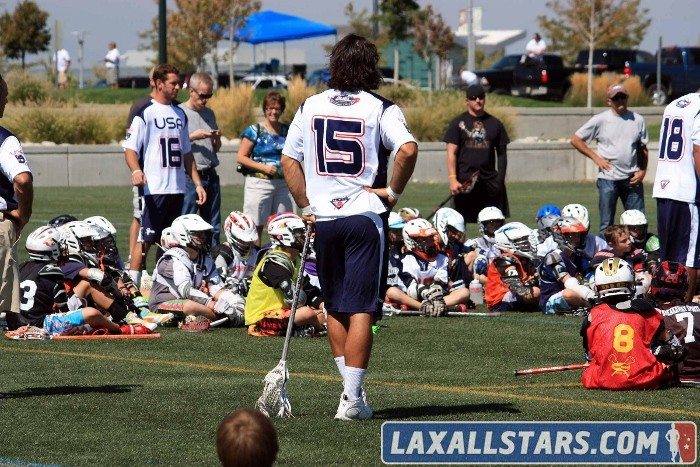 Many of the best players in the game ran these youngsters through all sorts of drills to help give them as much knowledge of the game as they could in the two hours they had together.
Guys like Kyle Harrison, Rabil, Max Seibald and more were dispensing midfield knowledge. Ryan Boyle was leading the attack unit instruction and Greg Gurenlian could be seen all over doing some face off work and helping kids as a dummy defender when they were dodging. Jesse Schwartzman and Drew Adams really stood out as they had about 20 goalies to work with between them. We're sure each of those kids learned a thing or two!
The US Coaching Staff was also out there in full effect, and if Petro scared the kids half as much as he scared us, we're sure some of them were terrified. He's older, and with a bit of an emerging gut (Sorry Coach!) and we still wouldn't want to dodge on him. Not one bit. The man just looks TOUGH! Thankfully, the USA players were clearly captivating and we didn't notice many kids zoning out, and Petro kept his cool. Just kidding. He was awesome with the kids too. No surprise there.
The atmosphere was good, the weather was perfect and kids were learning lacrosse from some of the best the world has to offer. All around, an excellent day!