Have you been watching all the MCLA games this week? The Hot Pot says you should be! The games are being broadcast live on MCLA.us from Greenville, SC and both DI and DII are in action, fighting for their championship.  The MCLA site wasn't working great right at the beginning, but thanks to the dedicated Will Duderstadt and crew, the feeds are like magic now!
After watching a ton of games so far, I've come to a conclusion: basically, the MCLA is the Wild, Wild West of college lacrosse.
The online feeds, the self-run approach, the sheer diversity of teams, and how they are run, at Nationals is staggering.  From the on the fly feed fix, to the interesting mix of commentators, to the most professionally run D1 schools like BYU, to the somewhat rag tag lower teams of D2, the MCLA offers a wide range of options in almost every possible area.
– Diversity in teams: Teams can be awful one year and competitive the next.  And much like the Wild West, you never really know which version of your opponent you're going to run into.  Sometimes games are broadcast, and sometimes they aren't.  Some have announcers, and others do not.  No one knows EXACTLY what to expect on a given day.  But doesn't that make it exciting?!?!?
During warm ups, certain teams fill their half of the field with players.  It looks like they must have 50 guys on the bench.  Other teams seem to barely break 20 players total, and can have as many players on the field as they do on the sideline.  Some teams offer scholarship dollars to lacrosse players, while others require the player to pay upwards of $3000 each year.
Some teams have numerous paid coaches, others run solely on the power of volunteers.  Some teams have all the newest gear, others look like they are playing in 2004.  And at times, none of this seems to correlate to success on the field. And then we get to what the teams are doing ON the field, and it gets even wilder.
– Diversity in style: BYU will use an attackman to face off at times, AND put a pole in the offensive box.  It's an alignment I hadn't seen since high school.  One team ran a bizarre offense with three players behind the cage.  I think it was a 3-2-1.  Bizarre. Cal Poly, the #1 seed, was almost knocked off by Minnesota-Duluth, the #16 seed, and CP needed TWO OT periods to win.  That would NEVER happen in D1 or D3 lacrosse.
– TRUE parity AND community: And when Cal Poly finally did beat UM-D, one of their players ran off the field and hugged a UCSB player in celebration.  I don't care that these guys went to high school together, I don't think that would EVER happen at an NCAA game.  Just right off the field and onto the sideline.  HOW COOL WAS THAT?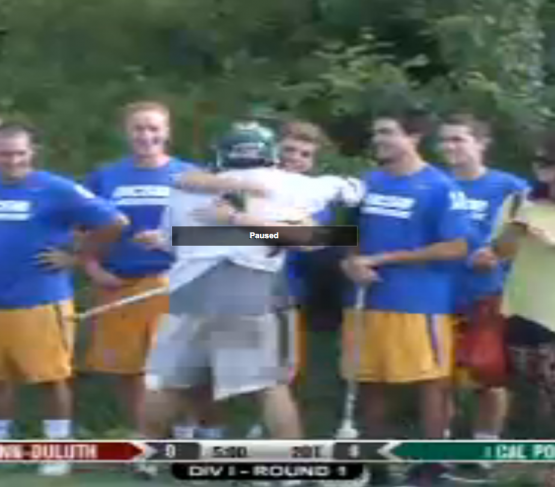 It might just have been the best non-goal-scoring moment in all of college lacrosse this year.
The Wild, Wild West also brings some other strange aspects to the game.  I'm not sure that they're negative, but they are definitely different:
– Big Fat Goalies: You do see BFGs at the NCAA (really every) level, but I've never seen so many BFGs than when watching MCLA D2 games this year.  They must be loving the humidity down in South Carolina.
– Awesome Games vs. Awful Games: The BYU – Chapman game last night was amazing.  Intense, back and forth and some unreal goals were put in.  But they weren't all that good.  Some of the games I watched were just awful.  The teams were out of shape, had no depth and played extremely predictable lacrosse.  At least one team in NCAA games is going to be good, even in first round match ups.  In some of these games, neither team looked at all ready to play.  So maybe sometimes parity is bad?  Either way, when you consider this is the best of the best, you can only imagine what some of the true bottom teams are like.
– Everyone At Nationals Takes This Seriously: I've known most MCLA players were serious about lacrosse for a while now, but watching the MCLA tournament puts this in perspective nicely.  It's great to see guys lay it all on the line, and the semifinals and finals, especially at the D1 level, are definitely worth watching.  This isn't just "club" ball.  At the Nationals levels, it's much more than that.
– The reffing is really pretty good: The refs have been letting the players play for the most part, and I haven't seen too many bad calls go in one team's favor. When I have seen bad calls, they've been consistently bad, and it seems like most games have not been decided by the refs.  The players aren't holding back, and the refs are letting them play.
– The announcing is actually decent: Some of the guys are better than others, and some of the announcers clearly still don't know the game that well.  But they are trying, and they are providing a great additional service.  I'd like to see the scores kept on the screen for the whole game more, but really that's my only complaint, and it's a minor one.  If you don't like the announcers, just mute them, but really… they're not that bad!
– THIS IS GOOD LACROSSE: There are some players out on the field that could definitely make it at the next level.  The MCLA is not a place for kids who don't want to try or put in the extra effort.  And if you want to win a title, it's not a place for second rate players.
I'm excited to take in another day of MCLA lacrosse via the internet, and if you haven't given the MCLA a chance before, now is a perfect time to do so!
_____________________________________________________________________________
LACROSSE IN OTHER NEWS:
– Jeremy Noble of the Denver Pioneers wears #45 for a reason | Denver Post
– Paul Wehrum takes Union to Cortland for a bit of a homecoming in DIII | Little Falls Times
– Lacrosse still struggling to take hold in Tampa, FL | Palm Harbor Patch
______________________________________________________________________________
LACROSSE VIDEO OF THE WEEK:
If this preposterous lacrosse fight wasn't enough for you, we also have a Hot Pot Lacrosse Video of the Week…
The Germans are preparing to make a run at the European Championships in Amsterdam this Summer.  Here's their prep video.  I think they've got a shot!
Excellent lacrosse video work from Germany.  Love the black and white footage and the diverse camera angles kept me watching.  Of course the lax action was pretty sweet too!  Good luck Germany!