After covering the recent CT SuperSophs recruiting showcase, I had a million questions running through my mind regarding lacrosse recruiting. The recruiting game has changed substantially since I was a senior at Weston High School [1999… wow, I am old!] in Massachusetts and I figured the best person to talk to was my former teammate at Wesleyan University, Chris Meade, Co-Founder of Lacrosse Recruits.
Below you can find my short questions and Chris' excellent, long answers. Consider this a one-stop macro level point of view on HS recruiting from someone who knows the game inside and out.
Me: There is a set range of dates where recruiting events can take place, right? What is that period and why did you choose to launch your event on the date that you did?
Chris Meade: Yes, there is a calendar that is regulated by the NCAA. Basically, there are a few recruiting black out dates when recruiting events and communication is prohibited. Although the summer black out dates run August 15th to September 1st, most recruiting camps/tournaments wrap up the last weekend of July.
We decided to push the envelope with August 1st because we were dealing with Rising Juniors in Connecticut. Typically, Division 1 programs will have their recruiting class finished at some point in July, leaving coaches the chance to look at players who are Rising Juniors. CT Super Sophs allowed coaches to evaluate players who might have caught their eye at some point during the summer but didn't want to wait until November to see them play again. Also, I mentioned the state because unlike southern schools that start in August and begin fall sport practice in the tail end of July, Connecticut typically has a later school start date with fall sport practice beginning in the last weeks of August.

How did you go about drumming up interest in this new recruiting event?
Chris Meade: We used a multi-faceted approach to drumming up interest. We were fortunate because we organized the event with Alex Whitten, New Canaan HS Head Coach, and Chris Burt, an active member of CT's Chapter of USLacrosse and Manager at Lacrosse Unlimited. Their reach into the high school coaching community was a great asset to get the word out to coaches and then to the top players in the state. Besides word of mouth, LacrosseRecruits.com was very active promoting the event to travel team directors/players at camps and tournaments. As for the coaches, it is as simple as, "if you build it, they will come." Actually, it is not that simple at all, but all of the organizers are lucky to have lots of coaching contacts through their involvement in the game.

Could you see LR expanding to other locations in the future?
Chris Meade: It is definitely a possibility. Right now, we are focusing on putting the best event together in the state of CT and then tackling other areas where we really see a need.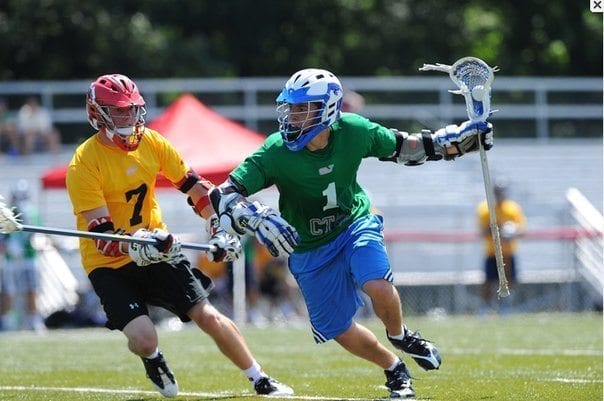 Why sophomores? When is it "too early" to start thinking about recruiting? Is there such a thing? Is there at least a "too late" stage kids want to avoid?
Chris Meade: More and more the summer after your sophomore year is becoming the time to get the word out to colleges and start getting your first looks. It is so much different than when most of our peers were going through the recruiting process. As I said above, a large percentage Division 1 schools are wrapping up their Rising Senior recruiting classes in July, leaving them more time to look at younger players. Also, top tier Division 3 schools are starting to put together their list of Rising Junior players to track in the upcoming year.
There is definitely a "too late." We get lots of telephone calls at LacrosseRecruits.com from parents of seniors who call in September or October and ask how to get recruited. Although there are still some opportunities out there, your choices are extremely limited.
Tell us a bit about the jerseys and Vineyard Vines. The jerseys looked great by the way!
Chris Meade: It is the best thing my partner, Matt Wheeler, did for our company, go to the same high school as Shep and Ian, Founders of Vineyard Vines. (Just kidding!) Seriously, it did work out very nicely though. Matt Arnold and the design staff from Vineyard Vines worked hand in hand with our staff to design the CT Super Soph jersey as well as our LacrosseRecruits.com Summer Circuit shirts.
We have been working with Vineyard Vines since we launched LacrosseRecruits.com. They are one of our earliest supporters and have sponsored our operation by providing awesome gear in return for us spreading the VV word to budding lacrosse areas.
Can you tell which kids are going to be good? Or is all about potential at this stage?
Chris Meade: I think it is a mix of the two. If you watch the highlight video from the event, you can see a bunch of players who are Division 1 recruits. There were some studs that have athletic ability and they have great skills. There were also a number of players that may not have been as polished but have tons of athletic potential. Overall, any player can work on their weaknesses and become a better overall player.
Were there a lot of coaches there? Div1? Div2-3? MCLA?
Chris Meade: We had a strong showing for our first year. The majority of the coaches were from Division 1 schools with a sprinkling of Division 3 schools. I am sorry guys, no MCLA schools made the trip out.
(Ed's note: This sounds like a challenge to me, MCLA coaches! Get out there and be seen by the kids!)

How can events like this help cash strapped programs or programs with part time coaches?
Chris Meade: CT Super Sophs is a homerun for those programs because a coach can see 120 players in real game circumstances over the course of one day in one location that is within a two to three hour drive to a large number of lacrosse colleges.

How is LR progressing? Are you looking to follow the Under Armour model where you dominate lacrosse first, refine your game and then dominate everywhere else?
Chris Meade: Things are going really well at LacrosseRecruits.com. We recently celebrated our 1-year anniversary, have over 1,000 members and are celebrating daily as we hear from members who are making their commitments to the colleges of their choice. At this point, we are working with our members and the coaching community to update the application with more features to make their lives easier. At some point, we will be rolling out our application to other markets, but for now, we are going to continue to provide the best recruiting tool made for players and coaches by former players and coaches.

Do you think the LR service could eventually translate into college athletes trying to go pro? Same basic model, just tweaking the users?
Chris Meade: As much as I would love to provide that service to the MLL, I don't see it being a strong business move at this point. The size of the league and the small incoming classes of players is limiting for a MLL recruiting tool. But I am always open to opportunities in the future to help more college players to make the jump to the MLL.
Plans for the future with LR? Where is this whole ship headed?
Chris Meade: We are looking to continue our course and keep connecting high school players and college coaches.  Hopefully the ship is headed to a beach after a long summer on the road!
Thanks to Chris for the great interview. It's a pleasure collaborating with him and Matt Wheeler, President of LR. They really know where recruiting is headed. If you want to talk to Chris about lacrosse recruiting, super sophs or his company, LacrosseRecruits.com you can reach him at chris@lacrosserecruits.com.