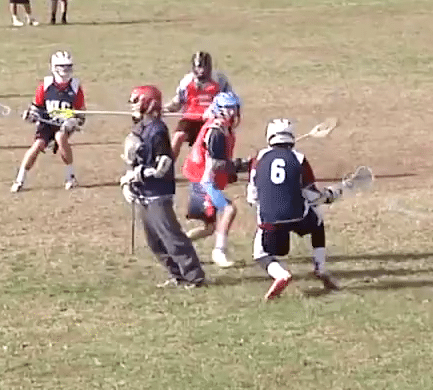 The below video features a 2014 Long Island Express team and a 2014 Virginia Lacrosse Club team going hard at the recent Maryland Terrapin Classic. Both of these teams are littered with current Juniors committed to high level D1 programs like UNC, Virginia, Princeton, Villanova, Army, Navy, Ohio State, Georgetown, and Towson.
Check out the video, but be forewarned… the music is loud, and it is awful.
Once you get past the "I feel like I'm fist pumping at Bogart's" musical selection, the video delivers. The kids can all ball, they play the body as much as the ball, and they go hard. Pride is clearly on the line, and even though many of these guys have committed, no one is taking a play off.
I also really like the video because it shows that two of the best teams in the country are NOT wearing fancy travel team helmets, and they don't have super expensive looking jerseys or shorts on either.
"Wear dark shorts, here's a mesh pinnie, let's go play some lacrosse."
I can think of quite a few travel teams who might benefit from the above approach… Less focus on looking good, more focus on actually being good. The Long Island Express team might even be in mesh pinnies, but you know what, those kids are going places. Something to think about for all the gear obsessed players and teams out there struggling for wins.
Here are some notables from the video:
:10 – post goal swim dodge
:42 – super smooth face dodge
1:10 – best hesitation move ever?
1: 25 – great catch and shoot
1:38 – #6 sure can dodge
2:01 – so fluid, so smooth, so nice
2:22 – did he just score from 20 yards out?
2: 29 – Yup, #6 for VLC can score and dodge.