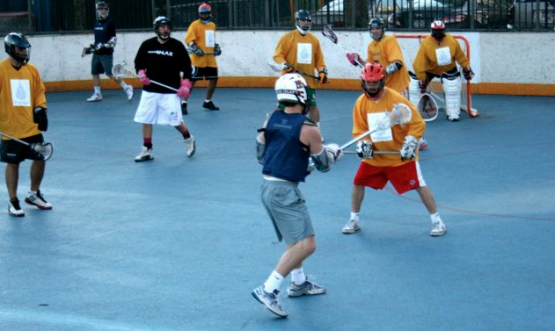 The regular season for the NYC outdoor box lacrosse league, run by ULAX, is over and the playoffs have been set.  The three teams playing in the league fought hard all season long to secure seeding and build chemistry and now all that work comes down to two games.  The 2nd and 3rd seeds will play a semifinal at noon on Saturday, and then at 1pm the winner of the game will face the 1st seed.
After 6 or 7 regular season games, the Brooklyn Dodgers sit atop the standings.  They finished the season at 4-3, with on additional game over LaxAllStars.com, who finished the season 4-2.  LAS normally would have taken the top slot, but Brooklyn went 2-1 against LAS during the regular season so the league commissioner decided they were the #1 seed.  It's the first time a team with a better overall record has ever been given the 2 seed, but the LAS guys are excited, because it gives us the chance to get an extra game in, if we can win.  And more lax is good lax! Dirt McGirt is the 3 seed at 2-5, with both of their wins coming over the top seeded Brooklyn Dodgers.
Basically, the teams are all pretty close in talent and depth and winners are often decided by who shows up to play, and who had a rough Friday night.  Each team has been bitten by that bug at least once!
This past weekend, LAS won its final game of the regular season, over Dirt McGirt in an absolute shoot out, 16-12.  Kevin Mahony put up 4 goals and an assist to lead Dirt in the loss and was all over the place creating transition and playing physical lacrosse.  Jimmy Kappler, Joe Barile, Pete Sayia and Cam Kerst all had big games for LAS.  Dirt then kept the scoring going as they took down Brooklyn 12-9 in the second game, after going up 7-1 in the first period.  Mahony was magic again, putting up 5 more points.
I'd love to say LAS is the favorite this weekend, but Dirt is looking really tough right now, and Brooklyn is always a challenge.  If all three teams get a good turnout, anything is possible.  We'll have photos and more from the weekend's action!