Americans rarely bring up Ontario as a lacrosse hotbed, but they should.  It's almost like Canada's version of Maryland or New York, except it's in Canada, which means it's a lot more box lacrosse.  But the Nationals play in Hamilton, and that's in Ontario, so there's quite a bit of field lax as well.  Anyway, over the Summers, the big news is usually that Major Series Lacrosse is where it's at, but this week, we have a couple other stories that are attention worthy at the very least!
Wheelchair Lacrosse Heads North of the Border!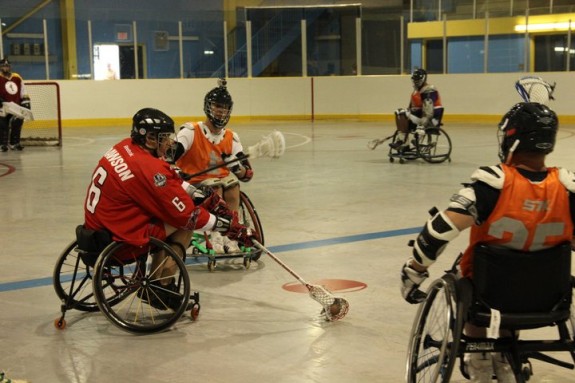 Photo courtesy Wheelchair Lacrosse Facebook Page.  Like them!
Ryan and Bill, the guys behind Wheelchair Lacrosse out in California, wanted to do something different, so they found a way to get up to Toronto to take on a number of NLL stars in a game of Wheelchair Lacrosse.  As you can see from the video below, it went GREAT!
They also took on the Six Nations Junior A team in an exhibition match.  Also very cool!
The lacrosse world at its finest!  And it seems like the game is already taking off and gaining a lot of interest!
Wallaceburg, Ontario wins $25,000 for a new outdoor box lacrosse rink!
Remember yesterday, when we asked you to vote for Wallaceburg in the Kraft Celebration Tour?  Well enough of you, and a lot of other people, did, and now Wallaceburg is getting a new outdoor box rink!  I'm sure Chris Fox will have more on this as it develops!