Editor's Note: I was curious what exactly was going on with the Red Bull Baggataway event in Boston last weekend that popped up on Lax.com the other day, but neither lax.com nor the Red Bull USA site provided a ton of information, and I had a ton of questions.  I wrote a bit of an exploratory piece, and in response, got an email from a reader, Collin, who had played in the event, and who was willing to fill me in with some more details.  So from my laptop to your eyes: An Open Conversation about the Red Bull Baggataway!
_____________________________________________________________________________________________________________
What was the contact like? The rules seemed to allow for a lot of it. Did the refs give different instructions to players than what we saw online at RedBullUSA.com?
First off, the refs reffed the game just as the rules were stated.  As was were explained to us before the games started, it was more or less no flagrant fouls to the head, or crosschecks to the back, and things of that nature.  Contact was there, stick checks were happening but not the same type as in the regular game.  I would say this happened because of the fact that there were no poles allowed.  For a lot of us, including myself, who were used to playing pole most of their life, it was a little different not having that extra 3 feet to give them a poke or anything, so a lot of the defense was played like a short stick d-middie… a lot of pushing.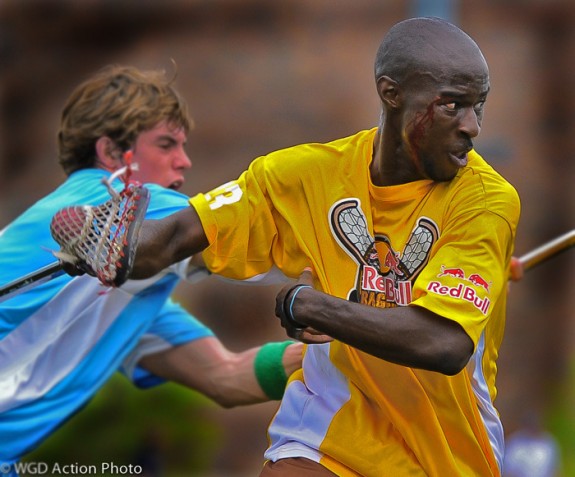 Photo courtesy Lax.com
Slides were rarely ever there as well.  I had a talk with Rabil and he said if you get beat just hit someone in the elbow and they won't come back. I saw only a couple of flags thrown through the games.  One was a crosscheck to the back and the other some contact to the head but they were very serious about not hitting the head.  Also, as you said (in your first article), people respected each other since they knew if you hit someone in the elbow they are going to  hit you back harder, so it wasn't bad.
What was the pace of the games like? Up and down, or slow down?
At first the game was very different, as described in the video there was no structure, so everybody was everywhere. People were so used to scoring a goal and celebrating with their teammates that it just turned into yelling across field, "nice shot", "nice pass", and the game would resume. Most teams dropped a player or two, to stay on offense or defense so once a goal was scored the goalie would bomb it to them or make an outlet pass and then they would bomb it to them… a lot of fast breaks happened.
It took some getting used to but it was a very fast paced game… one of the fastest I have played, and what most people are saying is that there were no subs but there actually were subs.  It was just changes on the fly e.g. just get off and another guy would get on.  And there was no having to wait for a horn or anything at all, so you couldn't get an on-field rest in.
How did you get involved, how were teams selected/recruited?
I got involved into the tournament through the CroArt Lacrosse Nation in Massachusetts, which is one of the leading leagues in the Mass area. They have around 10 leagues going all around Mass and New Hampshire. I am not sure how the teams were selected to compete within the tournament, but CroArt had 5 teams entered into the tournament and it was first come first served sign up from what I hear. You can check our CroArt lacrosse at http://www.croartlacrosse.org.  Most of the teams were from the leagues around the area. They were Foot Force, Backyard Lax(which I play for), SwagYard, Boathouse, And the Nation team which were free agents.
The best part about the tournament was that it was completely free, and when I say completely, I mean free gear, and free hotel room for the night in the Hyat Regency as well.
Do you like it more, less or just differently than regular field lacrosse?
I would say I liked it, but I also like the organization of field lacrosse, and knowing which guy I am covering.  I like knowing my slide and so on, while this game was more or less just pick someone up that doesn't have a guy and don't let him score.  I would do it again in a heart beat since it was a ton of fun and a fun experience.
What do you think about changing stick regulations? Was the "black hole pocket" an issue at all? Where the ball doesn't come out of the stick?
I would love that idea very much since it was so hard using my bag that has been on my pole for the whole season to actually feel the ball in my pocket. I remember one time I got in close and got stick checked bad and did not know if I still had the ball and ended up shooting and hit the goalie in the hand. I think it would have been a lot harder for people to use the old woodies.  My coach, who I played with, brought his and was hard to feel for the ball as well, and some players on my team had traditional stringing going on. The most memorable stick was a woodie shaft was a wood grain dye for the head with traditional stringing, but he said was hard really feel the ball.
Would you do this again? Any changes you'd like to see?
I would completely do this event again. I would say the change would actually be halves of the game not just 15 minutes to a game. I would like to see it a little bit longer instead of only playing two games then possibly getting eliminated. I hope they keep this a free event too, but I have my doubts that they just did this first one for free to get the word out and video for the next one so people will pay for it.
All in all the event was a total blast, after the games we got free access to the Bud Light party tent for the MLL All-Star draft, which was fun and just being in the tent area with all the players and having them be normal people, who are able to talk to fans instead of like the NBA or other professional sports leagues where you can not be in a 50 foot radius of them.  Thanks for letting me answer your questions!
Collin, Thanks for talking to us!  Awesome inside perspective on this cool event and we appreciate you sharing your thoughts with the LAS Nation!