(Editor's Note: Connor Wilson was going to review the new STX Lacrosse Assault line commercial but Muamer Razic beat him to the punch.  Muamer has really stepped his game up lately and is developing a nice little following here on LAS.  We're certainly glad to see it because he's creating great content, starting his HS's lacrosse team in Kentucky, and committing to the lacrosse fraternity with all of his being.  Read on and see what this relative newcomer thinks.  If you're selling anything in the lacrosse industry, pay extra attention because THIS IS WHO YOU'RE MARKETING TO!  This is free intel from the front lines!)
___________________________________________________________________________________________________________________
I've gotta give this commercial a 110% rating. Yeah it was that good!
I was at a loss for words watching the STX Assault commercial. It made me want to go out and buy every single piece of equipment from the Assault product line. As the STX players were suiting up, I felt that if I got some of that gear then I could put an assault on my lax game! I mean, when Anthony Kelly rocked Brett Hughes it was so sick! I've got to give mad props to the STX players and people who helped make the video. Those arm pads look so protective, I mean when they were just hacking away at Sean Morris' arms I was shocked!! They've got to be amazingly protective!
Evidently, all the equipment uses a  High Def™ Polymer which makes it extra amazing! They won't soak up rain or sweat, which will keep the equipment light thought the game! Also, No stink! The High Def™ Polymer naturally defends against odors.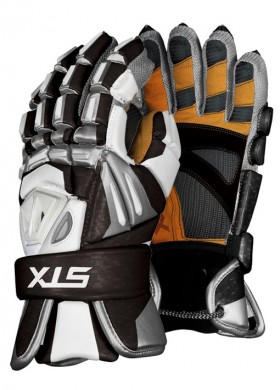 From STX I learned that the Assault Gloves have a newly designed palm that allows for more breathability and grip. The direct inject impact ribs are for increased slash protection on your fingers, the back of your hand and wrist. The five-part knuckle design and four-part split thumb are to increase hand and finger flexibility. The four-part cuff is used for maximum wrist mobility, and the new moisture-wicking inner liner is used for unmatched comfort. So you don't have to give up comfort for awesome protection!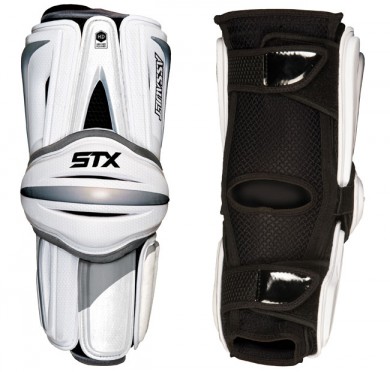 The Shoulder Pads have a new multi-dimension design which provides freedom of movement and enhanced upward mobility. The moisture wicking mesh liner  helps make the comfort unmatched! And of course they have adjustable/removable bicep pads.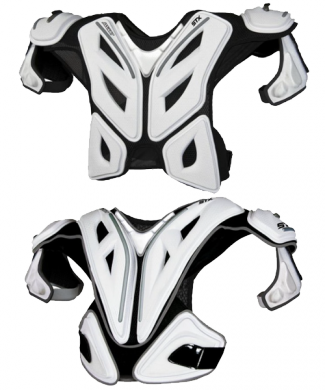 The Arm Guards have a new three-quarter design that allows for maximum protection in crucial areas, and lower profile in others. Both the Arm Guards and Arm Pads have full length breathable sleeves that offer incredible comfort and mobility. The no-slip sleeve and silicone nubs prevent annoying slippage which is ideal for anyone!
_______________________________________________________________________________________________________________________
Looks like STX is doing their commercial work correctly!  It is obviously a big hit with Muamer.  Maybe this is why people are so loyal to their brand of choice… they make the decision at a relatively young age.  It's like a guy who won't drive a Chevy.  He knew which brand he wanted before he even had a learner's permit.  This means get to the kids early, I guess.  And now we enter the morally slippery slope!  STX seems to be on the safe side of things by a good margin though.
I'd agree with Muamer that the pads look great in both the pictures and the commercial, and I think the commercial came out well.  I'll reserve any further judgement until I get to try them out.  After all, good looking gear makes you look bad if you can't play well in it!!  I am looking forward to trying this stuff out though… because it looks good.  Step 1: Complete.