Santa Clara Lacrosse is intriguing to me.  These guys are almost always in the mix (with the exception of their game against Arizona State) but they've lost their last 5 games, all against Top 25 MCLA teams.  When they play Top 10 teams, the differences are obvious.  They lost to ASU big and lost to a very strong Cal Poly team 12-7.  The other 3 losses were all by 1 goal each, against Cal, UNH and Arizona.
I watched the Arizona and UNH games on CollegeLaxTV (great resource to see more MCLA games!) and have some thoughts on what Santa Clara can do better, so maybe they can win some of these close games and continue to move their program in the right direction.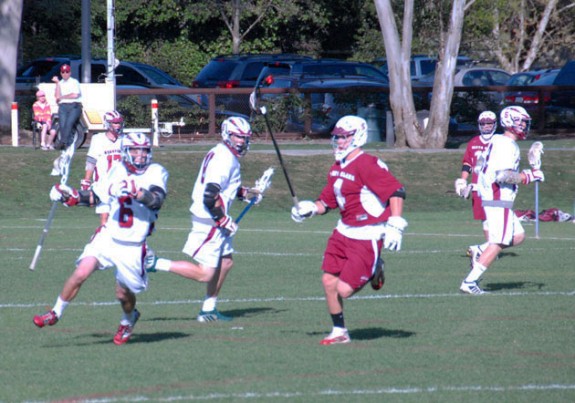 Photo courtesy smwang29's Picasa Web Album
Against UNH, SC came out and looked like the better team.  They were better on face offs, their offense was more dynamic and their D played better as a team than UNH's D did, while still being aggressive and taking the ball away.  #4 and $19 both stood out on D as guys who could take the ball away, pick up the GB and then push it up field.  The entire D was pretty physical on inside rolls, on slides and on feeds to stationary players.
Santa Clara needs to bring this attitude to their overall defense though as players that were cutting and receiving feeds were much more open for UNH and for Arizona.  UNH's biggest problem on D was clearly ball watching.  They did this for much of the game.  Santa Clara was better, but this is an area where both teams can definitely improve.  For a team playing UNH, ball watching is their Achilles' heel.  For Santa Clara, it is merely an issue that could use some work.  Ok, a lot of work.  As Arizona proved with countless opportunities, movement and cutters wreaked havoc on SC's slide packages.
Offensively, SC tends to pass up great odd-man and transition opportunities in favor of settled O.  They have some dodgers at midfield and attack, but I was most impressed by their middies dodging quickly and their attack finishing.  The UNH longpoles did quite well against the SC attack in settled 6 on 6 (when they weren't swinging for sticks of course, which they did quite a bit, especially early on) but when things were unsettled, the SC attack consistently put themselves in good places to score.  SC needs to push transition and 5 on 5 or 4 on 4 lacrosse when they get the chance.  Every clear doesn't have to turn into a shot, but Santa Clara can get some additional good looks by running and gunning just a little more.  They certainly have some middies who got runs on D who can push the ball.  Use that talent!
Whereas UNH ran a lot of 1-3-2 and 1-4-1 after setting up in a 2-3-1, Santa Clara set up with 2 high middies and often kept that set throughout a possession.  They ran basic triangles, which were somewhat effective, but without additional looks, teams will be able to adjust.  I'd like to see some more offensive diversity from Santa Clara and feel like they don't utilize an invert offense nearly enough.
Against Arizona, Santa Clara did a good job of tightening their offensive sets.  They played closer to the cage but definitely suffered from a lot of standing around off ball.  Adjacent players seemed much more concerned with giving the ball carrier an outlet than they were with cutting through and creating space.  Arizona may ball watch as much as UNH does, but because SC was stagnant on O, they weren't exposed very much.
Santa Clara has talent.  No question there.  They have some athletes, decent depth and the ability to run with any team outside of the Top 10 right now.  But if they want to win some of these 1 goal games, they're going to have to work on pushing transition, taking advantage of numbers, moving on O and playing off ball defense with their feet, and not their sticks.  On ball, they are impressive, but off ball, there is the chance to lose them with cuts and picks.
An offense that needs to move more and a defense that needs to cope with movement better… glad these guys get to practice together!  If SC wants a practice hint, here they go: Instead of practicing 6 on 6, practice 7 on 6.  Give your second string D an extra player and give your second string O an extra player.  Then go 1s vs 2s all day long.  The extra man on D forces your first offensive group to move the ball more because a slide is always coming.  The extra man on O for the 2s forces your D to pick up cutters, be physical with feeds and to help each other out as O players move through their slide zones.
This isn't groundbreaking stuff here.  More movement on O, pushing transition, and less ball watching on D.  3 simple things to work on.  If Santa Clara doesn't, they will continue to compete but also continue to lose.  If they make these changes, they could play ASU again and it would be a very different story.