Bend, Oregon is the home of the Bigfoot Summer Bender Men's Lacrosse Tournament. 2013 was the 3rd year of the tournament's existence. In each of the previous years, the Bender has seen exponential growth in not only participants in the tournament, but the talent as well.
It is fantastic to see a relatively large lacrosse tournament come to Bend, Oregon. Almost every level of lacrosse was represented at the Bender this year, ranging from NCAA Division 1, to MCLA Division 2. All-Americans from Maryland, to All-Americans from Chapman and Oregon State were also in attendance, ready to fight for the infamous Sasquatch trophy, so appropriately named as Squatchy.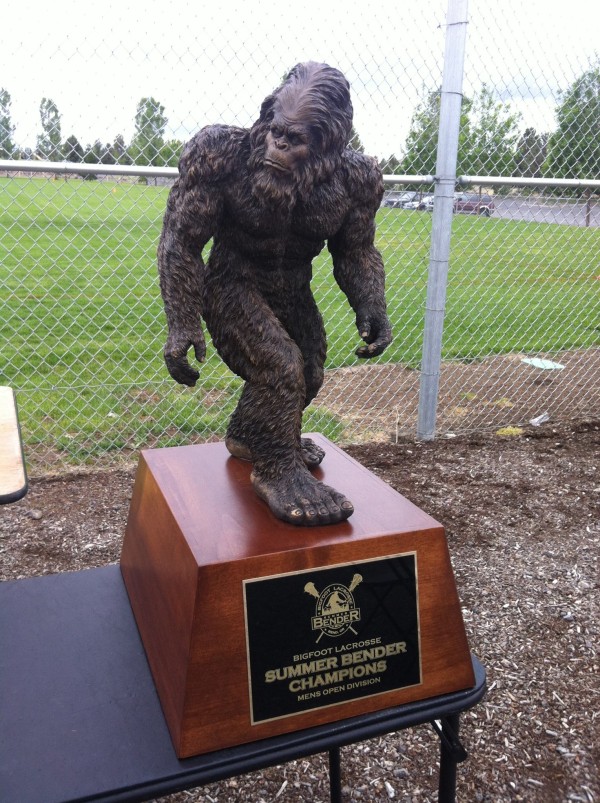 This year's champions were, "Good Life", lead by ex-University of Oregon Head Coach, Joe Kerwin, and former Denver goalie, Zander Buteux. Good Life defeated the defending champions, 503 Trees, in the championship game to mark the 3rd different team in as many years to win the Bender.
The Bender isn't one of the most intense tournaments of the summer, just like a Vail or Tahoe Tournament. But what the Bender lacks in hard crease slides and wrist-breaking slap checks, it makes up for in behind the back goals, goalies getting iced mid-game, and drinking beer on the sidelines instead of water. I can't wait to play in this tournament again next year.
Check out the video above for some great highlights from this year's action and make sure to 'Like' the Bigfoot Summer Bender on Facebook!