I hadn't really thought of a term for all these trips I've taken. "Traveling" is an obvious one, but all of my seemingly wayward walks have always had at least the semblance of a theme. I've been going where I've been going because of lacrosse. Any side trips or chance circumstances that leave me stranded in Hawaii, skiing in Norway, or gambling in Macau are byproducts of the original purpose – lacrosse.
And now I was on a plane to Cyprus.
Why? As mentioned previously, lacrosse had me on a mission again. Part of my role with the World Lacrosse Championships has been an ambassador type role, speaking and networking on behalf of Israel Lacrosse and this summer's World Championships.
I received an email from the boss man that said "Ever been to Cyprus? This looks fun."
The Committee of Non-Olympic Sports in Israel was attending a conference in Cyprus, and they were kind enough to invite COO of Israel Lacrosse David Lasday and myself to come along.
For those of you looking at a map, Cyprus is an island nation underneath Turkey and immediately West of Israel. Believe it or not, Israel adoesn't have too many friendly neighbors they can go play a game of lacrosse against, so it's in Israel Lacrosse's (and the rest of the world's) best interest to introduce lacrosse to this island nation to try and welcome them to the family.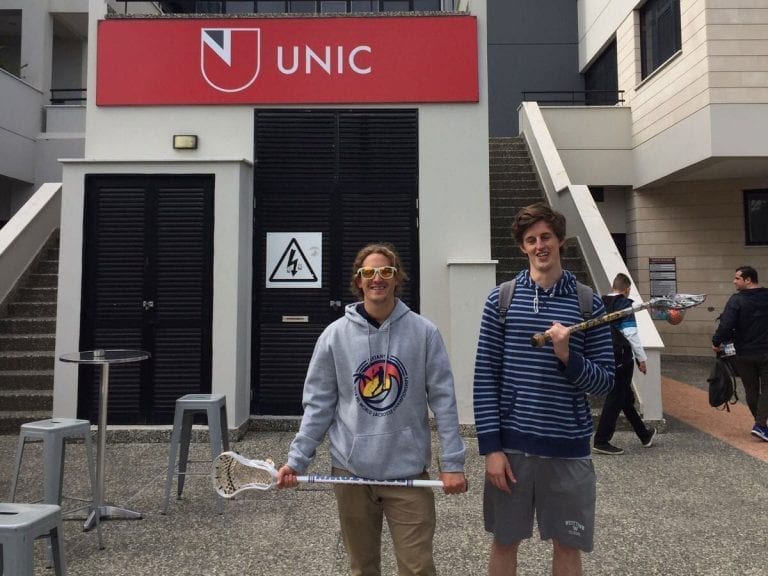 It was a shame we didn't get a whole lot of time to really see the beautiful island. We did get to catch up with a couple lacrosse guys who have been studying/working on the island for a while, and it was fun to get in a catch on the University of Nicosia campus – all the while trying to get different students to try it out.
We did, however get a lot of the contacts we believe would be pivotal in helping get lacrosse going in Cyprus. We have all the connections we need, but the most valuable resource is unfortunately something we're lacking in…
We need bodies to go over and do the hard work!
If we sort out housing, work, and all that jazz, all you would have to do is start lacrosse! If you're interested, please drop us a line!
The conference was a Sports Tourism Conference hosted by the University of Nicosia. Going in, I'll admit that I didn't see too much value in this conference for our World Championships, or for our sport as a whole.
Afterwards… I'm thinking much larger and I was proven wrong almost immediately. The size and scope of our own sport's impact is already formidable, and the fun part is that we're just getting started.
We heard from Cypriot Olympians, tourism and business professionals, and leading innovators that are bringing their "niche markets" to the forefront of the tourism industry.
I heard lots of presenters saying lots of the same thing, no matter the corner of industry they were coming out of. The overriding themes of what every presenter had to offer was not only that sport is something that can transcend nationality and the differences between us, but that people from all walks of life want to go out and DO something to interact with foreign cultures and peoples – not just observe as tourists.
As this relates back to lacrosse, one has to consider – are we an activity that participates in sport tourism? A quick answer would be "yes". A slightly less-quick answer would be "yes, but more opportunities need to be offered and more individuals need to take part in new and existing opportunities".
Elaborate.
The Lake Placid Summit Classic brings 425+ teams of 15-25 players, not counting wives, kids, brothers, sisters and friends who come along for the ride. Estimates of the ANNUAL impact of the one-week tournament range from six to seven MILLION dollars of direct impact in the region. Everyone has to eat, everyone has to sleep somewhere, and everyone is going to spread a little cash around the are having some fun as well.
Looking for other examples to stretch our scope, we could look abroad to the Ales Hrebesky Memorial in Prague, the Berlin Open in Germany, or the up-and-coming Hong Kong Open. Each of these events are significantly smaller than our domestic example of Lake Placid, and that's just perfectly fine.
These events are stretching our ideas of where to spend our vacations. When I was in college and shortly after, I was very much content with doing Lake Placid, Las Vegas, and maybe make it down to War at the Shore if I was lucky. Now, when considering my schedule six months ahead of time (read: 2 weeks ahead of time) I'm seeing options in six countries on three continents over two weekends.
We've seen a flood of American and Canadian players looking for an alternate experience where they can go and see parts of the world they've never seen (and might not have ever seen), all the while they're going with the express purpose of doing the thing they love.
This path is not mutually exclusive to North Americans heading abroad to play. Japanese, U.K., Australian and German teams have gone on tours throughout the United States on their own tours just the same. NCAA collegiate teams have made the trek to Spain and Italy. It's a two way street, and traffic is getting heavier!
Even the smallest examples of Croatia, Serbia, Portugal and Singapore are hosting tournaments – and hosting them successfully! Players aren't (always) so much interested in going somewhere and playing against the BEST talent, we're traveling to play for ADDITIONAL INTRINSIC VALUE!
It feels good to go and play somewhere new, meet new friends with names you can't pronounce, and go share a meal with them eating things you quite literally can't get at home. And you know what? It's not about the goals you scored or the trophy that nobody knows what to do with after the tournament.
In our specific sport, and I'd imagine this to be true with other budding sports, it's about SHARING the game with others. It's FUN to do stick tricks in the park and to try to teach a Polish or Danish U-17 player how to do it. It's FUN to give away all your stuff to little kids you can't verbally communicate with.
And where is this all going?
I have no idea. Great question.
I don't know, and that's the fun part. I DO, however, know where it's all coming together.
The 2018 FIL Men's World Lacrosse Championships in Israel will be the single greatest petri dish to explore how we as a community view travel and value when it comes to our sport.
A ten-team increase from 2014's 38-team tournament will mean this is the single largest world championship ever held, and all future games starting in 2022 being limited to 30 teams means this will also mean that this is the largest that ever will be held as well.
https://www.facebook.com/worldlax2018/videos/695573623982328/
This event was previously held in Denver, Colorado. People could drive in from other parts of the U.S. and Canada, where the sport is primarily played. I don't believe too many people will be driving in to Israel, and I think that here in lies the big measurables with our games.
Did people go to Denver because it was convenient? Was the EXPERIENCE of a World Championship in Ontario, Manchester, and/or Denver enough to ensure that lacrosse people view this as a "can't miss"? This is a hefty flight for the majority of lacrosse players/fans/enthusiasts who live in North America. Will we see a decrease in North Americans? Will we see an INCREASE in Europeans who can hop cheap flights direct from most major airports?
I have guesses, and I'm sure you do as well. I don't KNOW what's going to happen as far as quantity, but I can speak towards the qualitative aspect. Some teams we might not see again for ten, twenty, fifty years because they won't qualify.
I want to see them.
One hundred lacrosse players hanging out on the beaches of the Mediterranean in July. I want to see that. National teams representing the majority of the WORLD coming to a country that the entire world has an interest in. One opinion versus another isn't really the point, the point being that 48 countries will be present in Israel all interested and playing for the same thing.
*** Quick little promo: If anyone wants to come over and PLAY in the festival tournament alongside the World Championships, the all inclusive price for play, uniform kit, housing for 11 nights, shuttle pass AND ticket to all games is just $800USD please email me brian@laxallstars.com if you're interested (you are) ***
Sports tourism. Destination lacrosse. Mixing traveling and lacrosse. Playing, coaching and GIVING in Rome/Hawaii/Turkey/Australia/Bratislava/Hong Kong instead of just seeing it!
I've been doing this for almost five years now. Traveling because of lacrosse and lacrosse because of traveling. I have seen things I didn't know were there to be seen. I have met best friends and eaten best meals far far from home.
I would implore you, whoever you are, and whatever your experience with lacrosse has been, please keep active in this rapidly expanding universe. We're making the world a lot smaller and we're making our game and our positive impact a lot larger.
This doesn't get any bigger or better on it's own. When someone says Grow the Game, it's an imperative phrase. Do it! Go out there and be a part of growing the game. Walk the walk!