A good club lacrosse tournament (the kind for youth through high school) can be hard to find. Sure, there are a lot of tourneys out there, but that doesn't mean they're all equal. In response to this, US Lacrosse has started a pilot program, which aims to set some standards in this growing industry. I spoke with Jess Hicks, who heads up the project for US Lacrosse and has since March, to learn more about the program, and ask some questions.
As part of this pilot program, US Lacrosse recently sanctioned five tournaments, and two of them are run by Corrigan Sports Enterprises. A press release was recently sent out about this partnership, and it seems like the end goal is to help people determine what makes for a good club lacrosse tournament, at least from the perspective of US Lacrosse. At the end of the day, that means a safe, and well-laid out event, which all follow the same rules. So basically if you're playing in New Jersey it's going to the same set up as you would see in Wisconsin.
US Lacrosse lays out five criteria points for tournaments to follow and meet, and while these criteria points raise some good issues, I worried that their sanctioning program was missing out on a couple of important issues, which impact the club lacrosse scene greatly.
Seeing as this is a pilot program still, we can still withhold final judgement, but let's take a look at where this program currently stands.
What is a Good Club Lacrosse Tournament?
US Lacrosse nails a couple of points with their program goals. They focus on best practices in five categories, and those are: venue, game format, risk management, tournament administration, and certified US Lacrosse officials. All of these categories are important, to be sure, and I would be very curious to know how they will be weighted, or what the specific standards will be.
Let's take a look at each of the five criteria points, and see what else could be included. It should be noted that many of these procedures are still in flux, and can be changed.
Venue. Having a tournament at a fancy college or field complex is great, but what is the actual criteria here? To me, the important points are as follows: Are the fields in good shape? Are there enough of them? Is there ample parking? Are there multiple options for food at the venue? Is the venue spread out over multiple locations? Is it easily accessible? The answers should be yes, yes, yes, yes, no, yes.
These seem to be the key focal points from US Lacrosse, and both Corrigan Sports Enterprises tourneys do quite well in this regard. Field layouts, barriers, and safety is also important, and that's a great point of emphasis.
Game Format. I like that this is in there, as it seems to focus on the players playing lacrosse, and having an enjoyable and productive experience. The focus seems to be on age grouping, following US Lacrosse rules, and other regulatory issues. I'm curious to see if there is any preference for one or multipl day events. Personally, I like one day events, where kids play either two full games or four short games. Two day events tend to drag out, and they create additional travel and hotel costs for non-local teams. Three day events can really limit participation.
In this regard, CSE tourneys do ok, but their youth tourneys do seem to tend towards two day events. The risk here is two spread out games across two days can be an absolutely draining experience for entire families. At the same time, they do play by the US Lacrosse rules, and follow USL age guidelines.
Risk Management. This section has a lot to do with insurance, safety, medical procedure, and all that stuff.  US Lacrosse membership and using US Lacrosse rules list near the top of priorities here. It's all important, especially from US Lacrosse's point of view, if they are going to sanction an event. I'm a little confused as to why certified US Lacrosse officials isn't part of this section though. When it comes to risk management, referees are often your first point of contact on the field. But they cover this later in its own section.
It also covers logistical issues, like communication, rain plans, etc. It also covers trainers and medical services offered. It seems like CSE is very buttoned up in this regard.
Tournament Administration. US Lacrosse is likely looking for experienced groups, who know how to run events. CSE certainly seems to fit all the requirements there. They have a dedicated staff, and this is what they do. My only question would be: does this make it harder for smaller groups or tournaments to be sanctioned by US Lacrosse? Or is this a big boys only proposition? What else factors into this category?
Certified US Lacrosse Officials. You either have them or you don't. This was obviously going to be included as a criteria point, but as I said above, I'm surprised it got its own section.
So is there anything else?
Yes, I think there are a couple of other categories that could be addressed.
Cost. Club tournaments are often ridiculously expensive. I know that operators have a lot of costs themselves (insurance, facilities, parking, etc) but the fact remains that tournament costs do not always need to be as high as they are. I have been to a great tournament with a youth team of mine, which was well run, a lot of fun, and cost under $500 per team. It was one day, and we got 4 games. This was in 2015. So I know it can be done. $1000 is still an ok price, but anything above that starts to raise some eyebrows. People in the club scene have become accustomed to paying well over $1000 per tournament, but that doesn't make it right.
CSE seems to charge in the $1000-$1500 range, but they do seem to put on a high end event. For me, their cost structure is really the top of what the scale should look like. However, tourneys that place teams on terrible grass fields, don't put on a very organized show, and cost around $2000 still exist. Why? I'm not 100% sure. If the guidelines include a cost evaluation, maybe that will change. US Lacrosse does seem to understand that the sport is getting very expensive.
Weather Insurance. This may seem like a really specific thing to include, but I've heard horror stories about it, so it's worth mentioning, because I think it speaks to the intent of the organizers. If you have 50+ teams playing in a tourney, your margins should allow for you to purchase weather insurance. That means that if the tourney is rained out, or canceled because of a hurricane or earthquake, teams can get all or some of their money back, and tourneys can still pay for the field rentals and staff. When insurance works, it's a glorious thing!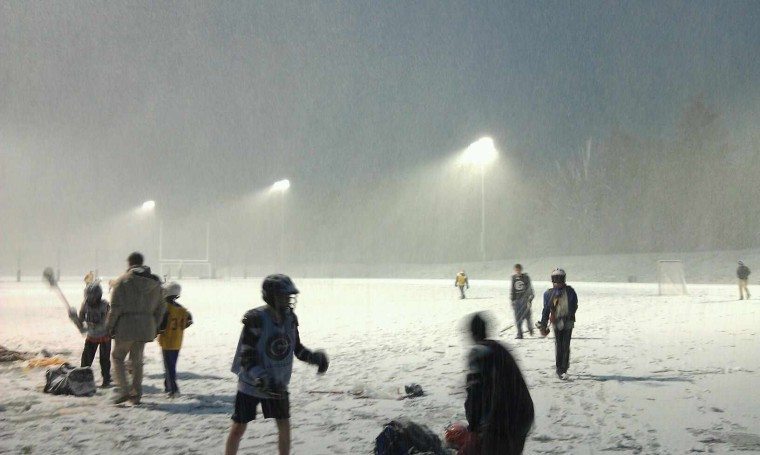 For CSE, they are hosting their two sanctioned events in Virginia and Florida. I'm assuming some teams will be traveling quite some distance to play there. Their policy is that if the games have to be canceled, people won't get a refund, but at least they post their policy up front. Sadly, this is the policy of a lot of club lacrosse tournaments, and for me, it shows a disregard for the teams traveling to play in the event. At this point US Lacrosse wouldn't require weather related insurance, but they WOULD require events to post their refund policies up front.
If US Lacrosse is going to sanction tournaments, weather refunds should be likely mandatory. They don't cover the airfare or hotel costs, but at least teams get something back if their games are canceled. With so much money being made year over year at many events, it only seems fair. Maybe it could be part of the tournament administration section, but it likely needs to be included somehow.
Competition. The game format section covers this, and how are teams organized is clearly important to USL. US Lacrosse seems to favor the U11-U13-U15 format, but is that a requirement? What about U14 or U12? These areas will need further examination. Is the tournament open to any team assuming there is space? Is it invite-only? Will there be A and B brackets? How are teams placed?
The questions about competition could go on forever, and while US Lacrosse may choose not to hand down strict rules on all of the above, I'd expect to see which formats for competition they think are best, at the very least, especially if the next point has any relevance.
The National Process. Finally, I'm curious to know about what it means to be a sanctioned US Lacrosse tournament. Do the winners all get invited to the US Lacrosse national tourney? Do the winners have to go? What would happen if a small tournament became sanctioned? Could that winner go on to play at the national tournament as well? Basically, is the sanctioning of club tournaments by US Lacrosse a step towards something bigger? Is this in competition with the World Series of Youth Lacrosse?
If this were about college aged people or older, I probably wouldn't ask the above questions. It would be another venture, and the intent wouldn't be as important as the product. But here, we're dealing with kids. The next generation of children. So what's the end goal here? What is this working towards beyond setting some criteria? Is there a bigger national plan for US Lacrosse when it comes to good club lacrosse tournament play? If there is, shouldn't we, the people who the plan will impact, know something about it?
So here is US Lacrosse's response to the above questions, via Jess Hicks. Her answer is passionate, informative, and doesn't hold back. I love it!
A US Lacrosse Sanctioned Event is an event recognized by the national governing body and run by a third party event operator that has adopted a set of comprehensive tournament standards established by US Lacrosse. Through the adoption of these best practices, sanctioned events are aiding in the longevity and sustainability of the sport by ensuring a safe, standard, and consistent playing environment. They are events that have agreed to help US Lacrosse to make the tournament environment a safer and more enjoyable space for players, coaches, officials, and all event other participants.

The sanctioning program is modeled after a combination of the successful sanctioning programs of other National Governing Bodies such as USA Hockey, USA Tae Kwon Do, and ASA Softball. These sanctioning programs use sanctioned events to serve as qualifiers to eventually reach the National Championships. For US Lacrosse, we want to build up our National Championship like other highly successful governing bodies in order to provide a true summer championship platform to the sport. Therefore we will use sanctioned events as qualifiers for our National Championship in July.

For 2016 and 2017, all sanctioned events that occur within the calendar year, up until three weeks prior to the championship will be given a bid to the winning team of each applicable age division. After 2017, we will re-evaluate how those qualifying bids are distributed, i.e. the tournament has to be a certain size, occur within a particular timeframe, etc. We do believe that our National Championship event will turn into a true championship platform for a wide range of ages from U11-U18 that will promote the growth and participation of lacrosse for both Girls and Boys. So currently we don't believe we are in direct competition with the World Series as we are trying to build a more diverse event product from the national governing body of the sport.

Sanctioning is the way forward for our sport. For a very long time, lacrosse has been growing rapidly with little guidance on best practices and standards. As the governing body we know it is our responsibility to demonstrate the best practices for events to promote the safety and consistency of the sport. Particularly in lacrosse where we are seeing more injuries and problems arising when the necessary risk management procedures aren't taken. We are extremely driven to constantly provide the most up to date sport safety and educational information to our members.

Participating in sanctioned events is a standard practice for teams in other sports like Hockey and Soccer because it has been recognized by the governing body as being a safe, organized event. This Sanctioning Program is the start of our environment to become a standardized arena where more and more kids will start playing and remaining in the sport.
I truly don't doubt US Lacrosse's intentions here. I believe them to be in the best interests of our game. Of course that doesn't mean I don't have questions. I'll be interested to hear more about this US Lacrosse pilot program, and where it goes from here. Hopefully, it results in more chances for people to find a good club lacrosse tournament, and that would be a good thing.
US Lacrosse might not have a perfect recipe yet, but they are being proactive here, and looking to continued growth, and a brighter future for lacrosse. On those two counts, I'm a believer! Keep an eye on the US Lacrosse club tourney sanctioning process. It could have a major impact on our game for decades to come.