The NCAA Men's Lacrosse Rules Oversight Committee is taking a deep look at the newly proposed 2013 rules right now, and around September 1st, we should know which rules are being adopted, and which are being dropped.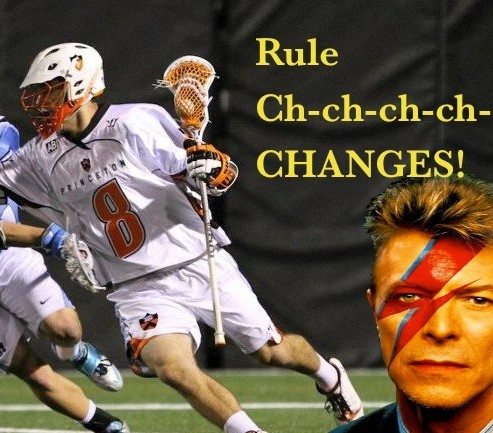 For this week's Hot Pot, we'll assume ALL the rules will go through, and let you know which D1 squads would benefit the most from EACH of the major proposed rule changes!
Face-Off Changes:
There is some doubt that the face off rules will all go through, but if we assumed they do all go through, the benefitting teams are pretty clear cut: teams that don't rely on FoGos. That can be a lot of teams overall, but for me, the list of elite teams here is relatively short. Teams like Virginia and Notre Dame would be biggest beneficiaries here as they are stocked with athletes, and don't seem to focus on recruiting FoGos as much as some others.
Faster Restarts:
This rule change will benefit anyone with athletic and skilled defensive middies, and most of the top teams should benefit from this change. I'd think teams like Loyola, Maryland, Denver and Virginia (and Syracuse in 2009) would be most excited about this change. Have d-middies who would be O middies on other D1 rosters? Your squad will love this rule.
30 Second Shot Clock – Stall Warning:
If you have a guy like Kyle Wharton, or Rob Pannell on your team, you're probably breathing a sigh of relief right now. Teams with game changing shooters and dodgers will benefit here, and it definitely puts a premium on being able to go to the cage on call. Cornell gets a huge boost with Pannell's return, and Virginia's offense thrives in quick restart situations, although much of that came from Steele Stanwick, who is now graduated. Still, UVA's methodology will remain the same, and they will love this change more than most.
The other teams that will benefit most greatly from the shot clock after a stall are lower ranked teams with great goalies. Last year, when down 10-7, a game was often over. This year, with a keeper who can save the ball and create transition, any team should be able to come back. The rule benefits talent on offense, but it also benefits talent in goal. Should be interesting to see who takes the most advantage of this. My money is on Notre Dame, Loyola and Lehigh in the upper ranks, and I think St. John's could make a big jump up as well.
I think Johns Hopkins will HATE the change, but actually be a better team because of it. For me, the Blue Jays continually have the talent to get it done, but sometimes play such a conservative brand of lacrosse, that they allow teams with less talent to keep it close. If anything, Hop will just pump in 15+ goals a lot more often to keep their cushion. If that happens, this rule was a major success.
Modified Stick Stringing:
If your team doesn't have at least one kid who is a stringing master, you're in trouble. Remember when Loyola used to recruit kids who could string perfect Pita Pockets? Well, being a great stringer just got even more important. t don't know who has the best stringers and who doesn't, and by midseason I think everyone will have it figured out. Basically, this one doesn't provide a real advantage to anyone in the long-term.
No Horn on Sidelines:
Loyola, Virginia, Maryland, Denver and a HOST of other schools will benefit from this. All four of the teams I mentioned have well conditioned athletes on their team, but they also have guys who can do it all, and this merely opens up more options for them right away. In general, this rule will benefit better conditioned and skilled teams, and since that is the overall goal anyway, it's not a total game changer for most teams.
What do you think of the new rule changes? Which teams will see the most benefit? Who does it hurt the most? We'd love to hear your thoughts!
____________________________________________________________________________
Grow The Game Tour Update:
And keep an eye out for our Clubber Tee Giveaways this week! That's the shirt I'm wearing in the video! Free stuff!
____________________________________________________________________________
LACROSSE IN OTHER NEWS:
– Georgetown hires Kevin Warne, former Maryland assistant | Washington Post
– Rebels pull together following teammate's death | Brantford Expositor
– Ex-U.Va. lacrosse player's sentencing won't be delayed | The Virginian-Pilot
– Wilkes-Barre lacrosse team gone before playing even one game? | Timesleader.com