Day One of the Maximum Lacrosse Camp in New York City kicked off today and it was a great day of lacrosse!  Players came from all over the City (and beyond) to get instruction from Max Seibald and his crew of extremely awesome coaches.  I can laud the group of coaches so heavily because I'm one of them, and I'm an awesome coach.  Along with Max Seibald and Mat Levine (Citylax founder, AA goalie at Williams), the camp also boasts Dom Dinapoli and Billy Nguyen (NYC Public HS lax legend) from St. John's and coaches from Hofstra, Brown, Trinity and Union.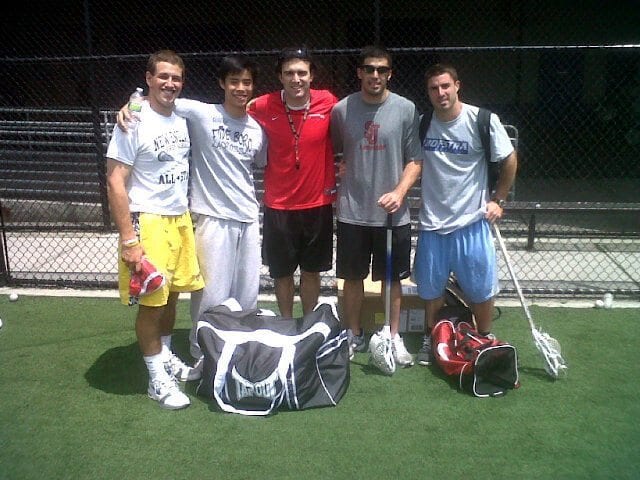 The kids came out with fire in their eyes and we got through stick work pretty quickly.  The kids adjusted well to the high pace we were running them at, and by the end we had them trying snively to behind the back pass.  For the vast majority of the time, we focused on skills they'll be using on a regular basis.  But it's important to create an atmosphere where kids can learn new things, so we kept it pretty loose.
The temps were pretty mellow at around 72 degrees, but I did manage to get a little sun on the nose and arms.  I probably get sunburnt on the first day of camp EVERY year.  Thankful that this one wasn't too bad!  Lesson learned for the Summer.  Getting it out of the way early!
I ran some pretty solid 2 on 1 drills for a while, and the kids did well on the gbs and fought hard, but need to focus on their communication more.  It's something we'll focus on tomorrow.  But how can you know that your teammate will take man if they don't say anything?  You can't.  We'll get there.  Thankfully, we have four more days to make some serious progress!  I also got to run some time and room shooting drills and the theme of the day was definitely OVERHAND!  I probably said that 1000 times.  The tendency to shoot sidearm is alarming with these kids, but I don't think it's any worse than when I was a kid.  Thankfully, we had good coaches to teach us otherwise.  Guess it's my turn now!  A couple of them really started to get it though… we'll see if they remember tomorrow!
All in all, a great day of lax!  Max runs a fun camp where the kids get a LOT of attention and a LOT of reps.  Just the kind of camp I like being a part of! It's not some Blue Chip all-star deal… these are real kids, putting in real work, and they're going to be better players for it.  Just what I like to see!