Mike "The Future" Powell is back to lax!  Or at least he was during the Lake Placid Lacrosse Tournament.  And while he's not quite as quick and explosive as he used to be, he can still ball at an extremely high level.  Not bad for a guy that's been skateboarding, doing carpentry and playing a lot of music, instead of taking 111 shots before and after practice.  His flair for the dramatic was on display as always and he threw more behind the back passes in one game than many people would throw in an entire season.  Yes, the passes were on point.  He also managed to tuck a couple of sick goals.  So is Mike Powell really back to lax?
Maybe.  Of course it's not certain, and we've heard rumors like these in the past, but it does seem like MP's interest in lacrosse may have been rekindled.  When he's interviewed by Inside Lacrosse he talks a little bit about doing something with "stick tricks" but in typical Mike Powell fashion, he was less than forthcoming with details.  So he's keeping us on our toes.  Keeping the interest level high.  Sounds like the recipe for a comeback to me!
Last year, MP played in a tourney down South.  He played with a couple of other Cuse grads, and then also put on a musical show at a concert series that ran the same weekend as the tourney.  It was small-time lax and the point was to have fun, not make a re-entry to the lax scene.  But this tourney and appearance seem a little different.  Maybe it is only because Lake Placid is such a huge tourney, but people have definitely noticed MP's return to the game more than in the past.
Placid features some truly excellent lacrosse.  Years ago, when the MLL had just come to life, the talent on the top teams at Placid rivaled those of the pros, and while it isn't quite the same now, the level of play is still extremely high.  Outside of the Top D1 teams, the MLL, NLL and FIL games, Lake Placid is probably some of the best lax you can find on the planet.  And with very little time to prepare, Mike Powell was still able to dominate.
He was hyper critical of his own play, and to me, this says he's taking it a little more seriously.  It would have been easy for him to just say, "I was here for fun.  I was here to play with other Cuse alums.  I'm not coming back."  But he didn't do that.  He seemed into it, he seemed interested, and challenged.  And that is a great scenario for a comeback.
– Mike Powell and Burning Orange took down Raymour & Flanagan in the finals of the Lake Placid Lax Tourney via Lax.com.  Check out MP's moves.  Still got it.
– Interview with Mike Powell on Inside Lacrosse.
Now I've heard rumors that he's going to come back and just play in select tourneys.  I've heard he'll be playing in the MLL next Summer.  I've heard he will only do stick tricks.  I've heard he wants nothing to do with lacrosse.  But what seems to make the most sense is that he's coming back.  At least in some way.  Casey Powell has proved that even at a more advanced age, one can still dominate on the lacrosse field, so Mike has seen firsthand that it's never too late to come back.  Ryan Powell has proved that you can stay relevant even if you don't play in the MLL, so Mike also knows that he can make his own path.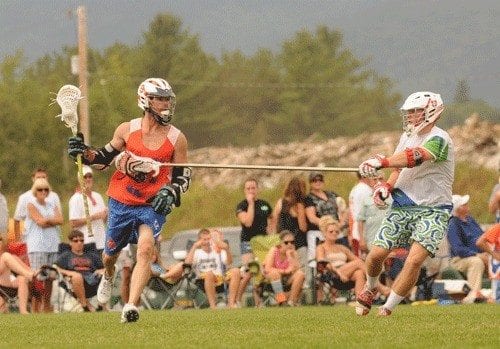 Photo courtesy Lake Placid News
The freedom and ability to do things his way could be enough to get Mike Powell back in the game consistently.  His legacy as a lacrosse player is cemented though, so the "greater glory" pull won't be that strong for him.  It makes me think he might play in the MLL, but only if the fit is right.  It also makes me think that he has to be considering LXM Pro.
LXM seems like it is much more flexible than the MLL when it comes to schedules and an individual's commitment to the league.  The skill level is still very high, and whereas MP might have to work his way back into the MLL, or a team's starting line up, he would most likely be featured heavily in a promotional aspect by LXM Pro.  First off, he plays music.  Secondly, he's still a HUGE name to laxers of all ages, across the country.  He speaks directly to the crossover potential of lacrosse and, in this case, music.  Mike Powell is just what the LXM Tour should be looking for.
Of course I'd be lying if I said I didn't want to see him play in the MLL, because I truly do want to see that.  The MLL is the best lax on the planet, and when MP was in his prime, he was the best player on the planet.  I'd love to see him get back to that level, continue to have fun, AND dominate in the pro game.  Heck, he doesn't even have to dominate.  He just has to play and be good.  After all, this is the pros, not college, and even guys like Paul Rabil get shut out from time to time.
People say he might be worried about his legacy within lacrosse.  That maybe he won't ever return because the less he plays now, the more his legend in college grows.  But I don't buy it.  Lax is one of those sports where if you're not in the limelight, people forget about you pretty quickly.  I remember Powell in college.  I saw it and will never forget some of the moves I saw, but a 12 year old kid today?  He's probably never seen MP play a whole game.  He's maybe seen highlights.  He knows who Mike Powell is, but probably doesn't respect his game the way he might respect a player like Ned Crotty.
Crotty deserves all the respect in the world.  I'm not saying he doesn't.  But watching MP play was different.  Maybe not better, but definitely different.  Powell played the game with more flair, creativity, and flash for the dramatic than anyone else, at least in recent memory, and he brought something to lax that few others did.  He was shorter than most, skinnier than most and until you saw him play, appeared very unassuming.  He proved the edict that ANYONE could excel at the game (even though he was a super-freak athlete in a smaller package) and he did things (like front-flips in games) that were really for the fans, and for fun.
Mike Powell brought a swagger to the game that wasn't cocky.  It wasn't self-righteous.  It wasn't self-serving.  He just loved to play the game of lacrosse, and it showed in everything he did on the field.  For a brief weekend in Lake Placid, we got to see that again.  And I think we'd all love to see it some more.