Another week, and another week dominated in the sports world still by the ongoing events of the
Humboldt Broncos. Early Wednesday afternoon I received the news I wasn't hoping to hear. Lake
Lenore's own Dayna Brons passed away from her injuries. Just as late Tuesday the pain was slowly
starting to ease, her passing brought the pain right back. As a tribute to her, I placed a First Aid kit next to the hockey stick outside the front door, in case she needed it.
For Dayna… in case she needs it. RIP #SticksOutForHumboldt #PutYourSticksOut @HumboldtBroncos @MarysburgSK @lakelenschool pic.twitter.com/D4espfXQZL

— Evan Schemenauer (@SchemLax) April 11, 2018
For those wondering, Dayna's funeral will take place on Wednesday at 11:30am at the Elgar Peterson
Arena in Humboldt. Her parents have asked people to dress in green, to honour her.
On Saturday, Brian Shanahan, Brendan Glasheen and I travelled through some ugly road conditions to go to Humboldt. We saw the scenes, including all of the trees tied in green and gold ribbons.
We visited Spotlight Sport Wear who has been working around the clock with more than 10,000
Humboldt Strong shirts being ordered from around the world. They had almost no merchandise to sell as the demand was so high. Because the profits were going to the Broncos, people were volunteering their time to help Spotlight out.
If you want to order a shirt, please go to their website.
Just a couple of the many volunteers helping print T-shirts for #weareallbroncos at https://t.co/2grsCEHZGS in Humboldt. Over 10,000 sold all over the world. Proceeds to Broncos. @NLL, @SaskRushLAX pic.twitter.com/CgQHCOdwx5

— brian shanahan (@sbdshanny) April 14, 2018
We also went to the funeral of Broncos Head Coach Darcy Haugan. It was there part of the reality hit
me. Seeing the logo at the Elgar Peterson Arena, surrounded by multiple layers of flowers, a scene
every media outlet had showed many times. As we were there to grieve, and out of respect for the
family, I won't discuss any details of the funeral.
For me, the trip began the process of starting to move on from the tragic events, and perhaps that final closure will come at the funeral on Wednesday. A stunning $13 million has been raised on the GoFundMe page. If you wish to donate still, the page will be closed at the end of Wednesday, so please act soon. After that, you can still contribute through any Conexus Credit Union branch.
Lacrosse World Supports Humboldt
The amazing support of the lacrosse world continued this week for Humboldt. In the middle of the
week, the Coquitlam Adanacs held a fundraiser and memorial, which was standing room only. To see
that kind of support 1,700km away showed just how far reaching this tragedy was.
The Vancouver Stealth were having their annual jersey auction, which the proceeds normally go to
Lacrosse on the Move, which helps support the cost of travel for BC Lacrosse programs to national
championships. However, this time they decided the funds were needed more for Humboldt and
redirected the funds. Because of the cause involved, the amount raised nearly doubled this year,
$14,000, with some big help from Denise Watkins, Jamie Dawick, Jon Harnett, Jim Else and myself.
The Calgary Roughnecks donated the proceeds of the 50/50 draw to the Broncos. Once again because of the cause, the buying was many times more than normal, and $50,000 was raised.
The Rush and Swarm wore special jerseys which had the Broncos crest on the front of the jerseys and the words "Humboldt" or "Broncos" on the back. These jerseys are still up for auction. To bid, go to ebay.com and search for #HumboldtStrong. The 50/50 was also donated that evening, and once again the amount spent was much higher than normal, with over $84,000 raised for the Broncos. Many of the NLL teams also held moments of silence before their games to honour the Broncos. I also made my first ever appearance on Stealth Classified on Thursday where Jake Elliott, Brad Challoner and myself talked about the events in Humboldt at some length during the program. I think Jumbo was as emotional as I was during the interview. Its clear in the interview that all of us were struggling to put into words the events of what happened. Here is the link to the interview.
https://ckstam.streamon.fm/listen-pl-8477
A big thanks to the guys for having me on!
Rush Demolish Stealth
Here's a little tidbit for the stats – the last two times the Rush have played the Stealth on their jersey
auction night, the Rush have scored at least 20 goals. The Rush beat the Stealth 20-10 and in the
process, gave Rush third string goaltender Adam Shute his first ever win in his first ever start. Prior to Friday night, Shute had only played 5 minutes in the NLL his entire career.
For the Rush, while the game meant nothing, the offense was clicking on all cylinders, and perhaps some motivation was in place as players such as Matthews, Church and McIntosh were chasing league leads in points and goals, and the Rush offense was in pursuit of the highest season power-play efficiency percentage record. The power-play went 5 for 7, keeping pace with their record pursuit. Matthews would make a statement in the race for the league points lead with a 10 point night. Robert Church would have 4 goals and 9 points on the night. With their performances Saturday night, Matthews and Church are currently 1st and 2nd in the league points race with 108 and 103 respectively. Dhane Smith is in 3rd place with 95 points and a game in hand.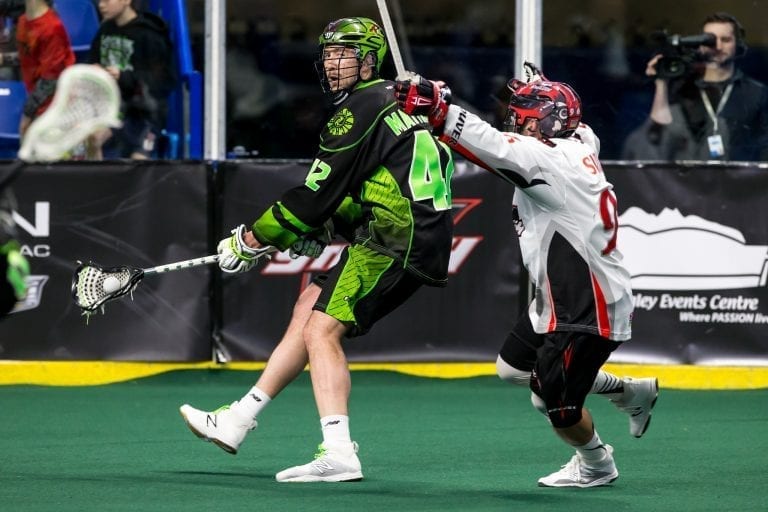 Ben McIntosh stayed for the moment in touch with Kevin Crowley for the goal scoring race with five
goals on the night. But the player I was most impressed with was Marty Dinsdale. For several weeks I
have stated that Dinsdale needs to be in the Rush line-up even if it means that Dan Dawson is the
healthy scratch, because he simply fits better into the Rush offensive system. Dinsdale didn't disappoint on Friday night with 4 goals and 4 assists.
As for the Stealth, this was perhaps the first time in a while I saw them quit on themselves for a while. The Rush manhandled them in the opening half outscoring them 9-2. But what makes this worse is that they were facing a goalie in his first ever start, who was having rebound control issues, and they only had 43 shots on goal. If the Stealth were crashing the net more, there would have been loose balls to be had as Shute wasn't making the saves clean. To make matters worse, Kyle Rubisch was a healthy scratch in this game. The Stealth offense was for too predictable in their approach. At least to open the second half, the Stealth showed a little bit of life, but six Rush goals in the opening 6 minutes of the 4th quarter, 3 of which were on the power-play, ended any hopes of a comeback. The Stealth have two games remaining at home against Calgary and then on the road in Georgia before the rebuilding process starts.
One thing that was brought up as the game was going on was whether Andrew McBride should be
brought in to coach the Stealth next year. In all honesty, McBride should certainly be getting an
interview for any NLL coaching vacancy that is available this offseason. But the issues with the Stealth aren't just in coaching. They have an aging lineup. They have almost no early round draft picks at the moment. Some of their players have work or living issues which prevent them from being traded. While someone like McBride could be a part of the solution, is far from the only thing needed to fix the Stealth.
Lyle Thompson was… well… Lyle Thompson
Admittedly, Lyle Thompson hasn't had as good of a season now as he did a year ago. But lately he has found his form again, and it was on full display in Saskatoon Saturday night in a 16-10 win over the Rush. He had five goals, and has now scored a hat trick or more in each of his last six games. Now you don't expect to see goals scored from half like he did, although you have to give it to him because with that shot he is either the hero or the goat.
The result was one that was predictable for me. The Rush were clearly winded from the night before in Vancouver and were a step or two slower. They lost Brett Mydske early in the game and being down to 9 men out the back door tired them out even more. The Rush did give a few guys a shot in the line-up. Matt Hossack sat to give Tor Reinholdt a game. Tor continues to impress me when he gets a chance to play and was being a constant thorn all night. Dan Dawson was put into the lineup in place of Curtis Knight, but once again didn't produce much with just one assist. I have no issues giving Dawson a chance to gel with the Rush offense when the games mean nothing, but its also clear that unless someone is injured, he will be a healthy scratch come playoff time.
One streak was finally broken in this game. Kyle Rubisch finally scored a goal. He might have been lucky it wasn't challenged, but it counts. Rubes hadn't scored a goal in two years coming into this. And he missed several other good chances that night. But it's good for this monkey to be off his back.
Now you have to give the Swarm defense credit. They were all over the Rush offense. They frustrated them into taking poor shots. Yes there are circumstances, but the reality is in sport you have to take advantage of your opponent's weaknesses, and they clearly did that in this game, which was a critical game for the Swarm.
The Rush didn't help their situation in this game with stupid penalties at the worst of times. Chris
Corbeil's double minor for cross checking in the 3rd quarter was pure frustration, but it was in the middle of a Rush power-play that not only took the opportunity for the Rush to get back in the game away, but it also surrendered a goal at the end. In all honesty, Ian Garrison could have sent Corbeil for 8 minutes if he wanted to. The Ben McIntosh tripping major, which was blatantly bad, also gave up a power-play goal and took a top gun out of the lineup for 5 minutes just as the Rush had some momentum. The Rush also gave up two short-handed goals on the night which didn't help matters. As much as Evan Kirk gave up 14 goals on the night, had he not stood on his head in the opening half, it would have been much worse.
Am I overly concerned? No. Its good to get a game like that with all the frustrations out of the way when the games mean nothing. I would expect in the Rush's last game of the season that most, if not all, of the main line-up will be playing as Keenan certainly won't want anybody sitting four weeks without playing a game. Anybody that sits on April 28 won't play from April 14 to May 10.
The Rush only went 3 for 6 on the power-play, and now their efficiency ratio is at 69.9%. In order to get above 70.0% for the season, they have to go near perfect in their final game. The combinations that work are 2 for 2, 3 for 3, 3 for 4, 4 for 5, 5 for 6, 5 for 7. To break Calgary's record from 2013, they have a bit more wiggle room. 1 for 3, 2 for 4, 2 for 5, 3 for 6, 4 for 7 will all break the record.
Calculus In The East
Yes, its no longer math, the picture in the East has become a calculus nightmare. But there are also a few certainties at this stage:
If Rochester or Georgia win one more game they are in the playoffs.
If both Rochester and Toronto win this weekend, Georgia is in the playoffs as well. This situation also guarantees Rochester a home playoff game.
Buffalo can get into the playoffs with a win and a Rochester win this week.
If Toronto loses to Buffalo this weekend, they are eliminated from the playoffs. Toronto cannot
finish 1st any longer.
Of course New England can play spoiler with a win and nobody clinches anything. It would be
miraculous to have another season where nobody has clinched a playoff spot in a division until the final week.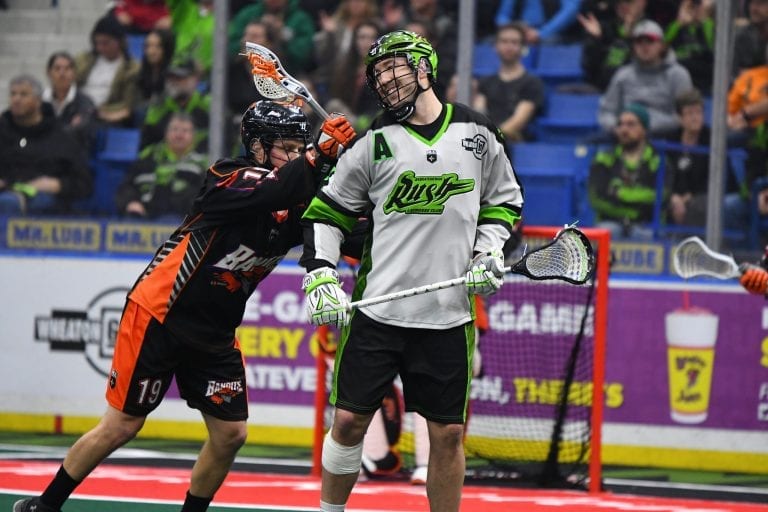 Then a few more simplicities going forward:
If Rochester wins out, they secure 1st in the East.
If Georgia wins out, they are no worse than 2nd. They would need Rochester to lose once to
finish 1st.
If Buffalo wins out, they finish no worse than 2nd. This one is complicated, but in every tiebreak scenario they come out ahead.
If New England wins out, they are in the playoffs. This one is complicated too, but by winning
out, they at worst put themselves into a 3 way tiebreak for 1st.
A five way 9-9 tie is no longer possible.
This isn't simple, but to put things into perspective, there are six games remaining that involve Eastern teams. This weekend its New England vs. Rochester and Toronto vs. Buffalo. In the final weekend, there are two divisional battles, Rochester vs. Buffalo and Georgia vs. New England, as well as two non-divisional games, Vancouver vs. Georgia and Toronto vs. Colorado. So let's look at each team individually.
And just for clarity, when you see below wins out it means that team wins both of its remaining games and loses out means they lose both of their remaining games.
Rochester – As stated above, if Rochester wins out, they're in 1st in the East. If they win either of their remaining games, they are in the playoffs, although they could still finish 3rd by splitting their remaining games. If Rochester loses out, they most likely miss the playoffs because they don't hold many tiebreaks. One scenario where Rochester can lose out and still make the playoffs is if New England wins out and Vancouver beats Georgia.
Georgia – Georgia can finish 1st by winning out and Rochester losing one game. But if they don't win out, the stars really have to align for Georgia to get 1st (combination of Rochester losing two, Buffalo losing to Toronto, Georgia beating New England but losing to Vancouver). The scenario stated above regarding Georgia making the playoffs if both Rochester and Toronto win was something I pointed out on Monday after the league released its scenarios for the week. I don't blame the league for missing this one because the complexity is ridiculous.
The short version of Georgia's scenario is this: if Rochester and Toronto win this week, Rochester is 10-7, Georgia is 9-7 and the other three teams are all 8-9. Now assume the worst for Georgia, they lose both games in the final week of the season and they're 9-9. Because one of those losses is to New England, they too are 9-9. That leaves you with four possible scenarios. Both Toronto and Buffalo win their final game and there is a 4-way tie for 2nd place. Both Toronto and Buffalo lose and it makes things simple as both Toronto and Buffalo are out at 8-10. Then there are two scenarios where one of Toronto and Buffalo win and the other loses, which you end up in a 3 way tie for second place between Georgia, New England and the team that wins. In those 3 and 4 way tiebreaks, the top 2 are going through to the playoffs, and in each one of those scenarios, Georgia is either 1st or 2nd in the tiebreak.
Has your mind exploded yet?
Now Georgia does host Vancouver in the final week and they are highly likely to win that game. If Georgia wins either of their remaining games, they are in the playoffs regardless of what happens this week. Given the likelihood of beating Vancouver at home in the final week, you can say with near certainty that Georgia is in the playoffs. If Georgia loses out, there are several ways in which Georgia can miss the playoffs. On top of the scenario above, if both Georgia and Buffalo lose out, Georgia is still in the playoffs.
Buffalo – Buffalo and New England are far more complex because they're in the middle. There are far more possibilities going both ways. As I stated in the top, if Buffalo wins both of its remaining games, they are in the playoffs. Also if they win and Rochester wins this weekend, they are in. But let's dig a bit deeper.
Buffalo has some major advantages in that they either hold the tiebreak or have a chance to hold the
tiebreak in every two way tie scenario. For Buffalo to have any chance at 1st place, they must win out. If they win out and New England wins out, Buffalo is 1st . Another possibility is if they win out, Rochester loses out, Georgia beats New England but loses to Vancouver. The other possibility is if they win out and Georgia loses out. Luckily for Buffalo, they are in one of the best tiebreak scenarios of all of the Eastern teams.
Buffalo will miss the playoffs if they lose out. If they win this weekend, there is still a scenario where
Buffalo won't make the playoffs, but it involves them losing to Rochester, New England winning out and Georgia beating Vancouver. If Buffalo loses to Toronto but beats Rochester, the possibility that Buffalo misses the playoffs increases. One scenario is if Rochester loses out and Toronto and New England win out. Another is if Buffalo beats Rochester, but Toronto wins out and New England loses out. The other is if they beat Rochester, Toronto wins out, Rochester beats New England, New England beats Georgia and Georgia beats Vancouver.
New England – New England can win the East if they win out and Rochester beats Buffalo. If they win out, they are guaranteed to be in the playoffs, but that could be as low as 3rd place. If New England loses out, they are out of the playoffs. If they split their remaining games, their future is not certain. If I went through the mountain of scenarios, I would bore you to death, but needless to say if New England splits, they need to have two of the following happen, Rochester loses out, Georgia loses out (of which only one of those can happen), Toronto loses one or Buffalo loses out. Its not fun to have your fate in other teams' hands.
Toronto – The Rock can no longer finish 1st . With the exception of one scenario, Toronto has to win out to make the playoffs. And even if they win out, making the playoffs isn't a certainty. If Toronto wins out, but New England wins out and Rochester beats Buffalo, Toronto is still out, even at 9-9. Another scenario under this is obscure, but if Toronto won out, Rochester beats New England, Buffalo beats Rochester and Georgia loses out, Toronto doesn't make it. There is one way Toronto can finish in 2nd place. If they win out, Rochester loses out and Georgia beats New England.
If Toronto were to beat Buffalo but lose to Colorado, the stars have to align again for them. Rochester would have to beat Buffalo and New England would have to lose out for Toronto to make the playoffs.
Notes From the Other Games
Here's a quick few observations from the other games…
Tom Schreiber is back in a flash. Four first half goals, and five on the night. You always worry about how well a player will be when they come back from a long term injury. Worry no more. One thing I don't expect is that Brett Hickey will be a healthy scratch next game for the Rock. After the game Dan Lintner had the week before, it would have been nearly impossible to sit him. But now the decision is a little easier.
Just when you thought that Jake Withers couldn't get any better, he goes 22 for 28 on faceoffs on Friday night. He's now 66.6% on faceoffs this year. I was rather surprised that Toronto went back to
Magnusson so often to face Withers when he was having almost no success, when Bradley Kri was
available.
It might not have been a game that meant anything, but Christian Del Bianco had another great game in the pipes. He's making it difficult not to select him as my pick for goaltender of the year.
Colorado has now lost three straight and four of their last five games. The games haven't meant much in a while, but its no reason for such a long slump. They still have the Calgary curse hanging over their heads, and if this streak continues, it will only loom larger. Even worse is that the last two games, they've lost by their opponents shutting down their offense. The rule of holding a team to less than 13 goals to win no longer applies.
Kevin Crowley is having one of the best seasons of his career, and it's a good year to have one of those seasons with his pending free agency. It makes for a tricky situation going forward. If New England has a franchise spot next year, do they protect him and franchise him? Does Philly select him in the expansion draft if he's unprotected since New England doesn't have much to choose from, and franchise him. I won't be surprised if Crowley ends up in Philly next year since he lives there already.
Expansion Draft UFA's
This was something interesting that popped across my desk this week. Some teams, especially those with weaker players to protect with their last few picks, could opt to protect a UFA. As to why this would occur, here's the theory. Even if the team isn't able to sign that player again, the compensation pick they receive is worth more than the player they would have protected anyways. The name I am hearing here is Callum Crawford.
If New England were to protect him and lose him in free agency, they would be likely entitled to a 1st round compensation pick in 2020. Now with expansion likely to happen by that time again, the compensation pick might be the 14th pick overall. So is losing your 10th protected player and getting the #14 pick a better option, perhaps.
On the flipside, if a team has poor players unprotected, is it worth the while of an expansion team to pick a UFA to get the same compensation pick, its possible. But unless the 10th player on your protected list isn't a good fit for your team, its likely better to stay with what you know you have rather than a #14 pick that you don't know what you will get from them.
Attendance
The NLL has to be for the most part pleased with the attendance numbers this weekend, especially
when the game meant nothing to four of the five home teams. On the downside, Vancouver had 3,523 at the LEC, and the building looked emptier than that. Considering any child with a jersey on got in free, the number is disappointing, but not overly surprising given the fact that the Stealth have yet to win at home this year.
On the upside, Toronto has a slightly better than average crowd of 11,463. Saskatchewan had an
average crowd at 14,745. Colorado had a better than average crowd for Lacrosse Out Cancer night with 15,303. But the big surprise, and perhaps why the 50/50 draw was so big, was in Calgary with 17,113, their largest crowd of the year.
In the attendance race, while Colorado closed the gap, Saskatchewan continues to lead with 14,635 as opposed to 13,863 in Colorado. Given that both teams have one home game remaining and Colorado is 6,177 behind, it is practically impossible for Colorado to catch Saskatchewan in the race. Buffalo is third in the race averaging 13,133 with two home games remaining. While you can expect large crowds for both games considering what is on the line, Buffalo would have to sell out the building both games just to come close to Saskatchewan's numbers.
Picking Winners
I was a Buffalo win away from a perfect week last week. A 4-1 record ups my record to 47-26, which is leaps and bounds above my losing record from last year. Three games on the slate this weekend.
Rochester over New England – Rochester is at home which helps. They're also the more consistent
team of the two. As much as Rush fans want to see Rochester falter, I don't see it happening here.
Buffalo over Toronto – this isn't an easy one. Two evenly matched teams. Toronto has Schreiber back in fine form. But the simple rule as always is when in doubt, take the home team.
Calgary over Vancouver – not an easy one to pick either because neither team has anything to play for. Calgary might be resting people and don't be surprised if Frankie Scigliano starts this game. But even if that happens, Calgary is simply the better team, and, Vancouver does not play well at home.
For A Good Broncos Cause
I would not normally bid on Vancouver Stealth game worn jerseys, and the BC Flag jerseys I have to
admit aren't my favorite. But when the proceeds were going to the Broncos, and The Rush and Swarm hadn't announced their intentions at the time, I made a point to bid. In effect, the way I saw it, I was going to contribute money to the Broncos, and if I could get a nice piece of NLL merchandise by helping Humboldt out, I was going to do just that.
When I saw the list of jerseys that were up for auction, there was one name missing from the list, Jon Harnett. It was a jersey I was interested in bidding on, despite the fact that Harnett is on the season ending IR and the jersey certainly wouldn't be game worn, but it was the cause I had in mind.
Luckily, I wasn't alone and other fans asked about Jon's jersey, so Doug Locker agreed to add a standard black Stealth jersey of Jon's to the auction.
Even though that jersey was up for auction, I was bidding on others as well, if nothing but to either get a cheap deal on a jersey or to help run the bids up to help raise more money. At various points I had the high bid on six different players, although in the end the bids finally went up high enough that I bowed out, happy that the jersey was now going for a good price.
Now it goes to show how many friends Jon has in the lacrosse community as a bidding war began for his jersey. By Wednesday afternoon, his jersey was up to $500 and I was out of the running at that stage. His jersey had the second highest bid in the auction at that time, only behind Andrew Suitor who had a $1,000 bid from Jamie Dawick. Jon was so thankful he announced on Twitter that he was sending a game worn Boston Blazers jersey to the winner. He just stepped up in a big way without even knowing it.
One of my biggest fans, Jim Else, has perhaps the most extensive collection of game worn jerseys of any fan I know. He needed to have that Blazers jersey. I sent him a message joking that he should leave that jersey in his will to me so someday I could eventually enjoy it as well. That's when he made me an offer I couldn't refuse. He wanted a joint bid between the two of us where I would get the Stealth jersey and he would get the Blazers jersey. He was kicking in the vast majority of the bid clearly, but we came up with a joint bid of $1,350. Keep in mind that we were both making this contribution with the people of Humboldt as our priority. Who could have thought that a jersey that wasn't even on the list to start with would end up going for the most money.
So in the end, nearly 10% of the funds raised in the jersey auction came from Jim and I, and for the
jerseys of a player that is not the greatest player on the team, but just a great guy. No other player has yet to offer up some of their personal gear for the cause. Considering the bid went up $850 because of Harnett's personal generosity, you have to tip your hat to him.
So I ask of you once again, go to the EBay auction and get some nice NLL swag by contributing to the Humboldt Broncos. And I ask of you to keep the Broncos in your thoughts.
Until next time…
For all the latest, follow me on Twitter @evanschemenauer.