This past week in Israel, the sport of lacrosse allowed me to do something I've never done before.
For the majority of any money I've ever had in my pocket, I've earned those dollars doing something either directly involved with lacrosse or the job came through a lacrosse buddy or I've been somewhere playing/coaching lacrosse for a period of time, and also got a job. I was hurting for money pretty bad when I was in college, five years of spending with not a whole lot coming back in.
I was busy enough with school and playing that working wasn't really a possibility, so I turned back to lacrosse to help make a couple bucks. I went and got certified with the Genesee Valley Lacrosse Officials Association in 2011. Youth games on weekends and a couple scattered tournaments throughout the year put pizza money in my pocket. I didn't do it for professional advancement, I didn't do it because I liked it.
I ended up loving it, and the bigger prize at the end of the day wasn't a paycheck – I was becoming a more well-rounded lacrosse player/coach/official/fan/person. I knew more than I did before. I learned the rules by the letter, not by interpretation as I had since I started playing when I needed help tying my shoes.
England Vs Israel – 5 Days, 5 Games
When I found myself standing at midfield this past week during a national anthem, I wasn't wearing the uniform I'm used to wearing. I wasn't hearing anthems I'm used to hearing. England's national team was standing on my left, and Israel's national team was on my right. I was wearing stripes, and I had the Talking Heads moment of "how did I get here?"
England traveled to Israel to play an aggressive schedule of five games in five days in five different cities throughout Israel. The team arrived from Manchester Tuesday evening in Tel Aviv's Ben Gurion International airport. The weary travelers would only have a few hours rest before rising again to catch a six AM bus to the southern city of Kiryat Gat, where England and Israel would square off for round one.
England and Israel have a strong rivalry. Israel's breakout performance in Denver's 2014 World
Championships was snubbed by the English in a one-goal game that ensured England would remain a blue group member for the next four years, and adversely kept Israel from climbing the ranks into the top six.
2016 saw the two heavyweights meet again in Gooodoollo's European Championship game. Israel and England both barreled through their pools and playoff games, with an instant classic played out for the gold medal. Israel battled hard and was able to tame the English offense that had been pounding the rest of the European field, but in the end England's veteran offense sealed the deal with yet another one-goal victory for gold.
The taste of two consecutive losses by one goal each surely isn't a favorable flavor, especially with the prospects of joining the blue division and winning a European Championship both cut short by literally the smallest margins possible. Even so, there exists the mutual respect and friendship between the programs. Excellent competition and gentlemen's conduct between both teams have fostered the relationship to make these games possible, and other programs throughout the world should look to create similar bonds with sister nations.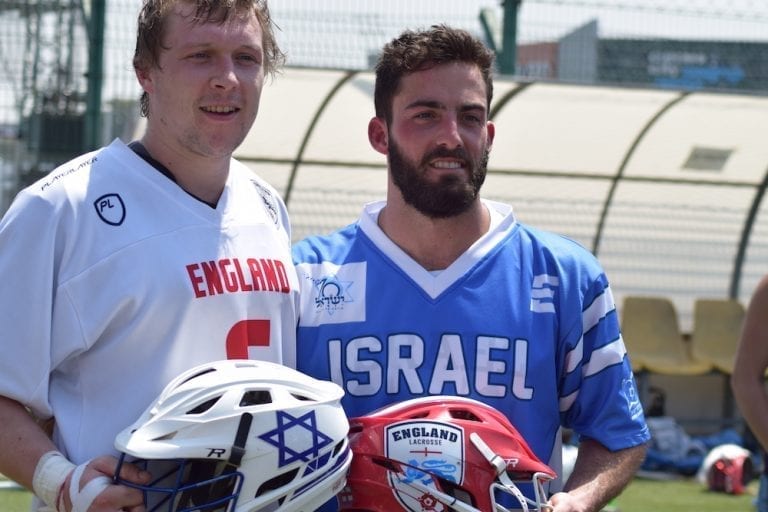 Before the game could happen, England would need some help, and sportsmanship would have to be demonstrated. Whether it was the airline's fault or the airport on either end, the long poles for England didn't arrive with the remainder of the gear bags. All the Israel Lacrosse youth coaches went scrambling to find eight longsticks and a handful of short sticks so that the English could have sticks to play with.
True to history, these games turned out to be phenomenal contests decided by the familiar margin of one goal. Game one in Kiryat Gat was an excellent indicator of the four remaining contests, with England repeating 2016's final score of 7-6 in their favor.
In the last two minutes of the game, I blew a tire. David Seidman had brought me over a pair of brand- new ten-year- old ref shoes. MLL issue, in my size. The glue had dry rotted or something, because one shoe blew out completely right before the last faceoff, and the other wasn't far behind.
I pulled the rest of the sole off each shoe and considered reffing the remaining games in the shoes sans soles. As luck (understatement) would have it, Israel Lacrosse Director and good buddy Scott Neiss had been visited by his father two or three weeks ago, and his father had forgotten his brand new black Sketchers at my apartment… in my size. I don't think I've ever worn Sketchers in my life up until this week… I do have to say they are indeed comfortable.
Thursday was an excellent day. Following day one's early game, the English returned back to Netanya to rest up after an exhilarating first game and to recoup the rest of the hours lost to the travel day prior. Thursday's (day two) venture would prove to be the highlight of the trip for England's national team. The team loaded up onto the bus and headed up into the hills to Jerusalem.
Ahead of a night game at the brand-spankin' new Kraft Family Sports Complex in Jerusalem, the English team was treated to guided tour courtesy of Israel's Tourism Board. The tour included a stop at the Church of the Holy Sepulchre, the Western Wall, and a very special and sobering tour of Israel's world-famous Yad Vashem. Yad Vashem is the country's national Holocaust museum, with countless pieces from one of history's darkest days lining the walls for the world to see. This tour had an extra layer of significance.
Just as fate would have it, England's tour of Jerusalem and subsequently their tour of Yad Vashem fell on Israel's Holocaust Remembrance Day. Sirens blared at ten that morning, and for one solid minute, the country stood still. Cars stopped in the middle of the highway. The construction workers on the roof next to my flat dropped their tools and stared off into the distance. Kids on bikes stopped in their tracks. It was eerie, it was respectful, and it's something I'll remember for a very long time. To tour such a heavy-hearted place on such a heavy-hearted day clearly resonated in the 33 English players, coaches, and staff. I heard the day best described as "an attack on all of your senses and emotions".
I think the tour had a profound effect on the English team, and it was visible from where I stood. I, of course was standing on the field for game two, and England looked as though they were sleepwalking about the field. A large crowd had turned out to support the Jerusalem residents playing on the Israeli National Team. I think the combination of the cheering, the weight of the day, and a re-energized Israeli team caught England in a funk.
England went down by a margin of four goals at one point and trailed by two at the half. Whatever was said by English head coach Tom Wenham did the trick, and a barrage of transition offense backed up by stifling defense and goaltending upended Israel's early efforts. Israel couldn't improve on the previous day's six goals, while England improved to notch one additional score for a final of 10-8.
There were a lot of really interesting moments for this game, including a goaltending start by Reuven Dressler, and an amazing individual effort goal by Yochanan Katz to tie the game at one point. Dressler played for Yale in the early 90's before moving to Jerusalem to practice medicine, and Katz now lives a religious life with his family in Jerusalem after living and working as a lifty in Vail for a number of years.
Both have been able to pursue their lacrosse careers and the weight of the opportunity to compete against the English National Team at home in Jerusalem was certainly not lost on them. Friday's game three would be a quick turnaround. Faceoff was scheduled for 10:00AM in Ashkelon – a southern city where Israel Lacrosse has enjoyed the most success in creating youth programs. An estimated 2,000 kids were bussed in from local schools to watch game three in Ashkelon's main stadium.
In addition to being in the city's premier stadium with the most fans in attendance of the five games, this would also be the game that Sport 5 would be broadcasting live. Sport 5 is Israel's ESPN, and as much as you watch ESPN, Israeli's watch Sport 5. An incredible production crew did an amazing job at filming and producing the game, especially when you note that these camera crews had shot nothing but soccer on these fields. The camera angles and when to show which camera is a completely different mechanic, and these guys did a brilliant job.
Israel came out to their slowest start. Fatigue might have begun to set in, with the boys falling to a six- goal deficit after the first half. I was asked at halftime "if Israel had a chance to come back, and what would be the percent chance of that comeback" and I gave a very modest 20% chance. FIL quarters are twenty minutes long, and six goals in forty minutes is definitely feasible.
Vegas would've lost their shorts on the second half spread. Israel pumped two quick ones, and took advantage of a one-minute penalty with two tallies late in the third quarter. Only technical fouls are releasable by a goal in FIL lacrosse, with personals all being full-time served penalties. I like this concept, with teams being rewarded for scoring early in the man-up, and then rushing back to the line to try and win the faceoff to double down.
Anyone who turned off the game early truly missed out on a nailbiter. Israel tied the game up late in the game, and overtime looked like a sure bet. England had no intentions of repeating their 10-9 OT win from 2014, as they notched their tenth goal in the last minute of play. The scores of 2014 and 2016 had now both been repeated, and it was apparent to everyone on either sideline that the scores of the past were no fluke. England was now 5-0 against Israel since 2014, with a positive goal differential of only +6 over those five games. It doesn't get much closer than that.
The first three games involved traveling to and from games about an hour and a half from the hotel for the English. By Israeli standards, this is quite far. Games four and five would be much closer to Netanya, where the team was staying to get a better feel for how things will be in July. Herzliya played host for game four, which turned out to be England's most dominant performance. The game was played tight to start, but back to back "make it-take it" goals and dominant clearing and transition play from a disciplined and well-conditioned England simply buried Israel. A final score of 14-6 proved to be the highest scoring affair of the entire week.
The last game was the Netanya game. Four days of traversing Israel had given England the opportunity to play blue division caliber games in brilliant complexes like the Kraft Family Sports Complex and Ashkelon Stadium. In addition to the lacrosse, the boys were able to to sit on the beautiful beaches (surely a welcomed break from England's perpetually grey skies) and had the opportunity to tour ancient cities.
This last day of lacrosse was now an opportunity to play a game in Netanya – host city of the 2018 FIL World Lacrosse Championships. England is the only team who will be scoring goals and taking checks in Israel before July, and I for one think this is a huge competitive advantage. Not only are they becoming familiar with the area, but as Coach Wenham pointed out, they're putting their bodies through mock trauma that will simulate July's intense 10-day schedule and the blistering heat of Israel's summer months.
Game five turned out to be a return to normalcy, and normalcy is intense competition between these two teams. Goals were traded back and forth the entirety of the game, with neither team ever commanding play, and no lead ever exceeding two goals. Goal of the game came when Netanya native Ori Bar David trucked through an English defender and buried a shot past the goaltender. Bar David is one of Israel Lacrosse's best domestically grown players, and his game-tying goal got the a hero's cheer from the crowd of Netanya Lacrosse players and 100 of
Ori's high school classmates.
England scored another late game dagger with less than two minutes remaining in the game. A ground ball scrum on the next faceoff ensued, with bodies and sticks flying falling to the turf chasing that ever-important last ground ball. Israel came up with the bull ultimately with one minute remaining, and a timeout ensured that there would be one final attempt to tie the game and give the series an overtime game.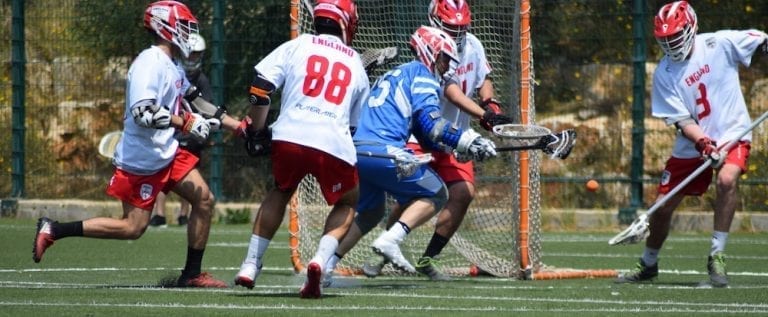 Israel was unable to get the ball on cage as time expired, after being hounded by a double team that engulfed the ball carrier in stick checks and bodies. The final clock expired with the score of 10-9 repeated once again in England's favor. England had more goals that Israel at full time in each of the five games. England, by rule (yes, there is actually a rule in the FIL rule book about this) wins the game because they had more goals… but does that make them the only winner?
Who really won here?
England – Touring, Blue division level competition, and an exclusive opportunity to play in
Israel/Netanya ahead of the World Championships. Even if they had lost all of these games, I still think England comes out the supreme winner after the five day tour.
Israel – This was Israel's first ever home game series as a true national team. There is the Israel Premier Lacrosse League, as well as youth games constantly being played, but this was THE first national team game against another national team in Israel. That opportunity was capitalized upon with the streaming of one game on Sport 5 and then re-streamed via LaxAllStars. As of yesterday, more than 30,000 unique viewers viewed the game via LaxAllStars' online outlets, and that's not counting ANY of the tens of thousands of Israelis who got their first look at lacrosse at home.
Israel also capitalized on the magnitude of these games, having mayors and ambassadors from different municipalities present at each of the five games. Some of these folks had no idea what they were watching, but that's okay. They watched it, they saw the level of competition, and they saw the professionalism in which the games were produced. Lacrosse in Israel definitely gets a win.
The World Championships – I'm currently living/working over in Israel for the 2018 World
Championships, and we most certainly got an opportunity to have a very controlled dry run at doing the big things like managing transportation logistics and seeing how long a tour of Jerusalem takes a team. We also got the very minute details of how to properly do anthems and specific game day operations were extremely efficient by day five. The World Championships got huge wins this week – not to mention that two of the top ten teams were the guinea pigs! It doesn't get much better!
Brian – Yep. I win too. All four referees win, honestly. The other three gentlemen will be officiating games during the World Championships, so getting reps with two of the top ten teams in the world played five games in five days straight! Every referee has the opportunity to learn from mistakes after every game with constructive criticism from senior officials, but not so often do you get the opportunity to go right back out there the next day to fix said mistakes. And so it was, my first ever FIL reffing assignment is to officiate a rematch of the 2016 Euro final. Not once, but over and over and over. That doesn't happen. I made some mistakes, as every other participant in the game does from the coaches to the players to the scorekeepers, but I'm of the opinion I held my own.
I got better at lacrosse this week. I didn't score goals, I called them, and I facilitated the game. I'm of the opinion that if you're going to Grow the Game, you need to be able to referee or umpire a game. I'm not advocating that everyone gets into reffing full time and quits coaching/playing. That said, if we all took a class, learned some of the ticky-tack in the rules by the letter of the law, and got certified, we would have infinitely more knowledgeable coaches creating infinitely smarter players with drastically fewer parents demanding loose ball trip calls from the sideline.
I got into reffing for the money. I still play because it's fun. I got into writing because I'm downright rotten at telling stories in person. Coaching came about because I felt/feel an obligation to give what I have to the next generation. I got into organizing tournaments and teams because frankly the thought of the 9-5 lifestyle gives me anxiety.
I look left and right, England is over there, Israel is over there. I'm wearing stripes. I'm standing in a country I really had no plans of ever seeing, living and working to make the biggest World Championships in history come to life.
Learn to ref.
Coach kids.
Keep playing.
Be a student of the game.
Grow the game.
Come to Netanya and take part in the 2018 World Lacrosse Championships, however you can!