If you're a JuCo player, the lacrosse season starts NOW! Welcome to our weekly JuCo Report post where we talk about the world of NJCAA Men's Lacrosse! JuCo gets less love than any other division, so in this post we try to rectify that situation!
Official NJCAA games kick off today, so we'll review the games to watch, interview a Top 10 program's head coach, and show off plenty of photos submitted by our readers and NJCAA programs alike! On to the action…
NJCAA Photos
Here are Genesee's helmets for 2015. The logo on the side is pretty solid, but the back panel and international flags? Next level excellence! We will have an interview with Genesee's David Hoover next week!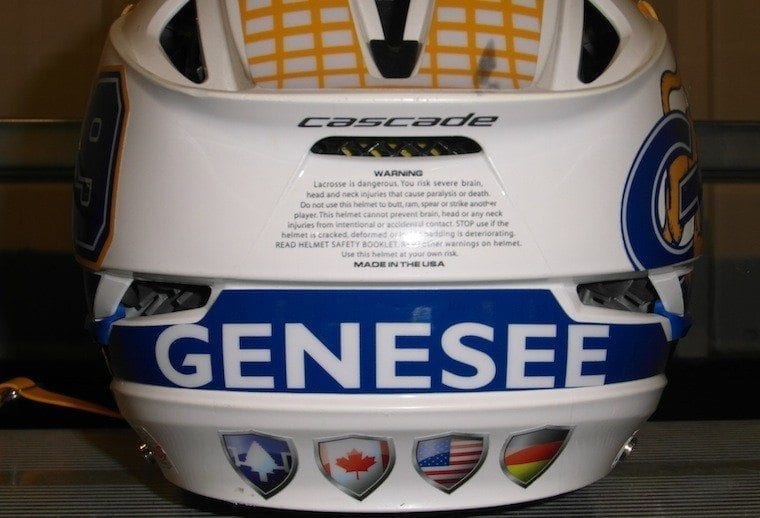 And here are a couple photos showcasing a little practice and scrimmage action from Catonsville CC down in Maryland. Thanks to Oscar Paguada for sending these in! Here is an awesome shot from practice:
And here is another good one from the Catonsville CC Vs Wesley College scrimmage:
If YOU have photos, videos, or anything else you want to see in our next JuCo Report, email it in to us using the subject line "JuCo Report" and by emailing editor@laxallstars.com!
NJCAA Polls
Here is the NJCAA's official preseason poll, and an interview with OCC's Chuck Wilbur.
Here is my unofficial NJCAA preseason poll. The two are pretty darn close to one another!
Lacrosse Season Starts – Games To Watch
I guess you can count Army Prep's win 21-16 win over ASA College as an opening game, but Army Prep isn't an NJCAA school, so really it's not the opener. Southern Maryland Vs Harford would have been the opener last weekend, but that game was postponed.
On Friday night Stevenson's JV (not NJCAA) hosts Anne Arundel. On Saturday, we see our first NJCAA vs NJCAA game, and we have some good ones!
Catonsville Vs Union County, Essex Vs Delaware Tech, and NOVA Vs Cecil College should all be entertaining. Nassau hosting the Naval Academy Prep team should also be fun!
But the game of the weekend? It has to be Onondaga Vs Delhi! WHY? Because it's an early Top 10 match up, that's why! Sure, OCC is the heavy favorite here, but a Top 10 game is a Top 10 game, right? And who knows, maybe OCC will lose a regular season game this year… could Delhi be the ones to do it?
From JuCo To NCAA – Two Stars
Last week I talked about a couple of OCC products seeing success in the NCAA. This week we have a couple more players, and my oh my, are they making an impact!
Marcus Dietz was a first team NJCAA All American last year for CCBC Essex, and now he's tearing it up for Ohio Wesleyan at the NCAA D3 level. Through two games Dietz has six goals on 16 shots and 4 ground balls. OWU is 2-0 and looking strong!
Travis Wahl had two goals on four shots for Adelphi in their D2 season debut. The Panthers are now 1-0. Wahl came to Adelphi after earining NJCAA All American honors for Nassau last year.
John English is another NCC player now also playing for Adelphi, and he went 18-24 on draws in the season opener, keeping up his success from his NJCAA days in that department.
JuCo Interview – Delhi's Bob Leary
Delhi has made huge strides over the last couple of years in terms of being a consistent Top 10 team. How has the program transformed into a more viable competitor on the field?
I think we have become better over the years by providing our student-athletes with a unique, great experience. Word of mouth has provided us with more great athletes.
Can you describe Delhi as a school to someone who doesn't know about it? What are the stronger academic programs and areas of interest?
It is a beautiful campus of about 3000 students in the Catskill Mountains. A very residential type of campus, our kids live together and grow together. We have outstanding majors in all of the trades (HVAC, Electrical, Welding, Construction Management), Culinary Arts, Sports and Recreation and Phys. Ed., and cutting edge majors like Mechatronics. It is a great place to figure out what you want to do with your career path!
Without giving too much away to other coaches, where do you find most of your players? What is recruiting like at Delhi?
We have a healthy mix of upstate and downstate athletes with some out of the area kids also. We have had guys from Oregon, Florida, California and all over New England.
What does it take to be a successful junior college coach in the NJCAA?
Your first concern has to be academic success, after that, I think it is important to develop a style where your athlete can adapt well at the next level. JuCo coaches have to place kids like a high school coach and replace half of their roster every year, it will keep you on your toes!
When I asked Coach Wilbur at OCC about JuCo growth, he hoped that the NJCAA would expand westward… so what will it take to see that happen in your eyes? Do you want to see that happen in the first place?
I'm a big believer in the growth potential of the NJCAA in lacrosse. It is growing in New Jersey (Union, Ocean), Pennsylvania (Valley Forge,Northamton), West Virginia (Potomac St.)… and it's even growing in established hotbeds like Maryland (Southern Maryland, Cecil) and Virginia (Northen Virginia).
New England is an area with so much prep school lacrosse and only Dean College at this level, there are plenty of places where it could enhance enrollment in Mass, Vermont, Maine and New Hampshire…..even New York has growth potential, not to mention Ohio, Michigan, Indiana, Minnesota, it's really unlimited potential!
What is the most rewarding thing, for you, in coaching NJCAA lacrosse?
Watching my players go from boys to men, it is such a rewarding thing to make a difference in there lives at such a formative time.