Crooked Arrows had a great opening weekend on a relatively small number of screens, and saw many sold out shows.  The movie has also received very positive reviews, often comparing the film to The Mighty Ducks, Bad News Bears and Cool Runnings.  Entertainment Weekly called the film's performance of 280,000 tickets sold on 55 screens "surprisingly solid."  
The Crooked Arrows crew is hearing countless stories of kids cheering in all the right places and the audience applauding at the end of the movie.  The film's distributor has responded to demand by adding several more cities and theatres this weekend, prior to Crooked Arrows HUGE launch in almost 100 cities, and 400 screens, on June 1.
Since we haven't seen the movie YET (we will soon!) but the reviews have been so GREAT, we decided to talk with Neal Powless, one of the producers of the film.  Neal is a legendary Native lacrosse player and he comes from the Powless family, one of the biggest names in all of lacrosse.  Neal gives us the lowdown on why he "IS Crooked Arrows."  Click Here to see Theater Locations.
How did you get involved in Crooked Arrows? Had you ever been on a movie set before?
It was by accident. They showed up at one of my practices at the Onondaga Nation Arena. They began asking me for hints about the players, and I began sharing some of my knowledge about lacrosse and my personal background as a traditional Native person.
The combination of 7 years of Pro lacrosse and a lifetime of Native heritage and knowledge was the combination they were looking for. As for being on a movie set, I have been on TV a number of times for interviews and things of that sort and spent the majority of my college career watching movies when I should have been studying. I guess all that slacking has paid off.  Ha.
A little bit of experience in front of the camera certainly helped me once I was behind it.
How deeply do you get into "film?" Did you have any expectations coming in to the filming of Crooked Arrows?
I have, and had, great expectations for this film. It is truly a labor of love for me! I love lacrosse, love Native heritage, and run a group up here at Syracuse University about Native identity. This movie combines both of those things. So as far as me "getting into this film"… I AM THIS FILM.
Navigating two worlds, as I went to college in a predominantly private white institution, was not an easy thing. Especially when the expectations and perceptions of me as a Native person where automatically "dumbed down." I hope that through this movie, not only will the general population see native people in a different way, but that the perception of what Native people can accomplish will be changed. Not only for non-Native people, but for native people as well. It is ABOUT TIME that America has a Major Motion Picture with a positive Native American hero, and with a positive message. Is that deep enough? (EN: Works for us, Neal!)
What was your role on set?
My role was to bring Native authenticity, and I believe I did that. You see, a perception of Native people is that we are all the same. And that by borrowing a bit from here and a bit from there, you can reach a larger portion of Native people by giving them something they can identify with. I believe it is quite the opposite.
I believe the more authentic information can be about a group of Native people, the more other groups will want to learn. Let them find the similarities and enjoy those, and learn from the differences. I learned something from Smoke Signals… I learned the words to the song "John Wayne's Teeth." Hahaha.
So on set for Crooked Arrows, my job was to make sure the changes we made to the script where at least respectful enough to the truth, yet at the same time entertaining to the general public.
How did you like working with all the actors/players? We've heard a lot of the guys knew (or at least knew of) each other beforehand, so was there a unique vibe off camera?
I played with, coached or played against most of the Native cast and a few of the Non-Native cast. One cast member remembered watching me play professionally in New Jersey. I quickly cast him for a scene for properly sucking up to me. Ha.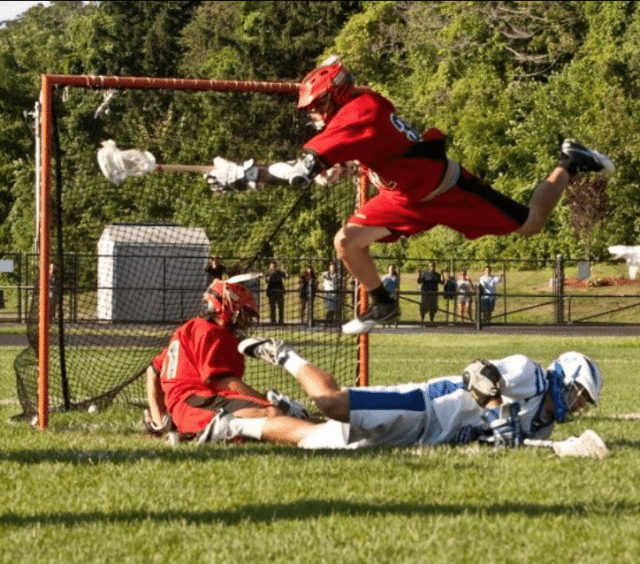 The vibe was just like what any normal lacrosse camp would be like. The guys will battle on the field, and be friends afterwards. That's part of what is great about lacrosse. While the perception is that it is an elitist sport… the roots of the game are about coming together as a community. How can a sport be elitist when it is a gift to everyone from the Creator?
That is also just what we did on set; we came together as a group as lacrosse players. It just happened to be on the set of a major motion picture. When you understand the roots of the game, and play for the true enjoyment of it, that's what happens.
Were you able to use any previous personal lacrosse experiences to spice things up a bit?
Of course I was able to do that!
Half the scenes I wrote for this film are things I have done personally, or have seen the cast members pull off. Some of them are obviously much more intricate and complex, but still effective. I know some people talk about the behind the back passes or between the legs shots. Some people forget: where did they learn these things? When did someone realize this stuff was possible with a stick?
Well, someone before them did something similar and they tried it. I was scoring between the legs goals in 1995, and Gary and Paul gait where throwing those passes in the late 80's… But both of us got those tricks from watching older players pull those off before we ever attempted it.
Any chance you make a cameo in Crooked Arrows?
I actually do, but I won't say where. I couldn't be a part of a lacrosse movie and not include me in pads somewhere, and I will leave it at that… But I will give a hint… Look for the dark, sexy legs. Hahaha.
What do you hope Crooked Arrows can accomplish for the game of lacrosse?
Initially, expansion seems like an obvious byproduct. But I think the ultimate goal is not only for lacrosse players to understand the TRUE origins of the game, but to also understand why it truly combines so many of the other sports they love.
The roots of basketball are steeped in lacrosse. The creator of basketball was a lacrosse coach who was trying to create a way for his lacrosse team to practice their plays indoors during bad weather. But I think an understanding of the roots also creates an awareness of Native American issues that face Native kids in today's world.
We battle every day with the perception of a people that time has passed… a look in the rear view mirror. This is a chance for us to change that perception. To change the understanding of why Native American mascots do more harm than good for young Native youth… The list can go on and on.
Awareness of Native people as people that live in today's society is something that is not addressed in the books that populate and teach the general American public today. But those kids go to movies. So here we are, for all to see.
How can this movie push the sport forward and bridge the gap between today's game and the roots of the game at the same time?
I believe it will do so in a way that will be easy for those who play lacrosse, who once played, for those who have never even tried, and even those who have never heard of lacrosse. I believe there is a lack of knowledge, and this movie hopefully will take a big leap in changing that.
What will people think when they leave the theater?
Wow, what a movie! And who was that cute native guy who produced it?
But really, the movie takes the audience on a journey, to a place they have never been… the Rez, which may as well be the moon for many people. It takes them into a world that seems foreign, yet is not that far away from reality for Native people.
It brings home true family values about teamwork, value in self-knowledge, and perseverance. It honors the past by making a path for it, in the current and future. It combines tradition and contemporary, Native and non-Native, bigger is not always better… But somehow, they can all work together.
Now who wouldn't want to see a movie like that???
A HUGE thanks to Neal for these amazing responses, and for his work on this movie!  The Native tradition in lacrosse should be remembered, honored and taught, and with Neal's guiding hand, Crooked Arrows could go a long way towards making that a constant reality.  Go see Crooked Arrows!