Editor's Note: In 2017, LaxAllStars.com teamed up with the ground-breaking team at Summit Lax Ventures. We're on board to put a media spotlight on all of their marquee events. Brian was aiming from the two point arc at the inaugural High Peaks Summit Classic and now lives to let the dragon breathe. You'll see what I mean.
I think we're close. The rules to the game have changed a ridiculous number of times over the past decade, and I think we're on a path that finally terminates with a game that doesn't need any additional edits or tweaks. I think we're very close.
The NCAA season is producing more and more amazing games each and every year. Coupled with advances in technology, streaming services are making these games accessible to viewers at home all over the world. When you start watching the game being played over and over again, you start to find rhythms in the game. Unfortunately, once you hit the six-minute mark in the fourth quarter, you can read between the lines and decide who the winner will most likely be.
I haven't done the numbers, and I don't know how one would go about doing so, but I'd put down the imaginary twenty dollar bill in my pocket that teams leading by two goals with five minutes remaining in NCAA games won 80% of those games.
Here's The Point
I just had to check myself there. I almost went off on a tangent about the ineffectiveness and objectivity of the idiotic stall call as it exists today. When I say 'almost' I mean I already was a paragraph and a half deep. This article isn't to whine about why Red is being bullies and won't hand Blue the ball back to give them a shot. This article is arguing what Blue should be able to accomplish with that ball.
Since its inception, the MLL has had a two point arc. It doesn't come into play every single game, and doesn't have to be that closely guarded, like basketball's three point line. Honestly, that's one of my favorite parts about it.
When we do see teams really use it, and when we see teams NEED to use it, is towards the end of the game when that deficit is just too insurmountable to get the comeback going one at a time. Especially when even the best face-off guy can only give you a +/-55% chance of getting the ball back, sometimes you need to make that goal count for two, not just one.
Why Stay MLL Exclusive?
Outside the MLL, this line doesn't really exist. Field nor box, nobody seems to want anything to do with the 2-point arc… until now!
I was fortunate enough to play in the inaugural High Peaks Summit Classic up in Lake Placid, New York this summer. This new men's tournament was put on by the same great folks, Summit Lacrosse Ventures, that brings us the traditional Lake Placid Summit Classic at the beginning of August every year. This new event was brought about to give new teams an additional opportunity to play up in Lake Placid and have a great time with their friends.
The good ole boys at Summit Lacrosse Ventures decided to throw a little extra caveat on these games. They pulled out the spray paint and laid down two point arcs on the fields. Sometimes it's worth it just to see what would happen.
So… What DID Happen?
Anarchy ensued.
Not really.
Actually, it just put a fun spin on the game. Keyword being FUN and to be sure, fun we had.
To the best of my knowledge, we never played against any current, nor former, MLL players who would have had experience playing with the arcs. Everyone was quite literally on the same level of experience with the extra point line. It seems all the teams developed strategies to utilize it and defend against it simultaneously.
As far as I'm aware, none of the games were decided by an extra-point shot or sent into overtime with one. Thrillers aside, I can state from personal experience that when you're down by four and someone drops a bomb for your team, and suddenly you're only one shot away from a tie game… it's a pretty wild ride.
Making Defense That Much Harder
Lacrosse All Stars brought a team to the High Peaks tournament, and we had variable success with the 2-point arc. One real difficulty in defending the arc was that in situations where a team might traditionally pack it in, you had to respect the long ball. A shot you might normally be okay with now has potential to be 100% more deadly on the scoreboard.
Fast breaks were an area that really stung us. Seeing a defender or an LSM charging down the field usually warrants staying with the three best shooters and ball handlers on the field, but when these guys see that line and that there's nobody coming, it was almost guaranteed that the shot was coming in from deep.
Another issue in defending it was the man-down situation. The higher the offensive set, the longer the shorthanded defense has to run to cover the backside help. If a team really had some cannons up top, it was very taxing on the low guys in the man down to pinch the crease and then be expected to get back to their men on the backside.
Letting The Dragon Breathe
Offensively, we had a call for the 2-point play, and that was "Dragon" as in, "let the dragon breathe!"
We were having a bit of fun with this call, to the point where it became a comical little game. If one of our guys was carrying it down in ANY sort of advantaged break, we would yell "DRAGON!"
At that point the attack would essentially give up because the player with the ball was expected to shoot it as hard as he could when he got close enough. Longsticks, shortsticks, it didn't matter.
The next little piece to consider was that these shots weren't all goals. So, if they aren't goals, what happens? Either there's a save which turns over possession, a save resulting in a rebound, or the shot misses and the team that backs up the shot is awarded possession.
The vast majority of shots were off the mark (shockingly), which essentially means that the shot attempt was in most cases harmless and really not a big deal, as the offensive team usually gets it back in this scenario.
The Goalie Factor
Where the turnover happens is in the save. The point of view of the goaltender is an important one to consider at this point in time. The goalie doesn't want to let the ball go in the goal.
Goalies will see shots. Where these shots come from are usually what determines whether a defensive unit was successful or not. While the goalie really doesn't want to let in a shot worth double in points as any regular shot, I noticed at least one goaltender who was actually directing his defense to give up the long shot.
I thought this was interesting, so the Lacrosse All Stars boys took advantage and it was essentially a shooting gallery with roughly seven bodies to try and shoot past. We might have netted two bombs, but the majority of these shots were being swallowed up by the goalie and went the other way.
So, we got 4 points and gave up 6 turnovers off shots, where maybe we could have had 6 points off 6 shots and only 2 turnovers. It might have been playing into the defense's strategy to keep taking the long shot. Maybe it's one of those "everything in moderation" kind of things. For field of guys who've never had experience with a two point arc, it's just too tempting not to try.
Steph Curry Style
The Golden State Warriors have become a dominant faction in the NBA these past few years. A large component is due to their ability to constantly score shots that are worth more than the shots their opponents are scoring.
I don't know anything about the NBA other than that, quite honestly, and that's saying something.
The team that is able to reliably tally a score worth more on the board through the same number of shots would probably be a safe bet to win. That's math.
Playing to Your Strengths
Turning back to a sport I can more believably talk about, the High Peaks Summit Classic gave a lot more guys an opportunity to see into the game that the MLL plays. If you watch the MLL, you don't see Jeremy Sieverts, Myles Jones, or Sergio Perkovic on the crease too often, do you?
We, mere peons, also adapted to the arc, and subsequently, I spent a lot of offensive time on the crease. We had a couple of guys who could really rip the ball. Rocket science would tell you to keep them out where they're more valuable.
This wasn't law, guys cycled through and it was still team offense. But, it spoke to the seemingly chaotic offenses the MLL teams always appear to play.
Whereas, when you watch an NCAA team you can say "ah yes, this team is in a 2-3-1 and the other team is utilizing a 1-4-1." Watching an MLL game, it's more like "I have no idea what's happening, but dammit this is fun to watch."
My theory would be that instead of trying to play a systemic team offense, most MLL teams are really playing a team strength offense, where every functions differently depending on who's on the field.
When you have solid dodging attackmen from X, you go with the run game. If you have great passing players and finishers, it becomes a pass and move offense. Now you've got the big guns up top, you play to create spread offenses and create opportunities for them. Shooters shoot.
More Two Point Arc
It really is a spin on the game we've each played a thousand times. Sort of like a spin on a ball coming down and hitting the floor after it's hit a crossbar. When you've seen it happen enough times, you know how to play that spin. When it's your first time and that ball bounces away from you, it's completely baffling.
Good for SLV for letting a ton of guys get a chance to play the game with this spin. No argument, the High Peaks Summit Classic was a great opportunity to play some awesome, refreshing lacrosse. It let the shooter in all of us try to cash in on those countless hours we've spent in the backyard, or down at the school, trying to rip down the net from twelve yards.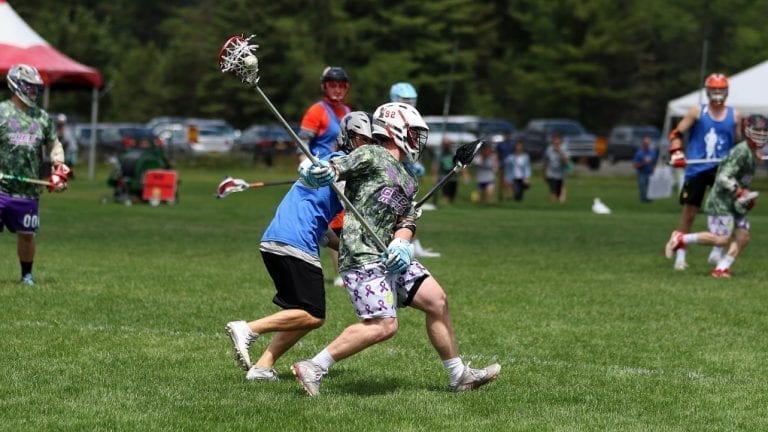 If you're reading this and you're that guy who's never seen a shot he didn't like, get a bunch of the boys together and be sure to make it out to the High Peaks Summit Classic next June for the opportunity to play like the pros.
Now, I have to get going on down to the school. I've got a bucket of balls and a mission. If I have one goal next summer, it's to let the dragon breathe at the 2018 High Peaks Summit Classic. What do you think of the two point arc? Love it, hate it, modify it, we want to see your thoughts in the comments below.