For many Great Danes, UAlbany picture day has become a tradition of sorts. Players dress up in their finest attire, aiming to outdo one another for the best look. This week "it's believed sophomore Connor Filipowski (pictured above) took top honors," according to Michael Kelly at The Daily Gazette.
Runner up had to have been #0 Davis Diamond, or is it Dnomaid Sivad 0#?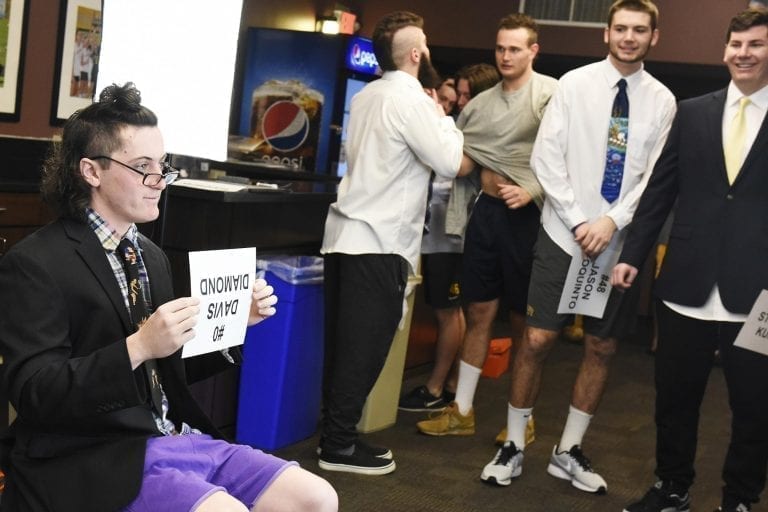 Head coach Scott Marr has three of his top five goal scorers back from a team that made it all the way to the NCAA quarterfinals.
UAlbany men's lacrosse holds first practice of 2018 season (CBS 6 Albany)
Montana Grizzly lacrosse made history with game against Mexican National Team (Montana Sports)
[fvplayer src="https://www.youtube.com/watch?v=7sChd7VaR2E" splash="https://i.ytimg.com/vi/7sChd7VaR2E/hqdefault.jpg" caption="Montana Grizzly lacrosse taking historic trip to Mexico"]
Veteran Colsey Ready to help U.S. Box Lacrosse Team (US Lax Mag)
Penn State men's lacrosse's Matt Donnelly in lead to start at attack position (Daily Collegian)
Reigning men's lacrosse national champion Maryland ranked preseason No. 1 by coaches (Baltimore Sun)
Lacrosse programs thrive at Brigham Young University (Daily Universe)
[fvplayer src="https://www.youtube.com/watch?v=Rtnekql6ek0″ splash="https://i.ytimg.com/vi/Rtnekql6ek0/hqdefault.jpg" caption="BYU Lacrosse – Daily Universe"]
Epoch Lacrosse Teams Up with Pro Lacrosse Player Jarrod Neumann (Globe Newswire)
3 takeaways from Syracuse men's lacrosse scrimmage against Vermont (Daily Orange)
Taylor Cummings returning to McDonogh as assistant girls lacrosse coach (Baltimore Sun)
Remembering Tom Vennum, Lacrosse Unlikely Historian (USL Mag)
Los Angeles resident uses lacrosse to give at-risk youth a chance (Downey Patriot)
Saskatchewan Rush fan dressed as Hulk banned from Calgary lacrosse game (CTV News)
Rush Look To Bounce Back Against Rival Roughnecks (NLL)
Must reads from LaxAllStars:
https://laxallstars.com/making-wooden-lacrosse-balls-first-try/