The World Indoor Lacrosse Championship 2015 takes over the Onondaga Nation next month and in preparation for the historic event we will be taking a deeper look into each of the 13 nations that will be competing for the gold September 18th-27th, 2015!
Turkey is the first predominately Muslim nation to ever compete in the WILC, let alone in lacrosse. Although roughly 98% of Turkey practices Islam, they are the only Muslim-dominate nation to have no recognized national religious practices as the Turkish government adheres to the freedom of religion.
Let's get to know the pioneers of Turkey lacrosse before they make way to North America in September for the WILC 2015!
[mks_separator style="solid" height="2″]
Turkey
Lacrosse Founded: 2009
Governing Body: Turkey Lacrosse Association
Previous WILC Finish: N/A
Website: TurkeyLacrosse.com
Facebook: facebook.com/TurkiyeLakros
Twitter: @TurkeyLacrosse
Instagram: @TurkeyLacrosse

Preparations for the WILC 2015
What are some of your biggest concerns when traveling with the Turkish team to the United States and the Onondaga Nation?
Turkey will be traveling a second time in two years back to the United States for a World Lacrosse Championship which has been a great success for our program.
Just like many other nations coming from Europe, funding is always a major factor. Another is security with our nation being the only of its kind; "Islam-aphobia" has increased and steadily increases in the US.
Many do not understand the difference in our nation and other factions in this part of the world, thus [security] is a major concern for our program although we hope, and expect, nothing will arise during the games.
What other obstacles are still in the way of Turkey having the ideal trip to the WILC?
We are lucky to have companies like RUDE BRAND who has given our national team full sponsorship for our uniforms, team polos and shooters.
USBOXLA, whose founder, our offensive coach Shaydon Santos, is allowing our national team to use box helmets to help offset costs. Under Armour Lacrosse has been a wonderful supporter of our program by providing our team with gear.
As I said above, funding is still an issue. Many of our players in Turkey are university or high school students. If someone would like to help sponsor some of the team costs then please feel free to visit our Fundraiser Page. We are still seeking support for flight expenses, rooms and food. We have some sponsored meals while in Syracuse from the local community but not all meals.
Turkey Lacrosse History
When was lacrosse founded in Turkey and by whom?
Lacrosse in Turkey began in October of 2009 when Patrick Dougherty moved to Istanbul with some back-up sticks. He rallied some Turkish guys and other foreign players in Istanbul throwing around in local parks.
Luckily, some Turkish players who went to the US on exchange programs played lacrosse while abroad. These guys didn't have anywhere to continue to play until Dougherty arrived. Each of those players invited their friends to play and Turkey Lacrosse was born.
Turkey now has teams in Istanbul, Ankara and Izmir.
How long has box lacrosse been played in Turkey?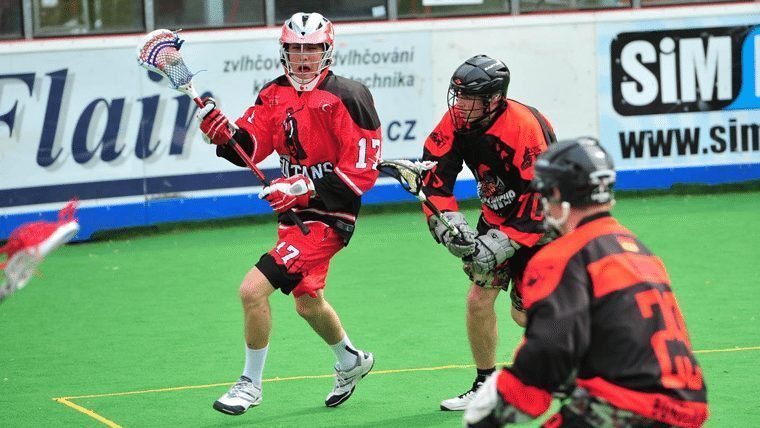 Box lacrosse in Turkey is still new. We have not played "real" box lacrosse in Turkey, although Dougherty, who also coaches the Istanbul Sultans, uses a hybrid style of coaching using box and field.
Most fields that the TLA can afford are smaller soccer fields with fencing, creating the boundaries and tight quarters of a box. The smaller and enclosed fields create similar conditions as in box for training, but it's still not quite the traditional version game.
What other events has Turkey competed in internationally?
Turkey competed for the first time last year at the 2014 FIL World Lacrosse Championships. The WILC will be its second official World games.
Turkey has traveled to Bulgaria and to Israel as a national team to play and has hosted national teams in country.
2015 Players and Staff
In general, how would you describe the players on the Turkish national team? What are the guys like off the field?
We have a great mix of players. From experienced box players to younger athletes ready to step up and accept the challenge of playing on the big stage.
Each one of our guys has the tenacity for continuous learning and improvement of their own personal skills and their lacrosse IQ. They strive to understand and embody what it truly means to be a lacrosse player and to represent their country.
Off the field, we have an array of personalities and levels of life. Some are still in high school, others are in University and beyond.
Which key individuals from your country should lacrosse enthusiasts look toward as an ambassador of the game? Why?
Well, surely Patrick Dougherty for one, as he brought the sport of lacrosse to Turkey and truly does it out of the love of the game.
Dougherty works 40+ hours a week for the organization and doesn't make any money from it. He is considered the Sultan of Turkey Lax and many also call him a "machine" for constantly working around the clock to make sure everything runs smoothly for the TLA.
Michael Moir is another gentleman one should know when speaking about Turkey Lacrosse. Michael is the Program Director for Ankara and with his determination has acquired a district sponsorship for the Ankara team in Mamak and their brand new playing facilities.
Moir was also instrumental with lacrosse becoming a recognized sport and federation in Turkey this past year. This is the first step for Turkey Lacrosse to begin receiving funding and official support from the Turkish Sports Government.
Who are the team's most experienced players for the WILC?
Offense: Curtis Pek will be a great threat down low for Turkey.
Transition: Nick Shaw will be a big presence for Turkey on face-offs and is extremely capable of playing both ends of the floor. Nabil Akl will see plenty of floor time running both sides and swinging the ball over to offense.
Defense: Patrick Dougherty is the heart and soul of the team and will lend his hard-hitting to the defense. Caner Newton will bring his experience to the D. both Patrick and Caner (John-air) were part of the Turkish National Field Team last year whose defense ranked 5th in the world.
Goalie: Scotty Komer brings a wealth of experience to net for Turkey and will be relied upon in the big games.
Who is your coaching staff, what is their experience?
The Turkish coaching staff has an amazing depth of experience in not just box lacrosse, but in all version of the game at all levels of play. They've coached at professional through youth levels, and led men's, women's and box lacrosse teams. This gives them a true hybrid view of the game, and results in different looks, strategies, and tactics.
We are deeply saddened by the loss of our former Turkish National team Goalie Coach, Frank Menschner. His unexpected passing last May not only left a deep void in our program but within the world of box lacrosse. He is commonly known as the "Godfather of US Box Lacrosse Goalies." Frank will be with us in spirit in every way this coming September.
Head Coach Brian "Lab" Phillips is the current Head Coach for the Onondaga Redhawks leading the Redhawks to multiple titles in Can-Am and the President Cup. He played for the Redhawks Senior B team at age 17 where he proved himself as an excellent defender and earned his spot on the first Iroquois Nationals team. He brings a wealth of knowledge and experience to the Turkish coaching staff.
Offensive Coach Shaydon Santos is a former NLL player and coach, and operates the largest youth box lacrosse organization in the US, the Cali*Lax All Stars. Santos also founded the United States Box Lacrosse Association (USBOXLA), the sport's largest governing body in the US.
Defensive Coach Mike Lantier has coached box and field lacrosse at youth through college levels in the US. He's actually the first US coach to win a gold medal at the Canada Day Box Lacrosse Tournament in Calgary.
Coach Ben Miller has almost 50 years experience in box lacrosse as a player and coach. An Onondaga native, he brings his wealth of knowledge to the goalies. Miller has coached at all levels in box including the 2009 Rochester Knighthawks goalies and the Minto Cup winning 2007 Jr A Six Nations Arrows netminders.
Trainer Davey LaCroix received his Bachelors of Science degree in Athletic Training from Concordia University where he also was AT for the lacrosse team. He went on to receive his Masters of Education degree from the University of Nebraska and was graduate assistant for their baseball team. Davey is currently an Athletic Trainer in the Cincinnati Reds Baseball minor league system.
Zeynep Dougherty is the team "mom" or as we call her "Mamma Bear." She makes sure our entire team is taken care of with regards to meals and other "mother-like" items. Turkish mothers' are very protective over their sons and Zeynep is no different with our team.
What is the team's ratio of Turkish to North American born players?
As a country that is still developing, and this even being our first WILC, we have a mixture of Turkish-born, European-born and North American-born players on our roster.
If you're interested, learn more about the 24-man roster for Turkey released a couple of weeks ago.
Is there anything else you would like the worldwide lacrosse community to know about Turkey or the team?
Turkey is the first predominately Muslim nation to play lacrosse and to become members of the Federation of International Lacrosse and the European Lacrosse Federation. We are also the first of our kind to participate in the World Lacrosse Championship for field lacrosse and now the WILC.
We are paving the way for other countries like ours to join in the expansion of lacrosse. Our country and our program takes great pride in this. Lacrosse truly brings cultures together and aids in breaking down barriers. We strongly believe in this and we believe we are leading the way for other nations like ours.
[mks_separator style="solid" height="2″]
Thanks to Organizer and Player Patrick Dougherty for taking the time for this interview.